A late day rally gave stocks good gains. Dow was up 120 closing at the highs, advancers over decliners almost 3-1 & NAZ added 15. Bank stocks had been in the red but buying in the PM brought the Financial Index back into the black.
S&P 500 FINANCIALS INDEX
Value
192.47
Change
1.23 (0.6%)
The Alerian MLP Index rose 2 to the 316s, getting very near the 319 high from 10 weeks ago, not to mention the all time high of 342 reached 3 years ago. The new MLPL index (MLPL) attempts to double the swings in AMZ, rose 1½% today versus ½% for the Alerian Index. But longer term strange things can happen after it goes up & then pulls back, beware. The REIT index gained 2 to the 191s. Junk bond funds were mixed to lower, although not far from their yearly highs reached 2 months ago. The VIX dropped 1 into the 25s, improvement over last week. Treasuries were weak, the yield on the 10-year Treasury bond rose 4 basis points to 3.02% (remaining in very low territory).
Alerian Announces Launch of Leveraged ETN Tracking the Alerian MLP Infrastructure Index
PR Newswire
Alerian MLP Index --- YTD
Dow Jones REIT Index -- YTD
VIX --- YTD
10-Year Treasury Yld Index --- 2 years
Oil had a good day, but it's still trading sideways longer term. Gold has lost its fans after pulling back over 65 from its highs. But believers are using lower prices to buy for the long term which remains bright.
CLQ10.NYM

..Crude Oil Aug 10

..75.74

.. 1.67
......(2.3%)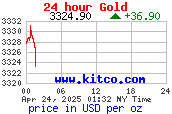 H&R Block (HRB), the US tax preparer, fell to a 9-year low after the president & CEO quit. Investors may conclude that HRB will lose its fierce competitiveness & leadership to outperform. Last month HRB reported profits for FY 2010 from continuing operations dropped 4.7%. The stock dropped 1.27 to 14.22 with a yield of 4.2%.

H&R Block Plunges After CEO Smyth Quits Tax Preparation Firm


H&R Block -- 10 years







The climb of the € has not been getting a lot of attention, but it's back to $1.27. The brave traders who bought under $1.20 are very happy. The sense of panic over European debts has eased quite a bit. But the US economic recovery keeps plodding along. The jobless numbers had a little bit for everybody but decided little. Jun retail sales were soggy. The list of unemployed who have given up looking for work & will no longer receive payments from various govs is growing. Morgtage rates are at record lows of 4.57% (resulting from low rates on long term gov debt) but home buyers are not returning to the market. Stock buyers were buying ahead of earnings season which begins next week.


Dow Jones Industrials -- YTD


Get your favorite symbols' Trend Analysis TODAY!
Click Here