Dow shot up 60 (at session lows), advancers over decliners 3-2 & NAZ rose only 6. The MLP index gained 2+ to the 263s & the REIT index rose 1+ to the 353s. Junk bond funds remained about even & Treasuries were flattish. Oil climbed to the 74s (more below) & gold inched up 1 to 1252.
AMJ (Alerian MLP Index tracking fund)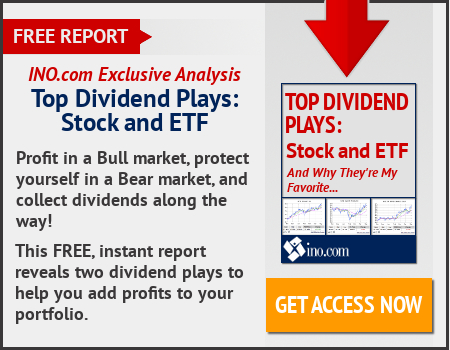 The majority of US companies report having increased investment opportunities as a result of the Tax Cuts & Jobs Act, a new survey found, & many businesses plan to spend more money on growth. 8 in 10 execs said tax reform has allowed them to make strategic investments that were not possible in the past, according to a new study from PwC, which polled 404 c-suite leaders. 78% of respondents said the new law has made doing business in the US more attractive. What do companies plan to do with their savings from tax reform? PwC found that 80% planned to invest in growth initiatives such as R&D or M&A, while 87% planned to invest in their workforce, from hiring to raising wages or expanding benefits. More than 2/3 of respondents want to put their savings toward corp finance, while 65% said they would invest in customers thru their operations & pricing. Nearly 1/3 of execs said the Tax Act would potentially cause them to make geographic changes in where they do business. According to a recent study from the Bureau of Economic Analysis (BEA), US companies repatriated more than $300B back to the country in Q1, up from just $38B one year ago. US Treasurer Jovita Carranza said the tax reform benefits for companies extend beyond new investments. "It's not only about employment and investments, but it's also earnings that are going to be strengthened and that's really important," Carranza said.



Canada announced $B in retaliatory tariffs against the US in a tit for tat response to the Trump administration's duties on Canadian steel & aluminum. Prime Minister Trudeau's gov released the final list of items that will be targeted beginning on Sun. Some items will be subject to taxes of 10 or 25%. "We will not escalate and we will not back down," Canadian Foreign Minister Chrystia Freeland said. The taxes on items including ketchup, lawn mowers & motor boats amount to $12.6B. "This is a perfectly reciprocal action," Freeland added. "It is a dollar for dollar response." Freeland said they had no other choice & called the tariffs regrettable. Many of the US products were chosen for their political rather than economic impact. For example, Canada imports just $3M worth of yogurt from the US annually & most comes from one plant in Wisconsin, the home state of House Speaker Paul Ryan. The product will now be hit with a 10% duty. Another product on the list is whiskey, which comes from Tennessee & Kentucky, the latter of which is the home state of Rep Senate leader Mitch McConnell. Freeland also said they are prepared if Pres Trump escalates the trade war. "It is absolutely imperative that common sense should prevail," she said. "Having said that our approach from day one of the NAFTA negotiations has been to hope for the best but prepare for the worst." Trump has explained the steel & aluminum tariffs by saying imported metals threatened the United States' national security — a justification that countries rarely use because it can be so easily abused. He is also threatening to impose another national security-based tariff on imported cars, trucks & auto parts. That threat could be a negotiating ploy to restart talks on the North American Free Trade Agreement. Freeland said there are no grounds for further US tariffs in response to Canada's actions. Canadians are particularly worried about auto tariffs because the industry is critical to Canada's economy. Freeland said such tariffs would be "absurd" because the North American auto industry is highly integrated & parts made in Canada often go to cars manufactured in the US & then sold back to Canadians. "Any trade action is disruptive on both sides of the border," Freeland added. Freeland said an "intensive phase" of NAFTA renegotiations will resume quickly after the Sun elections in Mexico. "I don't think we'll see any reaction from the Trump administration.



US consumer sentiment rose slightly in the final reading for Jun, hampered by fears of rising trade tensions. The index increased to 98.2, below an expected 99.2. Chief Economist for The Univ of Mich survey Richard Curtin said 1-in-4 consumers spontaneously cited the potential negative impact of tariffs on the domestic economy. Curtin said the primary concerns were a downpace in economic growth & rising inflation. "While tariffs may have a direct impact on only a very small portion of overall GDP, the negative impact could quickly generalize and produce a widespread decline in consumer confidence," Curtin added. Still, consumers expected declines in the unemployment rate & higher wage gains in the year ahead. The index hit 98 in May, slumping since Mar when it reached its highest level since 2004 with a reading of 101.4. The survey considers 500 consumers' attitudes on future economic prospects, including personal finances, inflation, unemployment, gov policies & interest rates.
Consumer sentiment gains slightly in June, but falls below expectations
Oil prices rose as US sanctions against Iran threatened to remove a substantial volume of crude from world markets at a time of rising global demand. West Texas Intermediate (WTI) crude ended the session up 70¢ (1%) at $74.15, its best closing price since Nov, 2014. WTI hit a session peak of $74.46. Brent crude was up $1.60 (2.1%) at $79.45, after earlier rising as high as $79.70. Iran is the 5th-largest oil producer in the world, pumping about 4.7M barrels per day (bpd), almost 5% of world's oil, much of it to China & other energy-hungry nations such as India. The US gov wants to stop Tehran exporting oil to cut off a vital supply of finance & hopes other big oil producers in OPEC & Russia will make up for the deficit. But the world oil market is already tight & many analysts along with big investors think strict enforcement of US sanctions against Iran will push up prices sharply. But the world oil market is already tight with unplanned disruptions in Canada, Libya & Venezuela removing supply.
Oil hits new multi-year high as market tightens on lost supply
NIKE (NKE), a Dow stock, reported earnings & sales that topped expectations for the fiscal Q4 & announced a new, 4-year $15B share repurchase program. The company said it saw a "return to growth in North America," which has lately been a sluggish spot for sales following a handful of retail bankruptcies. Revenues, meanwhile, were up double digits in intl markets during the latest period, as NKE reaped the benefits of a handful of new product launches. The retailer reported EPS of 69¢, compared with 60¢ a year ago. Excluding one-time items, EPS was 69¢, a nickel ahead of expectations. Total sales climbed 13% to $9.8B, again ahead of a forecast for $9.4B. The digital business alone was up 41% during the qtr. "Fueled by a complete digital transformation of our company end-to-end, this year set the foundation for the company's next wave of long-term, sustainable growth and profitability," CEO Mark Parker said. Part of the latest strategy to win back sales in the US includes selling more directly to consumers (thereby improving gross margins), making bigger investments in women's footwear & apparel, piloting a test with Amazon (AMZN) to rid the marketplace of counterfeit goods & partnering with subscription service Stitch Fix. Tje company has also been focused on adding experiences to stores & scaling new merchandise. A new React cushioning technology in its sneakers has been one big hit, for example. Its business, much like that of its peers in the athletic footwear & apparel industry, has been particularly stronger outside of North America of late. In areas such as Greater China, for example, there's still more room to grow. During the latest qtr, sales excluding currency changes climbed 3% in North America, 10% in Europe, the Middle East & Africa, 25% in Greater China & 13% in Asia Pacific & Latin America. Footwear sales were up 8% overall, apparel sales climbed 15%, while equipment sales dipped 3%. "Our new innovation is winning with consumers, driving significant momentum in our international geographies," Parker added. The stock jumped 8 (11%).
If you would like to learn more about NKE, click on this link:
club.ino.com/trend/analysis/stock/NKE?a_aid=CD3289&a_bid=6ae5b6f7
Nike sales top estimates as retailer sees 'return to growth' in US
The Dow finished down modestly for the month, thanks to selling in the PM. It also posted a loss for the month. Indications on the economy & attitudes by execs & consumers continue to be generally positive, but unknowns about where the prospect of higher tariffs take global trade are making investors nervous. The Dow continues to be stuck in its sideways trading zone.
Dow Jones Industrials