Wednesday, October 31, 2012
Posted by

Avi
at 4:47 PM
0 comments


There is not a lot happening in the markets as Oct comes to a close. Dow is down 6, advancers barely ahead of decliners & NAZ off 12 because of Apple (AAPL). The 10 year Treasury bond yield fell 4 basis points to 1.71%.
AAPL had a big management shake up yesterday. The map mess has to be resolved & the store group needs new leaders. The stock is down $8 to $695 & is off $110 from its Sep high. Disney (DIS), a Dow stock, is buying Lucasfilms for $4+B. The stock sold off 1+ to under $49. Otherwise markets are adjusting to 2 days off & chaos after the whopper storm in the eastern US.
Posted by

Avi
at 11:55 AM
0 comments


Friday, October 26, 2012
Dow clawed up 3, decliners ahead of advancers 3-2 & NAZ inched up 1. The Financial Index lost 1 to the 212s. The MLP index was off 3 to the 406s & the REIT index fell 1+ to the 258s. Junk bond funds were mixed (near their best levels of the year) & Treasuries advanced. Oil & gold were each a tad higher.
AMJ (Ale

rian MLP Index tracking fund)
| | | |
| --- | --- | --- |
| U.S. 3-month | 0.106% | |
| U.S. 2-year | 0.293% | |
| U.S. 10-year | 1.751% | |
| | | | | | |
| --- | --- | --- | --- | --- | --- |
| CLZ12.NYM | ...Crude Oil Dec 12 | ...86.02 | ... 0.03 | (0.0%) | |
Goodyear Tire results fell short of expectations as problems in Europe offset cost cuts & profits in North America. Additional cuts are coming because of economic uncertainty. These numbers highlight a problem that is plaguing many global companies in auto-related businesses. Profits in North America are being offset by falling earnings in Europe as the region's economy continues to unravel on concerns about gov debt. EPS was 41¢ for Q3, down from 60¢ a year earlier. Excluding one-time items such as restructuring costs & asset write-offs EPS was 53¢, below the 59¢ forecast. Revenue fell 13% to $5.26B as the slowing European economy cut tire sales. Analysts expected $5.87B. CEO Richard Kramer said GT still expects $1.6B in segment operating income & positive cash flow in 2013. But he added the company will have to change its methods of getting there, relying more heavily on North America & less on intl operations than previously thought. That means more cost cuts, focused on Europe & Latin America, to improve results. "We're looking at what actions we're going to need to take to the extent we continue to see a soft-volume environment, and what actions we would have to take if the volume environment is even weaker than we expect," he said. The stock slumped 10% or $1.29.
Goodyear Falls After Missing Analysts' Estimates: Detroit Mover
Goodyear Tire (GT)
Apple stock fell below $600 for the first time in 3 months, after it warned that costs of making new products will cut into profits in the holiday qtr. Its earnings for the latest qtr also missed expectations. AAPL said profits for the rest of the year would fall from last year because it's launching so many new products. It expects mammoth sales, but new products are more expensive to make than older ones. The iPhone 5 was launched a month ago & it announced 2 new iPads & 3 new Macs this week. In addition, it's shipping new iPods. While analysts took the adjustment in stride, knowing that Apple nearly always lowballs its estimates, several cut earnings estimates for the fiscal year that started this month. AAPL shares have now lost more than $100 from their all-time peak on Sep 21, the day the iPhone went on sale in the US & 8 other countries. The market cap has fallen $106B from its record. The stock finished down $5. That's $13 above its low at $591.
Apple stock falls under $600 after holiday warning AP
Apple (AAPL)
The IMF says Spain's banking sector has made good & timely progress in meeting the terms of its bailout. The IMF is monitoring Spanish gov progress in reforming the banking sector, which has been badly hurt by a property sector collapse in 2008. Spain agreed to the reforms in exchange for a €100B ($129B) loan from fellow eurozone nations to help prop up its banks. Its report says that important progress was made in reforming the financial sector & "all deadlines established in the Memorandum of Understanding agreed between the Spanish and European authorities have been met." The report said that "capital shortfalls need to be quickly made up" & "non-viable banks promptly wound down." Limited good news on this front.
IMF says Spain's banks making good progress AP
The 2% annual growth rate for GDP is being made to sound like a big achievement. Well, for those expecting 1% it was. But it still ranks as cheerless. Growth should be 3%, if not 4%, to reduce unemployment which remains high & shows no signs of coming down significantly. The stream of earnings reports, good but not great, is the real story at the big picture level. That trend should continue into Q4 & probably beyond in the new year. Earnings season is winding down & it has to be rated as a big disappointment. But stocks take this in stride & Dow has not strayed far from 13K where it has been nearby all year (except for the sell-off in May Jun). Stock markets are on defense.
Dow Jones Industrials
Posted by

Avi
at 4:23 PM
1 comments


Dow dropped 28, decliners over advancers 3-2 & NAZ sank 9 after Apple (AAPL) drifted lower following a bland earnings report. The Financial Index fell 1+ to 212. The MLP index sank 4 to the 405s & the REIT index was off 2+ to 258, a 4 month low. Junk bond funds edged lower & Treasuries were higher. Oil was flat & gold inched higher.
AMJ (Alerian MLP Indexs tracking fund)
| | | |
| --- | --- | --- |
| U.S. 3-month | 0.106% | |
| U.S. 2-year | 0.297% | |
| U.S. 10-year | 1.778% | |
| | | | | | |
| --- | --- | --- | --- | --- | --- |
| CLZ12.NYM | ....Crude Oil Dec 12 | ...86.04 | .... 0.01 | (0.0%) | |
| | | | | | | | |
| --- | --- | --- | --- | --- | --- | --- | --- |
| GCV12.CMX | ...Gold Oct 12 | ......1,716.10 | ... | 4.10 | | (0.2%) | |
Photo: Bloomberg
The US economy expanded more than forecast in Q3, paced by a pickup in consumer spending, a rebound in gov outlays & gains in residential construction. GDP rose at a 2% annual rate after climbing 1.3% in Q2, Commerce Dept figures showed. The forecast called for a 1.8% gain. A housing rebound is helping mend Americans' finances & confidence, indicating the pickup in demand for expensive items such as automobiles can be sustained. The rate of growth would have been stronger if not for the drought that affected crops in the Midwest. A drop in farm inventories subtracted 0.4 percentage point from Q3 GDP after cutting 0.2 point in the prior period. Consumer purchases, the biggest part of the economy, grew at a 2% annual rate, up from a 1.5% gain in Q2 & compared with a 2.1% forecast. Purchases added 1.4 percentage point to growth. Retail sales in Sep & Aug had the best back-to- back showing since late 2010 as shoppers snapped up goods from cars to iPhones. This qualifies as a good but not a great report.
Photo: Bloomberg
Consumer sentiment rose to its highest level in 5 years in Oct as Americans were more upbeat about prospects for the economy & their own finances. The Thomson Reuters/University of Michigan's final reading on the overall index on consumer sentiment rose to 82.6 from 78.3 in Sep, the highest level since Sep 2007 for a final monthly reading. Still, that was slightly below the preliminary reading of 83.1 & shy of expectations for 83. There are also clouds on the horizon. After the presidential election, policymakers will have to deal with a package of scheduled spending cuts & tax increases, & political wrangling could prompt a decline in consumer confidence as sharp as the recent increase, according to the survey. "Unless the legislation is carefully managed by whoever wins, the debate could produce the same depressing effect on consumer confidence as last year's debt ceiling fiasco," survey director Richard Curtin said. "While the surge in confidence will act to bolster consumer spending during the upcoming holiday season, it also means that this higher level of confidence is more vulnerable to reversal and has thus raised the stakes for post-election economic policies." The barometer of current economic conditions gained to 88.1 from 85.7, while the gauge of consumer expectations rose to their highest level since Jul 2007 at 79 from 73.5. Consumers anticipated smaller price increases, with the one-year inflation expectation easing to 3.1% from 3.3%, while the 5-10 year inflation outlook fell to 2.7% from 2.8%.
Michigan Consumer Sentiment Index Rose to 82.6 in October
Photo: Bloomberg
Merck, a Dow stock, reported Q3 profit that beat estimates as sales of its diabetes treatments helped offset losses from generic competition. EPS was 95¢, topping by 2¢ the average estimate. But sales fell 4% to $11.5B, slightly below the estimate. MRK made up for the drop in sales by cutting costs, including a lower-than-expected tax rate. It has been eliminating thousands of jobs & trying to boost demand of existing products to overcome the revenue drop from Singulair, which began facing competition from cheaper copies in Aug. MRK expects 2012 earnings excluding one-time items of $3.78-$3.82, narrowing its previous forecast of $3.75-$3.85. Sales of the diabetes drug Januvia increased 15% to $975M & sales of Janumet, which combines Januvia with an older diabetes drug, grew 16% to $405M. Those gains helped offset a 55% drop in sales of Singulair, which were $602M. Sales also declined for the cholesterol drug Vytorin, which fell 10% to $423M. Sales in emerging markets accounted for about 20% of pharmaceutical revenue, led by a 19% increase in China. But drug sales were reduced 5% because of unfavorable foreign exchange rates. The company plans to seek US regulatory approval by the end of 2013 for its insomnia drug suvorexant, its osteoporosis treatment odanacatib, & cholesterol drug tredaptive. The stock slid 7¢.
Merck Third-Quarter Profit Beats Analyst Estimates on Diabetes Drug Sales
Merck (MRK)
Dow has been slipping all week, down 270 so far. Earnings just can't cut it so they fail to inspire buying. Now more attention is paid to after the election when the fiscal cliff, budget cuts & tax hikes, must be dealt with. Dow has been able to hang in above 13K, an important technical support level, but that may not last long. The Europe debt mess is not going away & slow growth in China hurts all multi-nationals.
Dow Jones Industrials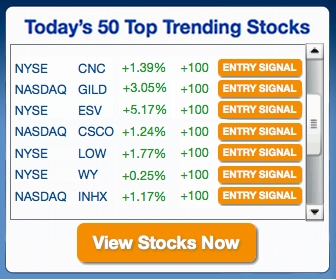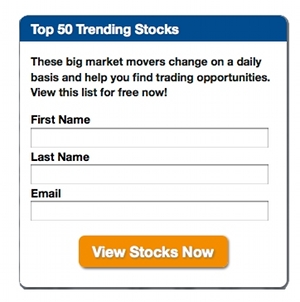 Posted by

Avi
at 11:27 AM
0 comments