Dow dropped 86, advancers barely ahead of decliners & NAZ gained 14. The MLP index was fractionally higher to the 301s & the REIT index lost pennies in the 341s. Junk bond funds rose & Treasuries found buyers as stocks were being sold. Late day selling took oil under 49 after a strong rally this year (see below) & gold crawled higher after recent selling.
AMJ (Alerian MLP Index tracking fund)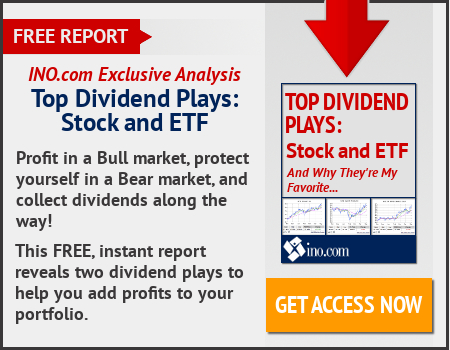 | | | | | | |
| --- | --- | --- | --- | --- | --- |
| CLN16.NYM | ....Crude Oil Jul 16 | ....49.23 | ...0.10 | (0.2%) | |
Oil is set to cap the longest run of monthly gains in 5 years as output disruptions from Nigeria to Canada curb supply before OPEC meets Thurs to discuss production policy. Futures topped $50 today & are set for a 4th monthly advance. Militant attacks have cut Nigerian supply to the lowest level in more than 2 decades. Producers are starting to resume operations in Canada as wildfires that reduced output by more than a 1M barrels a day eased. Libya's Petroleum Facilities Guard captured towns near the oil ports of Es Sider & Ras Lanuf after clashes with Islamic State militants.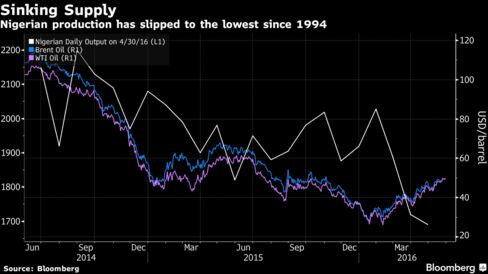 Oil has surged more than 85% since touching a 12-year low in Feb on signs the global surplus is easing amid declining output. OPEC is unlikely to reach an agreement limiting production this week in Vienna as the group sticks with Saudi Arabia's strategy of squeezing out rivals.
Qualcomm is targeting the next generation of wearables with the new Snapdragon Wear 1100 processor aimed at the purpose-based wearables segment: child- & elderly-friendly watches, fitness trackers & smart headsets. With consumer demands in mind—smaller sizes, longer battery life, smarter sensing, more secure locations—the processor features Power Save Mode (PSM) & support for voice, Wi-Fi, & Bluetooth. It also incorporates its iZat integrated location engine for enhanced accuracy, as well as a hardware cryptographic engine, random number generator & TrustZone for security. Snapdragon Wear 1100 is commercially available & shipping today. "We are delighted to add Snapdragon Wear 1100 to our Snapdragon Wear family, thus making it easier for customers to develop connected wearables with targeted use cases such as kid and elderly tracking," Anthony Murray, senior VP & general manager said. The company recently revealed that its processors power more than 100 current wearable products, covering smart eyewear, watches, bands, handsets & other accessories. "With the launch of the Snapdragon Wear 1100, customers will now be able to bring additional connected use cases in such targeted devices as kid and elderly watches," QCOM added. The stock lost 35¢. If you would like to learn more about QCOM, click on this link:
club.ino.com/trend/analysis/stock/QCOM?a_aid=CD3289&a_bid=6ae5b6f7
QUALCOMM (QCOM)
Retail executives can't figure out what's keeping shoppers from spending in their stores — so how are they supposed to forecast customer demand 6 months from now? As companies work their way through bloated spring inventories — with memories of an unseasonably warm winter not far in the past — many are taking a cautious approach to the Christmas holiday orders they're now starting to place.
Rollercoaster Q1 earnings & a muddy start to the current period have many industry execs uncertain about the potential for a H2 spending rebound. Yet they face a delicate balance. While placing too aggressive a holiday order can leave retailers with too much merchandise, forcing them to run unplanned promotions, having too little in stock can pressure their overall revenues. Several major brands have already whittled down the amount of merchandise they carry at a given time, as part of a long-term strategy to fuel demand. The idea is that if they have fewer versions of the same T-shirt in stock, shoppers will feel a need to snatch up something they like before it's gone. In theory, that will result in fewer items ending up on the sale rack & eating into retailers' margins. Get ready for a tough holiday season.
Retailers already fretting

Christmas
Dow started the month at 17,773 & finished up all of 25. For most of the month, it didn't stray from from its beginning value. That's called sideways trading & to be expected from a tired bull market. The main driver for the bulls has been the astounding rise in oil prices, especially without planned production cuts by OPEC members, & continued hopes that Janet will not raise interest rates in Jun. Those conditions may not continue.
Dow Jones Industrials