Dow tumbled 140 (off the lows), decliners over advancers more than 3-1 & NAZ retreated 54. The MLP index gave up 6+ to the 288s & the REIT index was off fractionally in the 338s. Junk bond funds slid lower & Treasuries rose while stocks were being sold. Oil fell to the 43s (see below) & gold also dropped.
AMJ (Alerian MLP Index tracking fund)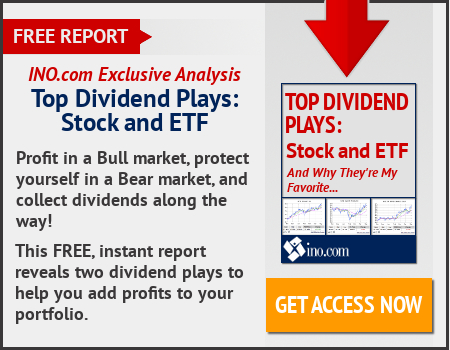 | | | | | | |
| --- | --- | --- | --- | --- | --- |
| CLM16.NYM | ....Light Sweet Crude Oil Futures,J | ....43.45 | ...1.33 | (3.0%) | |
The US may be the lone bright spot in an otherwise sluggish global economy as American consumers continue to buy expensive new vehicles at record levels. With several automakers having reported US sales, companies say the industry is on pace for the best Apr ever. They're selling more expensive sport utility vehicles & pickups, a clear sign that consumers are confident enough to make big purchases. Apr results show a rebound from Q1, when sales were at historically high levels & showed slowing growth. The next few months of auto sales will show whether the economy has staying power, especially if consumers maintain buying momentum.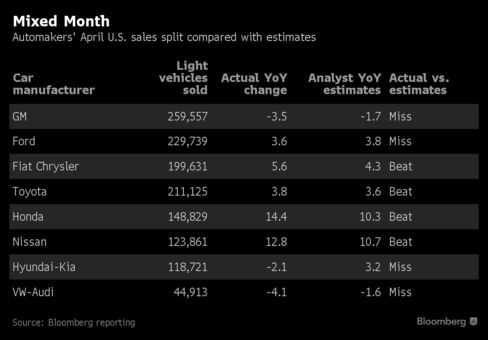 The strong month came even as most automakers pulled back on rebates & incentive deals. GM said that all carmakers discounted vehicles by about 10% of average transaction prices. In Q1, the average discount amounted to 11% of the average sale price. FCAU (Chrysler) US sales rose 5.6% in Apr, beating estimates & extending its streak of monthly gains to more than 7 years -- thanks to the popularity of Jeep SUVs & Ram pickups. Nissan, Toyota (TM) & Honda also beat estimates, while Ford (F) & GM missed lofty expectations. FCAU sales reached 199K cars & light trucks, easily beating estimates of 4.3% growth. Nissan was projected to be the biggest gainer among the top automakers & it didn't disappoint: Sales rose 13%, topping the 11% estimate. TM.sales rose 3.8% compared with the year-ago period, slightly beating estimates. That included a 5% increase at the Toyota division, which sold 186K cars & trucks. Honda sales rose 14%, beating the estimate for a 10% increase. Ford's light-vehicle sales rose 3.6%, shy of the average estimate for a 3.8% increase. Sales of the F-Series pickup line rose 13% & SUV sales jumped 7.7%. The automaker's 231K total deliveries, including heavy trucks, marked its best Apr for retail sales in 10 years. GM, the only US automaker projected to report a decline, fell more than projected as sales dropped 3.5%, compared with the estimate for a 1.7% drop. All 4 brands were down. The automaker has pulled back on low-margin sales to rental fleet customers & focused on selling more expensive cars to retail buyers, where it reported a 3.3% increase.
Pfizer, a Dow stock, Q1 earnings exceeded predictions on strong sales from its innovative drug division, which could become its own separate company if managers decide later this year to break up the business. EPS excluding some items was 67¢, topping the 55¢ estimate. The company also raised its full-year adjusted EPS & sales forecast.
PFE also increased its full-year forecast:
2016 sales will be $51-$53B, up from a Feb estimate of $49-$51B.
2016 adjusted EPS will be $2.38-$2.48, up from $2.20-$2.30.
EPS for Q1 was 49¢, compared from 38¢ a year earlier.
Key sales figures for the Q1:
Total sales rose 20% from a year before to $13B.
Sales of Prevnar vaccine products were $1.51B, compared with the $1.4B estimate.
Pain drug Lyrica sold $1.01B, compared with an estimated $1.09B.
Cancer drug Ibrance brought in $429M, above the $393M projection.
The innovative products division reported $7.03B in sales, while the established products arm delivered $5.97B.
The stock rose 90¢. If you would like to learn more about PFE, click on this link:
club.ino.com/trend/analysis/stock/PFE?a_aid=CD3289&a_bid=6ae5b6f7
Pfizer (PFE)
Oil prices dropped 3% for a 2nd straight day, retreating swiftly from the year's highs hit last week, on renewed glut worries, a rebounding $ & weaker global equities. Iraq oil shipments from southern fields averaged 3.4M barrels per day (bpd) in Apr, up from 3.3M bpd in Mar. Production from top exporter Saudi Arabia was 10.15M bpd & it could soon return to a near-record level of 10.5M bpd. Iran is also raising output after its emergence from Western sanctions in Jan, & has nearly doubled exports to almost 2M bpd since the start of the year. British manufacturing output dropped to a 3-year low & euro zone growth was forecast to be slower than previously expected this year. US crude inventories were expected to have risen 1.4M barrels last week, adding to record highs.
Oil Slides 2nd Straight Day as Glut Worries Return
Back to dreary days in the stock market. Oil was hit with a heavy dose of reality & the futures sold off again. There was no agreement about limiting production & Apr data shows that each country is looking out for its own interests. There is just too much supply coming on stream, not to mention boatloads of oil waiting to be sold. Then there was a hint about higher interest rates, even though GDP growth was sluggish in Q1. Earnings have not been inspiring. However Dow is still up 10% from its low in Feb with no good explanation for that dramatic rise.
Dow Jones Industrials