Dow edged up 9, decliners slightly ahead of advancers & NAZ fell 8. The MLP index reversed a gain & finished down 2+ to the 291s & the REIT index rose a fraction to the 344s. Junk bond funds gained & Treasuries advanced, taking the yield on the 10 year Treasury below 1¾%. Oil went up but AM gains were pared & gold inched higher.
AMJ (Alerian MLP Index tracking fund)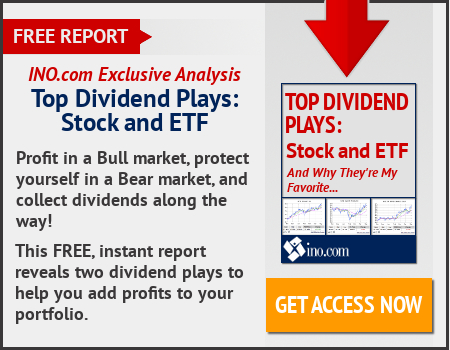 | | | | | | | |
| --- | --- | --- | --- | --- | --- | --- |
| CLM16.NYM | ....Light Sweet Crude Oil Futures,J | ....44.06 | ...0.28 | | (0.6%) | |
Avon Products reported an unexpected Q1 loss, hurt by the strong $, restructuring costs & a writedown of its Venezuela business. The loss amounted to 7¢ per share versus a projected profit of 3¢.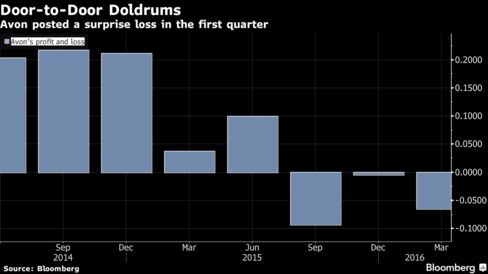 AVP faces an uphill battle in turning around the business. The company is working on a cost-cutting plan that includes eliminating 2½K jobs & moving its head office to the UK. In Mar, AVP offloaded its domestic operations so that it could shift its focus overseas, where door-to-door cosmetics sales have bigger growth potential. The advance of the $ against other currencies has eroded the value of its sales overseas. The company also faces headaches in Venezuela, where the inability to exchange the local currency forced the company to split off that business & write down assets. The stock fell 11¢. If you would like to learn more about AVP, click on this link:
club.ino.com/trend/analysis/stock/AVP?a_aid=CD3289&a_bid=6ae5b6f7
Avon (AVP)
The compact Buick Envision SUV has been a smash hit for GM in China since its introduction last year & its successful run continued to drive sales gains in April. GM sales in China rose 7.5% in Apr, as it was able to find solid sales growth with SUVs & premium cars while some rivals struggled. Its SUV sales continued to shine. As a group, sales of the SUVs sold by GM & its joint ventures in China jumped 107% in Apr, led by 2 hit products, the premium Buick Envision & the affordable Baojun 560. The entry-level Baojun brand also has had success with its 730 minivan. Baojun sales were up 56% year over year. Sales at the premium Buick brand rose 56% over the year ago & the Cadillac brand continued its slow-but-steady growth in China, with sales rising 13% as the first units of the new XT5 crossover SUV began to arrive at dealers. "GM continues to grow in segments that are on top of customers' purchase lists," GM China chief Matt Tsien said. "We have more new vehicles on the way in the SUV, MPV and luxury segments to keep delivering to customers what they want and demand." But not all of the news was good, as Chevrolet sales slumped.
GM & its joint ventures delivered 277K vehicles last month, likely more than any other automaker doing business in the Middle Kingdom, leaving GM in a position of leadership in China. As it showed in Apr, its product portfolio is broad enough to find good growth even when key segments of the new-vehicle market are under pressure. That should serve it well if & when the turbulence in China's market increases. The stock was off a nickel. If you would like to learn more about GM, click on this link:
club.ino.com/trend/analysis/stock/GM?a_aid=CD3289&a_bid=6ae5b6f7
General Motors (GM)
Global headwinds that have partly prevented the central bank from raising rates again may have dissipated, St. Louis Federal Reserve pres James Bullard said. "Those factors appear to be waning during the first half of 2016," Bullard said. He added that financial stress has fallen according to recent readings & that the effects of a stronger $ also appeared to have waned. Fed policymakers in Mar forecast 2 rate increases this year but have been cautious amid slowing global growth & mixed US economic data. Weak Q1 GDP growth appears at odds with months of strong job gains. Bullard said the US labor market is "at or possibly well beyond reasonable conceptions of full employment" & noted a recent upward trend in inflation. "Still, combining actual data from the second half of 2015, the first quarter of 2016, and tracking estimates for the current quarter, the suggestion is that the U.S. is growing below a trend pace of 2 percent," he said. Bullard said it was difficult to conclude whether predictions by the Fed or by the markets for the central bank's longer-run path of rate rises was more accurate.
This was a quiet day in the markets after the news of the oil fire in Canada was digested. Traders are waiting for the jobs report before the markets open tomorrow. Chances are it will not bring major surprises. While the number of the jobs created should be respectable & the unemployment rate is low, the economy is not chugging ahead at full steam (although there may enough steam to justify a rate hike).
Dow Jones Industrials