Dow tumbled 217 (closing at the lows), decliners over advancers 3-2 & NAZ lost 47. The MLP index rose 2+ to over 290 & the REIT index dropped 7+ to the 344s (after its run from below 290 min Feb). Junk bond funds drifted lower & Treasuries inched higher. Oil jumped up to the 46s (see below) & gold also had a good gain.
AMJ (Alerian MLP Index tracking fund)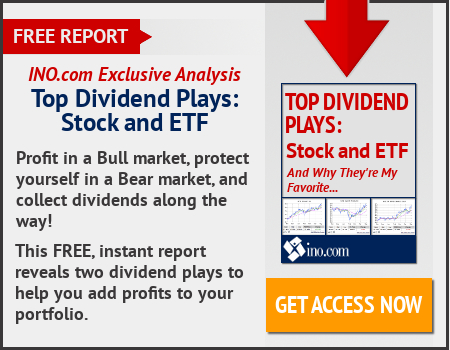 | | | | | | | |
| --- | --- | --- | --- | --- | --- | --- |
| CLM16.NYM | ....Light Sweet Crude Oil Futures,J.... | 46.03 | ...1.37 | | (3.1%) | |
Weekly inventory data from the Energy Information Administration showed an unexpected drawdown in US crude oil stockpiles. The EIA said inventories fell 3.41M barrels last week, larger than the forecast of 714K barrels. Meanwhile, gasoline stockpiles fell by 1.23M barrels, more than the expected 700K-barrel decline & distillate inventories slipped 1.65M barrels compared to estimates for a 1M-barrel draw. This data followed figures from the American Petroleum Institute yesterday , which showed a 3.45M-barrel jump in stockpiles last week, which was much higher than the 714K-barrel build that had been anticipated. Former Shell Oil pres John Hofmeister said he expects to see similar moves in US inventory data going forward. "[Americans] love oil. We love gas. We're a mobile society. And I'm not too worried about the so-called glut because we will eventually use it up," he said. He pointed to daily consumption figures worldwide standing at about 94M barrels per day, with 18.5M of those consumed in the US, while the nation imports 7M barrels daily. He added eventually the demand side of the equation will move back in line with production.
Oil futures climbed, as a drop in US crude inventories & declines in domestic production lifted prices to their highest settlement since early Nov. The Energy Information Administration reported that crude stockpiles fell by 3.4M barrels last week & total production edged down for a 9th week in a row. Jun WTI crude rose $1.57 (3.5%) to settle at $46.23.
Coca-Cola Bottling, one of the largest independent bottlers of the products of Coca-Cola (KO, a Dow stock & Dividend Aristocrat), reported EPS of 67¢ in Q1, up 21.8% year over year. Adjusted EPS exclude acquisition related contingent consideration, expenses associated with territory expansion & one-time special charitable contribution. Net sales were $625.5M, up 38% year over year. The revenue increase was driven by the company's ongoing investment across the portfolio in order to drive the top line. Organic growth in the legacy territories as well as territory expansion thru the acquisition of several new distribution territories from KO led to the solid performance. The company plans to further expand its distribution territory & acquire additional production centers from KO as part of the latter's global re-franchising initiatives in 2016. During Q1, the company expanded its territories to include Virginia & Washington, DC & acquired an additional manufacturing facility in Richmond, VA. Most of KO beverages are manufactured, sold & distributed by independent bottling partners. Gross margin of $243.9M during the qtr increased 32.3% year over year, driven by strong revenues. But stock COKE sold off 20.81. If you would like to learn more about COKE, click on this link:
club.ino.com/trend/analysis/stock/COKE?a_aid=CD3289&a_bid=6ae5b6f7
Coca-Cola Bottling (COKE)
Macy's (M) earnings report was gloomy to say the least. This set a negative tone for the stock market all day. The US economy has not been doing well, shown recently with drab GDP data in Q1. For several weeks the stock market has been struggling to break out of the trading range, mostly under 18K. Its failure to advance is a solid negative for future trading.
Dow Jones Industrials