Dow fell 3, decliners over advancers 2-1 but NAZ added 23. The MLP index gave up 6+ to the 295s & the REIT index sank 10+ to the 335s (after a major run from lows in the last 3 months). Junk bond funds crawled higher & Treasuries declined, taking the yield on the 10 year Treasury to a 2 month high (over 1.8%). Oil fell back after selling in the PM & gold dropped on expectations of a rate hike.
AMJ (Alerian MLP Index tracking fund)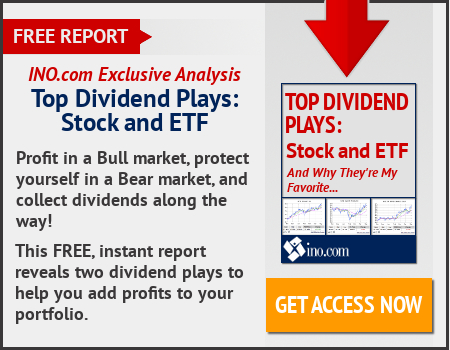 | | | | | | |
| --- | --- | --- | --- | --- | --- |
| CLM16.NYM | ....Crude Oil Jun 16 | ....48.19 | ...0.12 | (0.3%) | |
Federal Reserve policy makers in Apr said an interest-rate increase would be appropriate in Jun if the economy continued to improve, but were divided over whether those conditions were likely to be met in time. "Most participants judged that if incoming data were consistent with economic growth picking up in the second quarter, labor market conditions continuing to strengthen and inflation making progress toward the committee's 2 percent objective, then it likely would be appropriate for the committee to increase the target range for the federal funds rate in June," according to minutes
of the FOMC Apr 26-27 meeting. "Participants expressed a range of views about the likelihood that incoming information would make it appropriate to adjust the stance of policy at the time of the next meeting," the minutes stated. Referring to the Jun meeting, officials "generally judged it appropriate to leave their policy options open and maintain the flexibility to make this decision" based on how the economy evolves. After a weak Q1, more recent indicators show a rebound in Q2, & a bump in inflation reported this week had already lifted the odds from 4% yesterday.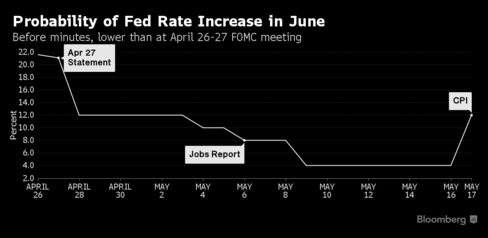 The CPI rose by the most in more than 3 years in Apr. Recent data on housing & consumer spending have also indicated signs of growth. GDP in Q2 is on pace to expand at a 2.5% rate, a pickup from 0.5 % growth in Q1.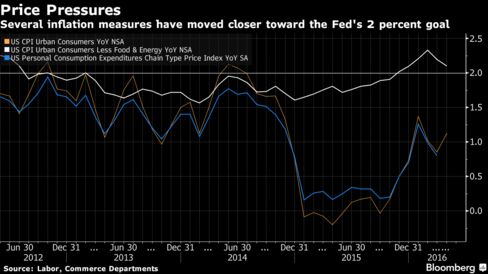 Several Fed presidents have said in recent days that markets were underestimating the chances for a rate increase next month.
Fed Minutes: June Hike Likely If Economy Continues to Improve
General Electric, a Dow stock, CEO sees power generation & renewable energy buoying profits as the industrial giant struggles with persistent challenges in the oil & gas market. The non-petroleum energy units could boost sales by at least 10% this year as the company sees "strong" order prospects for equipment & services, Jeffrey Immelt said. The recent acquisition of Alstom's power business will add about 5¢ to EPS this year & potentially more than 20¢ in 2018. "There's still a lot of business out there on power generation," Immelt said. "We see commitments, we see pipeline, we see big deals under way." Immelt is banking on GE's industrial businesses spanning energy, aviation & health-care equipment to see it through a "slow-growth and volatile" global economy. GE is on track to boost operating EPS to at least $2 by 2018 from $1.31 last year, repeating an earlier forecast. EPS this year will be $1.45-$1.55. GE has shed consumer & finance businesses to renew focus on industrial manufacturing, while also building a complementary software division. The sale of more than $200B of lending assets is about 80% complete. Oil & gas will be a drag this year. Sales in the oil unit will fall as much as 20%, while operating profit should decline about 30%. During the downturn, GE will look to make opportunistic acquisitions, but the company doesn't need "to do anything dramatic," he said. The deal for Alstom strengthened GE's weak grid business & made GE a top renewable-energy company at "the right moment in time." Gov incentives are driving growth in that market, he added. The stock slid back 10¢. If you would like to learn more about GE, click on this link:
club.ino.com/trend/analysis/stock/GE?a_aid=CD3289&a_bid=6ae5b6f7
General Electric (GE)
Microsoft, a Dow stock, will sell its feature phone business to a subsidiary of Foxconn & a newly formed Finnish firm for $350M. That Finnish firm will in turn create Android-based phones & tablets...for Nokia. As part of the deal, expected to close in H2, Redmond will transfer brands, software & services, care network, customer contracts & critical supply agreements related to the feature phone business to FIH Mobile & HMD Global. FIH Mobile will also the MSFT Hanoi, Vietnam, manufacturing facility. MSFT, however, says it intends to continue developing Win 10 Moblie & support to Lumia phones & devices from partners. The stock went up 30¢. If you would like to learn more about MSFT, click on this link:
club.ino.com/trend/analysis/stock/MSFT?a_aid=CD3289&a_bid=6ae5b6f7
Microsoft (MSFT)
It looks like a rate hike is coming in Jun & the markets are not taking that well. Traders have to grow up & learn to accept higher rates which are NOT all that high. In the meantime, Dow continues to stumble along, going nowhere fast, far below 18K
Dow Jones Industrials