Dow fell 8 after a strong start at the open, decliners just ahead of advancers & NAZ lost 26. The MLP index rose 1+ to the 292s & the REIT index was up fractionally in the 344s. Junk bond funds inched higher & Treasuries were sold. Oil is in the 46s (see below) & gold was a tad higher.
AMJ (Alerian MLP Index tracking fund)
| | | | | | | |
| --- | --- | --- | --- | --- | --- | --- |
| CLM16.NYM | ...Light Sweet Crude Oil Futures,J | ...46.88 | ...0.65 | | (1.4%) | |
| | | | | | | |
| --- | --- | --- | --- | --- | --- | --- |
| GC.CMX | ..........Gold Apr 16 | ...............................1,249.50 | ...0.30 | | (0.0%) | |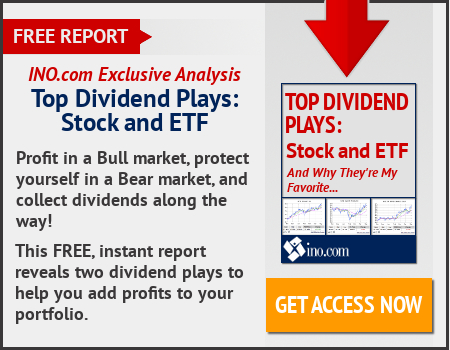 Applications for unemployment benefits unexpectedly increased last week to the highest level since Feb 2015 as filings surged in NY. Initial jobless claims rose 20K to 294K, according to the Labor Dept. The forecast called for a decline to 270K.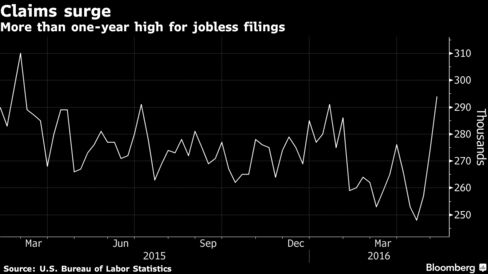 A jump in filings in NY state may reflect striking workers at Verizon (VZ, a Dow stock), spring break holiday at schools or a combination of the 2. For 62 consecutive weeks claims have been below the 300K level that is typically consistent with an improving job market. That's the longest stretch since 1973. In NY, jobless claims jumped 15K, accounting for most of the 18K increase in applications prior to seasonal adjustment. The 4-week moving average of claims, a less volatile measure than the weekly figures, increased to 268K from 258K. The number continuing to receive jobless benefits rose 37K, the biggest increase since the end of Nov, to 2.16M. The unemployment rate among people eligible for benefits held at 1.6%.
Oil advanced to its highest level in 6 months as supply reductions around the world helped whittle away the global surplus. US inventories dropped 3.4M barrels last week. Nigeria said militants have curbed the country's oil output about 30%. The global surplus in H1 is smaller than previously estimated because of robust demand in India & other emerging nations, the International Energy Agency said. While a deteriorating security situation has curbed Nigerian supply, gains from Iran & Iraq have helped to boost OPEC production to about 33M barrels a day. The IEA estimates global supply will exceed demand by an average of 1.3M barrels a day in H1, down from 1.5M it projected a month ago, following surprisingly strong consumption in Q1. Still, further gains in oil prices "are likely to be limited by brimming crude and products stocks," it predicted. Inventories at Cushing, the delivery point for WTI, expanded by 1.5M barrels to a record 67.8M, according to the Energy Information Administration. Production slid for a 9th week to 8.8M barrels a day, the lowest since Sep 2014.
US import prices rose in Apr for a 2nd straight month as the cost of petroleum products & a range of other goods increased, suggesting inflation could start firming in the months ahead. The Labor Dept said that import prices increased 0.3% last month after an upwardly revised 0.3% gain in Mar. The rise last month reflected a pick-up in oil prices & the $'s depreciation. The forecast was for import prices to rise 0.5% after the Mar previously reported 0.2% advance. Prices for imported goods were down 5.7% in the 12 months thru Apr, reflecting the lingering effects of the $'s sharp rally & the oil price plunge between Jun 2014 & Dec 2015. The increase in import prices implied that the disinflationary impulse from a stronger $, which has helped to hold inflation well below the Fed's 2% target, was fading. Imported petroleum prices increased 4.1% last month after rising 9.6% in Mar. Import prices excluding petroleum edged up 0.1%, the first increase since Mar 2014. Imported food prices jumped 1.3% last month, also the largest gain since Mar 2014. Prices for imported industrial supplies & materials excluding petroleum increased 0.4%. Prices for imported capital goods slipped 0.1%, while the cost of imported automobiles edged up 0.1%. Prices for imported consumer goods excluding autos fell 0.3%. Export prices increased 0.5%, the largest rise since May 2015, after being flat in Mar. Export prices were down 5.0% from a year ago.
Import Prices Rise on Higher Petroleum Products
The Dow had a stellar 2 month advance from mid Feb, but has stalled during the last month. 18K is a tough ceiling for the Dow to break thru. Being on defense is no fun, more selling may be ahead without supporting helpful economic data.
Dow Jones Industrials