Dow climbed 36, advancers ahead of decliners 3-2 & NAZ gained 18. The MLP index slid back a fraction in the 304s & the REIT index was flattish in the 334s. Junk bond funds climbed higher & Treasuries crawled higher. Oil pulled back (more on oil below) & gold was also lower.,
AMJ (Alerian MLP Index tracking fund)
Crude Oil
47.59
-0.82
(
-1.69%
)
Gold
1,246.60
-6.30
(
-0.50%
)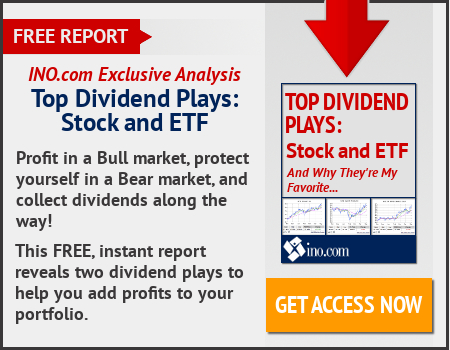 Oil discoveries have fallen to a 6-decade low as explorers cut $B of spending to ride out the biggest market slump in a generation. About 12B barrels of oil reserves were found in 2015, marking a 5th consecutive year of decline & the smallest volume since 1952.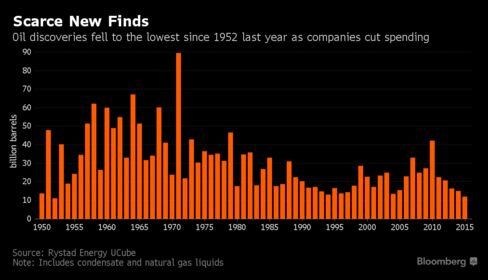 Oil exploration is typically the first casualty of a crude-price collapse. Companies have cut budgets & staff as they focus on keeping existing fields going & maintaining shareholder payouts. The lack of new discoveries could affect long-term supply as it takes 5-10 years to bring new finds to production, depending on location, prices & demand. Still, global climate targets are likely to curb oil consumption, meaning that existing resources could be sufficient to meet demand for the next 2 decades.
Oil Discoveries Have Shrunk to a Six-Decade Low
After failing to reach an accord on oil supply in Doha last month, OPEC is poised to go another meeting with no agreement on how much crude to produce. It is widely believed that OPEC won't set an output target on Jun 2, as it sticks with Saudi Arabia's strategy to squeeze out rivals including US shale drillers by pumping near-record volumes. An accord on an output cap with non-members such as Russia collapsed in Doha last month when Saudi officials insisted Iran would need to take part. Oil has rebounded almost 80% from the 12-year low reached in Jan as depressed prices take their toll on supplies. The International Energy Agency said the crude glut is dissipating, signaling that the Saudi approach, opposed by most OPEC members when it was unveiled in late 2014, is finally paying off. The head of Iran's state oil company said this weekend that the country has no plans to join any output freeze since it's still ramping up exports to pre-sanctions levels. Iranian shipments probably won't surpass 2.2M barrels a day until midsummer, the National Iranian Oil Co said. Exports last reached that level before sanctions were imposed more than 4 years ago.
Federal Reserve Bank of St. Louis pres James Bullard said he doesn't see the UK's vote on EU membership influencing the Fed's meeting that will be held the week before the referendum. He said that even if the UK decides to leave, "the next day nothing happens" & the country will enter into departure negotiations bound to go "very slowly." "I also see the probability of an exit vote as having fallen somewhat recently," Bullard he added. "Because of these factors I feel it won't influence the FOMC's decision." The FOMC meets on Jun 14-15, with rampant speculation over the possibility of an increase in interest rates. The UK holds its referendum on possibly leaving the EU, a process known as Brexit, on Jun 23. Bullard is a voting member of the policy-setting FOMC this year.
Stocks are stuck in a sideways trend. 18K remains an elusive ceiling to break thru in a meaningful way. Higher interest rates & the goings on in the oil market are the main drivers of stocks. The proposed rate hike is still a month away & oil prices may be maxxing out in the mid to high 40s. Earnings have not been a positive driver of stock prices.
Dow Jones Industrials