Dow dropped 198, decliners over advancers 5-1 & NAZ fell 60. The MLP index sank 7+ to the 286s in response to falling oil prices & the REIT index lost 1+ to the 337s (near where it has been for weeks).. Junk bond funds drifted lower & Treasuries rallied. Oil sank to the 43s (see below) & gold was also lower.
AMJ (Alerian MLP Index tracking fund)
| | | | | | |
| --- | --- | --- | --- | --- | --- |
| CLM16.NYM | ...Light Sweet Crude Oil Futures,J | ...44.13 | .....0.65 | (1.5%) | |
| | | | | | | |
| --- | --- | --- | --- | --- | --- | --- |
| GC.CMX | ..........Gold Apr 16 | ...............................1,249.50 | ...0.30 | | (0.0%) | |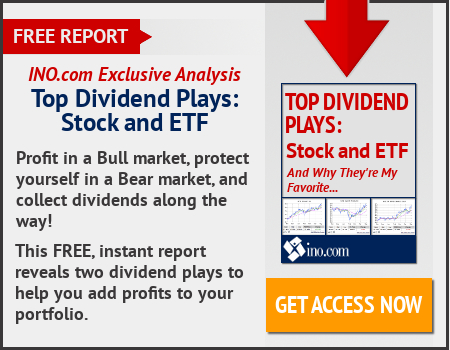 Federal Reserve Bank of Atlanta pres Dennis Lockhart said US financial markets may be underestimating the odds of a central bank rate increase in Jun. "I would put more probability on it being a real option," Lockhart said after being asked about federal funds futures markets indicating odds of a hike at about 10%. "The communication of committee participants and members between now and mid-June obviously should try to prepare the markets for at least a realistic range of possibilities" for the next policy meeting. Lockhart said he supported the FOMC decision not to specify to what degree global developments pose risks, compared with a statement prior to its hike at the Dec meeting that risks to the outlook were "nearly balanced." Investors halved the odds of a Jun rate increase last week as the central bank signaled little explicit urgency to tighten. "It is desirable that financial markets and policy makers be reasonably well aligned," said Lockhart. "I don't think it is at all constructive to have a lot of volatility because of surprising the markets." He said he wasn't leaning for or against a Jun increase until he sees more data, adding that 2 interest-rate increases this year are "certainly possible." "I am sticking with the basic forecast that the remaining three quarters of the year actually will show a rebound from the apparent weakness of the first quarter," Lockhart said, adding he has been generally encouraged by signs that inflation is firming.
The current oil price rally will only lure global producers into boosting output if it appears to be sustainable, according to the Secretary of Energy. "We have had the move up in prices recently, but I don't think the capital investment decisions are going to be influenced until people are convinced there is a much more sustained increase," Ernest Moniz said.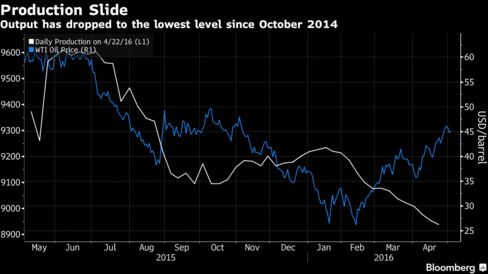 Oil has surged back from its 12-year low earlier this year, offering a flicker of hope to producers that slashed spending & shutter high-cost fields. The International Energy Agency forecasts non-OPEC production will decline this year by 700K barrels a day this year. Output has fallen 13 of the last 14 weeks, extending its decline after last year reaching the highest in more than 40 years. The country's output surged this decade as new drilling technology opened up production from shale reserves. "The potential remains there for increasing that production further with a sustained price signal," Moniz said. Intl oil companies have cut spending more than $100B last year amid a crash in prices. This contrasts with efforts by OPEC producers Saudi Arabia, Kuwait & Iran to maintain or boost investment in future supplies to expand market share as global demand grows.
Oil prices slipped on renewed concerns about weaker Chinese demand & growing global supplies. Prices have surged to 5-month highs in recent weeks due to production outages in some parts of the world & expectations of declining US output. But recent production & inventory data has indicated still-high output around the world, damping optimism that the global glut of crude is due to shrink. A gauge of the China manufacturing industry fell in Apr, marking the 14th straight month of contraction. China is the #2 oil consumer after the US & fears that slowing economic growth in China could reduce oil demand helped push oil prices to 13-year lows earlier this year. The European Commission said that an economic slowdown in China & other emerging markets would contribute to weaker growth in the eurozone & the wider EU this year. In addition, OPEC is expected to have increased production in Apr. Adding to oversupply concerns, Russia announced Apr production of 10.84M barrels a day, near the 30-year high of 10.91M barrels a day reached in Mar. Inventories of crude oil remain high around the world, with US stockpiles at their highest level in more than 80 years & oil inventories in the key storage hub of Cushing, Okla., rose last week. A strengthening $ also weighed on oil prices.
Oil Prices Slide on China Data, Increased OPEC Output
The overbought stock market finally ran into headwinds. Oil is pulling back on recognition that its rally may been overdone. In addition, any hint of an increase in the Fed funds rate sends chills to the stock market. So far, this is just a routine correction which is long overdue.
Dow Jones Industrials