Dow shot up 117, advancers over decliners 3-2 & NAZ bounced back 42 after a tough month in Apr. The MLP index lost a fraction to the 294s & the REIT index is up, in the 339s. Junk bond funds fluctuated & Treasuries were lower. Oil backed off to the 44s & gold inched higher, but failed to close above 1300.
AMJ (Alerian MLP Index tracking fund)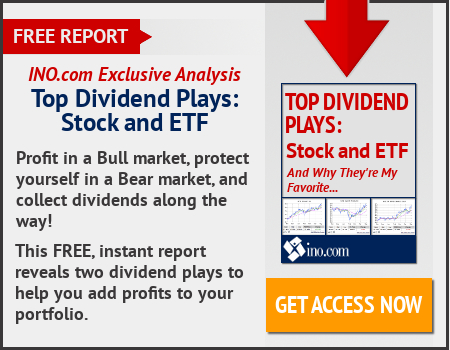 | | | | | | |
| --- | --- | --- | --- | --- | --- |
| CLM16.NYM | ....Light Sweet Crude Oil Futures,J | ....44.88 | ...1.04 | (2.3%) | |
American Express, a Dow stock, is spending more money to attract cardholders & actively seeking retail partners as it works "with a great sense of urgency" to improve results, CEO Ken Chenault said. AXP has "ramped up spending on cardmember acquisition," Chenault said at the annual meeting, while conceding that 2015 was a "disappointing" year for investors. He didn't elaborate on the company spending.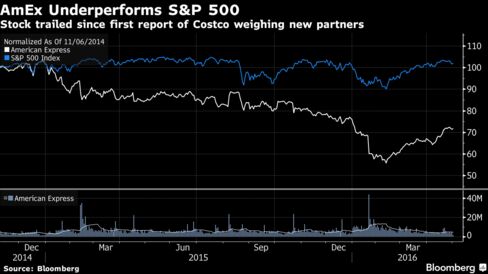 The lender has sought to reverse its worst stock slump since the recession after announcing last year it would end its US partnership with Costco (COST), a relationship that accounted for 20% of worldwide loans. As increased competition has pressured margins, Chenault has shuffled his management team in Mar announced a renewed focus on lending to bolster profitability at the firm. The stock went up 25¢. If you would like to learn more about AXP, click on this link:
club.ino.com/trend/analysis/stock/AXP?a_aid=CD3289&a_bid=6ae5b6f7
American Express (AXP)
In Feb, US gasoline demand rose at the fastest annual rate in almost 40 years as stronger economic growth & cheap fuel prices spur driving in the world's biggest oil consumer. The Energy Information Administration said that gasoline demand rose to 9.2M barrels in Feb, up 556K barrels a day from a year earlier & the biggest annual increase since 1978.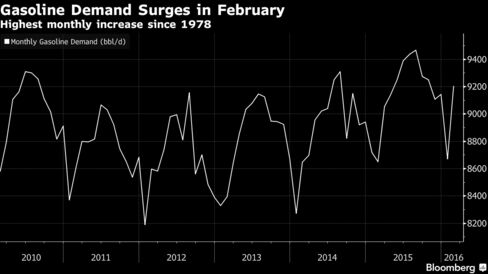 Gasoline has become the star performer among fuels, offsetting weakness in diesel & heating oil after an unusually mild winter in the northern hemisphere & helping refiners to earn strong margins. The US strength, consumption in Feb was the highest ever for the month, comes as gasoline demand in India, China & other emerging countries also booms. Wards Auto estimates that global vehicle sales reached a record in Mar at 8.87M, surpassing the peak set in Mar 2015. "Global gasoline demand remains relatively strong," Exxon Mobil (XOM). said last week, echoing a widely held view within the industry. US demand for motor fuel typically peaks between the Memorial Day holiday & Labor Day, when Americans traditionally take vacations. Refiners use more crude as they increase operating rates to meet the extra demand for gasoline & diesel. As the unemployment rate falls & the economy strengthens, motorists are driving more than ever, according to the Dept of Transportation. In Feb, US drivers logged 232B miles, the most ever for the month. US drivers are also buying more gas-guzzling sport-utility vehicles. The combination of more driving & larger cars is confounding expectations that demand would decline after 2007 as more fuel efficient cars curbed consumption. US gasoline use this year will average 9.29M barrels a day this year, matching the 2007 peak, according to the EIA.
The US economy's manufacturing sector expanded in Apr but at a slower pace than the previous month. The Institute for Supply Management (ISM) said its index of national factory activity fell to 50.8 from 51.8 the month before & below expectations of 51.4. A reading above 50 indicates expansion in the manufacturing sector & a reading below 50 indicates contraction. The employment index rose to 49.2 from 48.1 a month earlier & expectations called for a reading of 49.0. New orders dropped to 55.8 from 58.3. The prices paid index rose to 59.0 from 51.5, compared to expectations of 52.0.
There was no driving force behind the rise in the stock market today. Oil & gold were sort of steady after big increases. Earnings strength is based on beating lowered earnings forecasts. Hopes remain high that Janet will leave interest rates low for the foreseeable future. This policy has already lasted one decade, hard to believe. While Obama has been pres, all GDP expansion rates have been below 3%. That qualifies as anemic. Unemployment has been reduced, largely by creating low paying jobs. However Dow is not far from setting a new record & high yield sectors (junk bonds & REITs) are doing well. This market rise is difficult to figure out.
Dow Jones Industrials