Dow dropped 56, decliners over advancers 4-3 & NAZ gave up 29. The MLP index rose 2+ to the 294s & the REIT index is back in the 334s where is has been for more than a month. Junk bond funds were a little higher & Treasuries rallied. Oil slid back pennies to 47 (see below) & gold shot up again, pushing towards 1300.
AMJ (Alerian MLP Index tracking fund)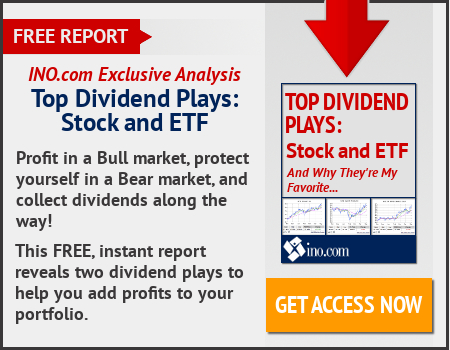 | | | | | | |
| --- | --- | --- | --- | --- | --- |
| CLM16.NYM | ....Crude Oil Jun 16 | ....45.32 | ...0.71 | (1.5%) | |
China's central bank responded to an overnight tumble in the $ by strengthening its currency fixing the most since a peg was dismantled in Jul 2005. The reference rate was raised 0.6% to 6.4589 per $. A gauge of the $'s strength extended its 1% slide yesterday, when the Bank of Japan's decision to unexpectedly keep monetary policy unchanged sent the ¥ surging. While the change in the fixing is extreme relative to the small moves of recent years, it reflects increased volatility in the $ against other major exchange rates rather than a policy shift by the People's Bank of China.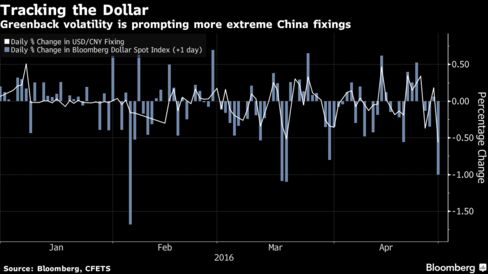 The $ headed for its the lowest close in almost a year today as signs of slowing growth in the US dimmed prospects for a Federal Reserve interest-rate increase.
China's Central Bank Raises Yuan Fixing by Most Since July 2005
Caterpillar, a Dow stock, will close 5 US plants & shed 820 positions as the construction-equipment maker continues to scale back its production & workforce in response to falling demand. The cutbacks are part of a strategy outlined in Sep to trim its workforce by 10K & close or consolidate about 20 facilities thru 2018. The company said it has shed about 5.3K positions so far. The plants designated for closure mostly produce components for its machinery & engines & their operations will be merged into other plants or assigned to parts suppliers outside of the company during the next 12-18 months. CAT has a world-wide workforce of 114K. 2016 revenue is expected to be down about 38% from the peak level of $66B in 2012, as the company struggles through a global sales slump for mining & construction machinery. The stock slid back pennies. If you would like to learn more about CAT, click on this link:
club.ino.com/trend/analysis/stock/CAT?a_aid=CD3289&a_bid=6ae5b6f7
Caterpillar (CAT)
Oil pared its loss after data from Baker Hughes showed that the number if active US rigs drilling for crude fell 11 to 332, down for a 6th straight week. Total US rig count fell 11 to 420.
After posting its first quarterly loss in 14 years last quarter, Chevron (a Dow stock) wasn't able to turn things around to get much better results. The loss per share was 39¢, a reflection of how brutal the oil & gas market has been.
Chevron's results: The raw numbers
| Metric | Q1 2016 | Q4 2015 | Q1 2015 |
| --- | --- | --- | --- |
| Revenue | $23.553 billion | $29.247 billion | $34.558 billion |
| EBITDA | $2.692 billion | $4.290 billion | $7.316 billion |
| Net income | ($725 million) | ($588 million) | $2.567 billion |
| Earnings per share | ($0.39) | ($0.31) | $1.38 |
The 2 big pain points were commodity prices & weaker refining margins. Beyond that, the company wasn't able to offset those issues with upticks in production or refinery throughput. In Q1, the average realized price for a barrel of oil was only $28, compared to $44 last year. Even with drastic cuts to the cost structure, it's close to impossible to make a profit at that price point. The company reduced capital & exploratory spending by 19% compared to last year as some major capital projects have come online, but cash flow from operations has dried up even faster. Not only did CVX need to take out another $3.8B in debt, but it also had to reach into its cash pile to pay the rest of its expenses. The company said that it is doing everything that it can to preserve its financial standing while paying out a div. It expects that, by 2017, it will be able to cover all capital expenses & divs with operational cash flow, & Brent crude oil at $52. It believes it can achieve this by reducing capital & exploratory spending by $15B from 2015 levels. The stock also lost just pennies. If you would like to learn more about CVX, click on this link:
club.ino.com/trend/analysis/stock/CVX?a_aid=CD3289&a_bid=6ae5b6f7
Chevron (CVX)
The stock market tried to extend its gains after the Dow went up more than 2K in 2 months. But it stalled out. The weak $ is causing problems & earnings on balance have not been a help. Drab growth for GDP in Q1 announced today is another negative. Dow managed to gain of less than 100 in Apr.
Dow Jones Industrials