Dow fell 133, decliners over advancers better than 2-1 & NAZ lost 47. The MLP index plunged 15+ to the 245s & the REIT index dropped 2+ to the 338s. Junk bond funds were mixed & Treasuries had a strong rally, taking the yield on the 10 year bond down towards 1.7%. Oil had a modest rebound to 36 following recent selling & gold also was bid higher.
AMJ (Alerian MLP Index tracking fund)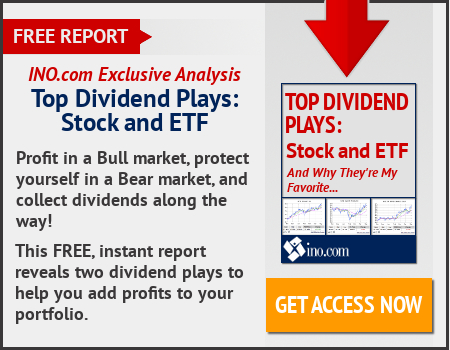 | | | | | | |
| --- | --- | --- | --- | --- | --- |
| CL.NYM | ....Light Sweet Crude Oil Futures,M | ....35.58 | ...0.12 | (0.3%) | |
Obama urged Congress to take action to stop US companies from taking advantage of tax loopholes that allows them to avoid paying sufficient taxes. "A lot of these loopholes come at the expense of middle-class families," Obama said, adding that such maneuvers "sticks the rest of us with the tab." He has called for action by Congress on tax-avoiding corp "inversions", which lower companies tax bills by redomiciling overseas. The Treasury Dept took more decisive actions to crack down on "inversions" late yesterday.
The US trade deficit widened more than expected in Feb as a rebound in exports was offset by an increase in imports, the latest indication that economic growth remained weak in Q1. The Commerce Dept reported that the trade gap increased 2.6% to $47.1B. The Jan trade deficit was revised slightly up to $45.9B from the previously reported $45.7B. Economists had forecast the trade deficit rising to $46.2B. When adjusted for inflation, the deficit rose to $63.3B, the largest since Mar last year, from $61.8B in Jan. The report joined other data in suggesting that economic growth moderated further in Q1 after slowing to a 1.4% annualized rate in Q4. Growth estimates for Q1 are below a 1% pace. Trade, which has been constrained by a strong $ & weak global demand, subtracted just over one tenth of a percentage point from GDP growth Q4. Exports of goods rose 1.6% to $118.6B, increasing for the first time since Sep. Overall exports of goods & services advanced 1.0% to $178B. Exports have been undercut by the buoyant dollar, which has made US manufactured goods expensive relative to those of its main trading partners. Slowing growth in Europe & China has also eroded demand for US goods. But with the $ rally fading, Feb's nascent increase in exports is likely to be sustained. A survey last week showed a gauge of new export orders received by manufacturers rose in Mar to its highest level since Dec 2014. In Feb, there were increases in exports of food, automobiles & parts, as well as consumer goods. But exports of industrial supplies & materials were the lowest since Mar 2010. Capital goods exports hit their lowest level since Nov 2011 & petroleum exports fell to their lowest level since 2010. Exports to the EU surged 10.2%, while goods shipped to Canada & Mexico rose 6.0% & 0.9% respectively. Exports to China fell 2%. Imports of goods & services rose 1.3% to $225B. Imports are being kept in check by ongoing efforts by businesses to reduce an inventory overhang. Lower oil prices & increased domestic energy production are also helping to curb the import bill. Imports were driven by a surge in food imports, which hit a record high while imports of industrial supplies & materials were the lowest since May 2009. Petroleum imports touched their lowest level since 2002. Imports from China fell 2.7%. The drop in imports outpaced the fall in exports, pushing the US-China trade deficit down 2.8% to $28.1B in Feb.
Ford will build a new factory in Mexico, fueling a debate in the presidential race & confirming earlier reports that the automaker will shift production of small cars south of the border. The company will invest $1.6B in the new assembly plant, which will create almost 3K jobs by 2020. Ford didn't disclose what vehicles it plans to build in Mexico. However, during labor negotiations last year, the UAW indicated that Ford expected to make the Focus, a compact car, & the C-Max, a small hybrid, at a Mexican facility. Construction of the new factory in Mexico is scheduled to begin this summer. Ford has been a lightning rod on the presidential campaign trail. In its latest announcement, Ford noted that 2016 marks the company's 91st year in Mexico & Ford has invested $10.2B in America during the past 5 years. Small cars are far less profitable, especially compared to surging pickup trucks & SUVs that have lifted earnings. By building a plant in Mexico, Ford can build its small cars at a lower cost, thereby increasing profit margins. The stock lost pennies. If you would like to learn more about Ford, click on this link:
club.ino.com/trend/analysis/stock/F?a_aid=CD3289&a_bid=6ae5b6f7
Ford (F)
Not a lot went on in trading, but there are numerous reasons for to worry. Alcoa (AA) releases earnings after the market close on Mon & expectations are glum. Then comes the big banks & they may not be pretty. As stated above, GDP growth in Q1 looks to be weak. In addition, the stock market's gain over than last 2 months remains spectacular. After today's drop, it's still way overbought. Dow is down in the early part of Apr (& Q2) but has managed a 1% gain YTD.
Dow Jones Industrials