Dow edged up 6, decliners over advancers almost 3-2 & NAZ slid back 5. The MLP index lost 2 to the 276s & the REIT index fell 1 to the 339s. Junk bond funds gained ground & Treasuries edged higher. Oil fluctuated (see below) & gold declined.
AMJ (Alerian MLP Industrials
Crude Oil
41.68
-0.08
(
-0.19%
)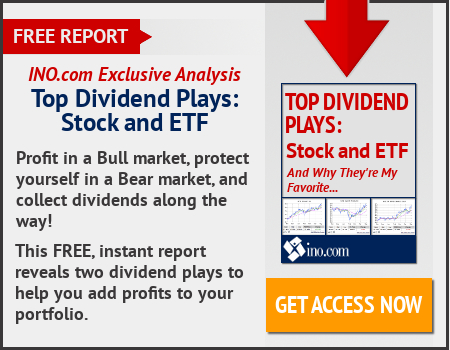 The number of Americans filing applications for unemployment benefits unexpectedly declined last week to match a 42-year low, indicating employers are upbeat about an economy that bogged down in Q1. Jobless claims dropped 13K to 253K, equaling the level in Mar that was the lowest since 1973, according to the Labor Dept. The forecast called for 27K. Continuing claims also declined, to the lowest since mid-Oct.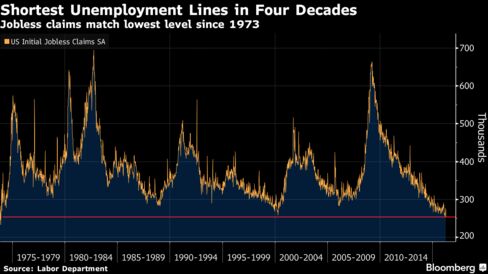 Scant dismissals along with persistent additions to headcounts indicate companies are looking beyond the recent softness in the economy. A jobless rate near an 8-year low & the healthy outlook for employment are among reasons some economists project consumer spending & growth to pick up this quarter. The 4-week moving average decreased to 265K last week from 266K. The number continuing to receive jobless benefits fell 18K to 2.17M, the lowest since Oct. The unemployment rate among people eligible for benefits held at 1.6%.
US consumer prices rose less than expected in Mar & underlying inflation slowed, suggesting the Fed will remain cautious about raising interest rates this year. The Labor Dept said its Consumer Price Index gained 0.1% last month as a rebound in gasoline prices was partly offset by a drop in the cost of food. There were also slowdowns in medical care & housing costs. The CPI fell 0.2% in Feb. In the 12 months thru Mar, the CPI increased 0.9% after advancing 1.0% in Feb. The core CPI, which strips out food & energy costs, inched up 0.1%, the smallest increase since Aug & followed a 0.3% increase in Feb. In the 12 months thru Mar, core CPI rose 2.2% after gaining 2.3% in Feb. The Fed has set a 2% inflation target & tracks an inflation measure which is running below the core CPI. The moderation in the monthly core CPI reading comes after Fed Chair Janet Yellen recently expressed doubts about the sustainability of broad gains in prices.
March Consumer Prices Barely Rose
Oil steadied after the International Energy Agency (IEA) trimmed its forecast for demand growth but said a fall in oil output in the US was speeding up. The IEA trimmed its estimates for 2016 global demand growth from last month to 1.16M barrels per day, but said a much-anticipated slide in production of light, tight oil in the US was gathering pace. The market was choppy ahead of a keenly anticipated producers' meeting on Sun of the world's biggest oil exporters, including Saudi Arabia & Russia. They are set to finalize a deal reached in Feb to freeze oil output at Jan levels, aiming to bolster oil prices. But many think there is scope for disappointment after the meeting. Russian oil minister Alexander Novak told a closed-door briefing in Moscow yesterday that the deal would be loosely framed with few detailed commitments. "The agreement will not be very rigidly formulated, it is more of a gentlemen's agreement," one of those present said.
Bank earnings are coming in & not making investors happy. The bulls are trying to make the best of the reports, but that's hard to do. Dow remains not far from setting a new record with little concrete news to support the advance.
Dow Jones Industrials