Dow lost 37, but advancers over decliners 3-2 & NAZ dropped a big 52. The MLP index shot up 5+ to go over 300, a new 2016 high, & the REIT index was higher to the 337s. Junk bond funds were mixed & Treasuries advanced. Oil reached another 2016 high (see below) & gold also gained, nearing 1250.
Dow Jones Industrials
| | | | | | | |
| --- | --- | --- | --- | --- | --- | --- |
| CL.NYM | ....Light Sweet Crude Oil Futures,M | ...42.74 | ...0.11 | | (0.3%) | |
| | | | | | | |
| --- | --- | --- | --- | --- | --- | --- |
| GC.CMX | ...Gold Apr 16 | ..............................1,249.00 | ...6.80 | | (0.6%) | |
Oil climbed above $45 a barrel for the first time since Nov after US industry data showed a decline in crude stockpiles. Oil futures rose as much as 2.6%, extending a 3.3% gain yesterday. Supplies fell by 1.07M barrels last week, the American Petroleum Institute said. The World Bank boosted its forecast for oil prices this year, projecting that demand will pick up & US output cuts will steepen in H2.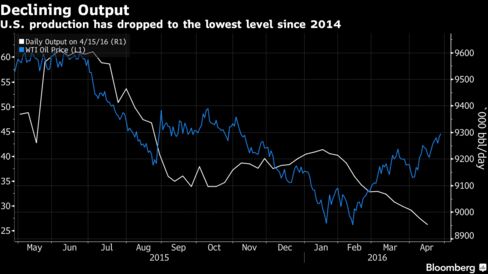 Oil has rebounded, after slumping to the lowest level since 2003 in Feb, amid signs the global surplus will ease as US production declines.Crude stockpiles at Cushing, Okla, & the biggest US oil-storage hub, increased 1.9M barrels last week, the API reported. Nationwide inventories are forecast to expand by 1¾M barrels, according to the estimate.
Apple, a Dow stock, reported disappointing earnings for the qtr ended in Mar.
Total revenue came in at $50.56B, a 13% decline from the same period in the prior year. Management guidance was for sales in the range of $50-$53B. iPhone revenue totaled $32.9, representing 65% of sales. Unit sales fell 16% year over year to 51.2M, while sales in $ terms declined 18%. The average selling price for an iPhone declined to $642 versus $691 in the prior qtr, probably related to the fact that the new iPhone SE sells for lower prices than previous iPhone models. Also, revenue was as weak as expected in the iPad & Mac divisions, while other services & products delivered a more encouraging performance.
Revenue in the iPad division was $4.4B, declining 19% versus the same qtr in the prior year.
Sales of Mac products amounted to $5.1B, a 9% annual decrease.
The services division, including Internet services, AppleCare, Apple Pay, & licensing, saw a 20% increase in revenue, reaching $6B (considerably bigger than Mac & iPad).
The "other products" segment covers Apple TV, Apple Watch, Beats products, iPod, & 3rd-party accessories. This division produced $2.2B in revenue, a 30% annual increase.
Performance in China, its 2nd biggest market (behind North America) was particularly worrisome. AAPL made $12.5B in Greater China sales, representing 25% of total revenue & declining by a steep 26% year over year. This was the first time AAPL reported declining revenues in 13 years, & it was also the first qtr with declining iPhone sales since the product was introduced in 2007. Even worse, management is expecting continued weakness in fiscal Q3. Guidance is for sales is $41-$43B, a decline of 17%-13% from $49.6B in fiscal Q3-2015. Gross margin was 39.4% of sales, a modest decline versus 40.8% a year-ago. Operating income fell from $18.3B to almost $14B. This drop caused a contraction in EPS, from $2.33 per unit in Q2 of fiscal 2015 to $1.90 last qtr. The company returned nearly $10B to shareholders via divs & buybacks. AAPL increased the size of its share repurchase authorization from $140B announced last year to $175B & raised the quarterly div 10%, from 52¢ to 57¢. It ended the qtr with a massive cash hoard of nearly $232B. The stock tumbled 7.73. If you would like to learn more about AAPL, click on this link:
club.ino.com/trend/analysis/stock/AAPL?a_aid=CD3289&a_bid=6ae5b6f7
Apple (AAPL)
Boeing, another Dow stock, reported a 9% drop in Q1 profit, citing an after-tax charge from the KC-46 aerial refueling tanker it is developing for the Air Force. EPS was $1.83, compared with $1.87 a year earlier. The company recorded a tanker charge of 24¢ per share, in the qtr. BA left its full-year profit & revenue forecast unchanged, suggesting it is confident it can make up for the added tanker expense in other parts of its business. The company has said pricing pressure from rival Airbus prompted rigorous cost cuts this year, including eliminating as many as 8K jobs in its commercial airplane unit. But the market has focused on risks of charges for the 787 Dreamliner & tanker programs. Earlier this year, the Pentagon said the tanker program was at risk of falling behind schedule, & the 787 has accumulated significant deferred production costs. Those deferred costs rose $141M to $28.6B, a slowdown from prior quarterly increases. Core EPS, which exclude pension & other costs, fell to $1.74 from $1.97, & revenue rose 2B to $22.6B. Commercial aircraft deliveries fell 4.3% to 176. The stock fell 46¢. If you would like to learn more about BA, click on this link:
club.ino.com/trend/analysis/stock/BA?a_aid=CD3289&a_bid=6ae5b6f7
Boeing's 1Q Profit Hit by Tanker Charge
Boeing (BA)
Earnings are coming in dreary, highlighted by AAPL with the biggest market cap in the world. Dow is little phased. There is hope this PM Janet will delay the next interest rate hike, although it is expected she will "keep all options open." That hardly qualifies as a news bulletin. In the face of all the dismal news out there, Dow is incredibly strong, only about 300 below setting a new record high.
Dow Jones Industrials