Dow rose 107 (closing near the highs), but decliners slightly ahead of advancers & NAZ went up 44. The MLP index lost 7+ to the 263s on falling oil prices & the REIT index added 1+ to the 341s. Junk bond funds eased back & Treasuries lost a little ground. Oil dropped to the 36s & gold also declined.
AMJ (Alerian MLP Index tracking fund)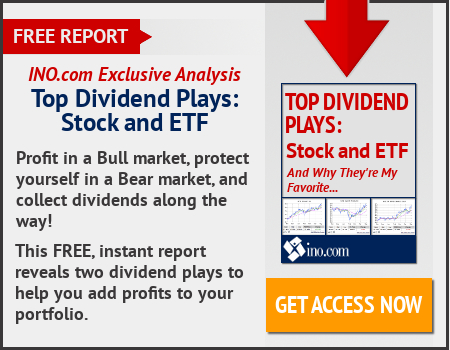 | | | | | | |
| --- | --- | --- | --- | --- | --- |
| CL.NYM | ....Crude Oil May 16 | ....37.04 | ...1.30 | (3.4%) | |
For the past couple of years, automakers have helped keep the economy going as confident consumers raced to replace their aging rides with more luxurious cars & sport utility vehicles. That torrid growth is starting to level off. The 3 US automakers posted sales gains that missed estimates in Mar, while Japan's Toyota (TM) reported a surprise decline. General Motors (GM) said the industry sold cars at an annualized rate of about 17.1M vehicles, healthy by historical comparisons but the slowest pace since Jun.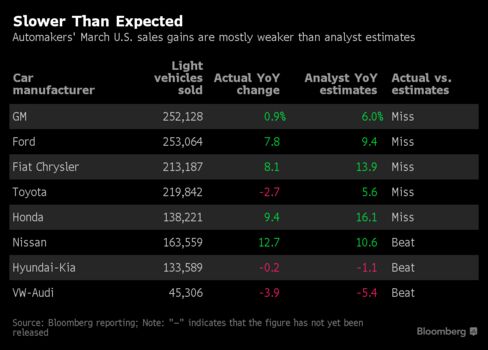 Add in the fact that some automakers are starting to spend more on sales incentives & making longer-term loans, it's clear executives are no longer counting on rip-roaring demand. It also brings the industry more into line with an economy that has been logging steady but not stellar growth. Even with relatively cheap gasoline stoking consumer demand for SUVs & pickups, GM, Ford (F) & Fiat Chrysler (FCAU) all fell short of sales estimates for the month.
Automakers Miss March Sales in Sign Rapid-Growth Era Nears End
Cleveland Federal Reserve pres Loretta Mester said at the Apr meeting is when she'll decide how to vote on a possible rate rise. "I want to see all the data that's coming in. My best guess at this point is that the economy will evolve in a way that will entail bringing interest rates up gradually sometime this year but when it is and how many, I can't tell you at this point," she said. She added that the economy has been resilient in the face of the global-growth worries that plagued financial markets in Q1, the rising $, & low oil prices. "Despite all these drags, and they are downside risks to the outlook, the economy has been very resilient through it. And that makes me think, to me, it's appropriate that we are on this gradualization path. Gradual is the watch word." She reiterated what Yellen has repeatedly said, that by being gradual, the Fed can analyze all of the economic data pouring in on the state of the economy (not just figures on the labor market & inflation) & take its time without worrying about moving too quickly or too slowly on rates.
Consumer sentiment fell slightly in Mar suggesting some caution on the part of Americans facing better job prospects but a still uncertain global economy. The University of Michigan final consumer sentiment index for Mar registered at 91.0. That's down from the final Feb reading of 91.7. The preliminary Mar reading, released 2 weeks ago, was 90.0. Expectations were for a Mar index reading of 90.4. The relative stability in recent months reflects "more positive personal finances being offset by less favorable prospects for the economy," said Richard Curtin, the survey's chief economist.
Oil tumbled 4%, taking it back into the 36s. Its advance from late Feb has been wiped out. Comments from Saudi Arabia are responsible for today's decline. In this world, when Saudi Arabia speaks, the world listens. A sluggish oil market & gloomy earnings reports can be tough on this 2 month bull market which is overdue for a correction. For the time being, Dow is up almost 400 YTD & nearing its record high.
Dow Jones Industrials