Dow rose 103, advancers over decliners 3-1 & NAZ added 12. The MLP index gained 3+ to the 272s & the REIT index was fractionally lower to the 338s. Junk bond funds fluctuated & Treasuries retreated. Oil went up a fraction & gold is flattish
AMJ (Alerian MLP Index tracking fund)
Crude Oil
40.71
0.35
(
0.87%
)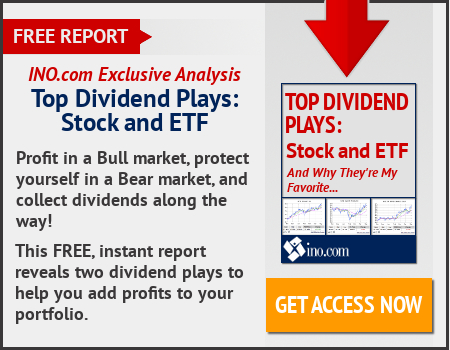 A prolonged period of slow growth has left the global economy more exposed to negative shocks & raised the risk that the world will slide into stagnation, the IMF warned. It cut the world expansion forecast, as weak exports & slowing investment dim prospects in the US, a consumption-tax hike saps growth in Japan & a slump in the price of everything from oil to wheat continues to hobble commodities producers. The world economy will grow 3.2% this year, down from a projected 3.4% in Jan in its quarterly update to its World Economic Outlook. The fund also cut its forecast for growth in 2017 to 3.5%, down from 3.6% 3 months ago.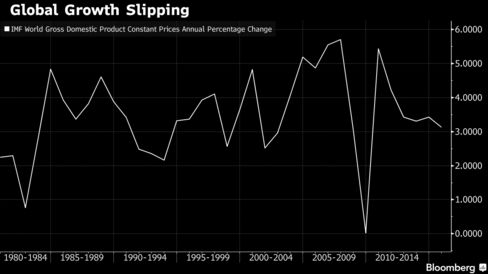 "Growth has been too slow for too long," the IMF said. "There is no longer much room for error." "But by clearly recognizing the risks they jointly face and acting together to prepare for them, national policy makers can bolster confidence, support growth, and guard more effectively against the risk of a derailed recovery," it added. Cited among the biggest risks as a "return of financial turmoil itself, impairing confidence & demand in a self-confirming negative feedback loop." "Another threat is that persistent slow growth has scarring effects that themselves reduce potential output and with it, consumption and investment," it said. "Consecutive downgrades of future economic prospects carry the risk of a world economy that reaches stalling speed and falls into widespread secular stagnation." While growth forecasts for the US & euro area were marked down by 0.2 percentage point, the deepest reductions in advanced economies came in Japan, cutting its expansion estimate in half for 2016, to 0.5%, & projects a 0.1 percent contraction in 2017, compared with a previous forecast for 0.3% growth.
IMF Warns of Global Stagnation, Cuts Growth Outlook Again
Oil output from US shale regions is headed for the lowest level in almost 2 years with prices at less than half 2014 levels. The Energy Information Administration forecasts oil output from major shale regions will fall to 4.84M barrels a day in May, the lowest level since Jul 2014.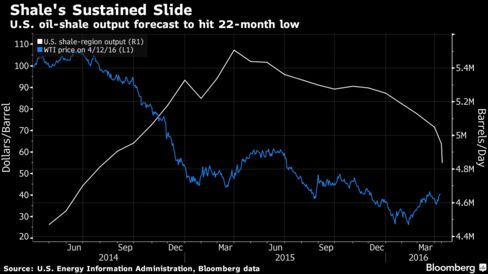 The projections vary widely by region. Production in the Bakken fields of North Dakota & Montana may fall to 1.05M barrels a day in May, 17% below the Dece 2014 peak. May output in the Permian Basin of West Texas to be 2.03M barrels a day, slightly less than in Apr. Permian production has trended upward even as crude fell. A decline of 115K barrels a day in US oil-shale output from Apr to May would be the largest month-to-month drop on record.
The Federal Reserve Bank of New York, capitalizing on the popularity of the Atlanta regional bank growth forecasting tool "GDPNow," introduced its own measure today that updates GDP projections on a weekly basis. The aim is to consider the impact of a range of economic indicators in a timely fashion. The NY Fed model, the "Nowcast," pegged growth at 1.1% for Q1. Growth in the final Q4 came in at 1.4%. That's a lot rosier than the Atlanta Fed read, which has Q1 growth at 0.1%. The GDPnow team, aims to update the measure within a few hours of major indicators releases, sometimes a few times a week.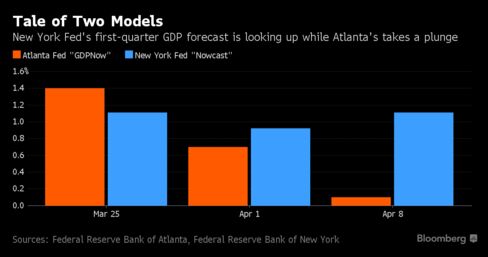 GDP probably will rise 1.9% in Q2, according to the NY regional bank release.
Higher markets are a mystery. The best guess is on hopes for strong earnings which do not seem in the cards. After its big advance, Dow has been in a trading zone around 17½K for 3 weeks. It's difficult to imagine why it will go up further to new records highs (not far away) anytime soon.
Dow Jones Industrials