Dow dropped 31, advancers & decliners were even & NAZ recovered 21. The MLP index lost a tad to the 295s & the REIT index is still in the 337s. Junk bond funds hardly budged & Treasuries fluctuated. Oil & gold each had modest gains.
AMJ (Alerian MLP Index tracking fund)
| | | | | | |
| --- | --- | --- | --- | --- | --- |
| CLM16.NYM | ...Crude Oil Jun 16 | ...45.27 | ...0.06 | (0.1%) | |
| | | | | | | |
| --- | --- | --- | --- | --- | --- | --- |
| GC.CMX | ..........Gold Apr 16 | ......1,249.50 | ...0.30 | | (0.0%) | |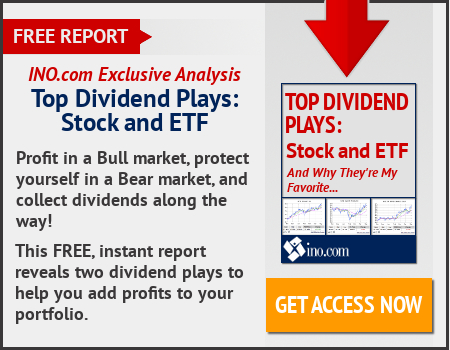 The US economy expanded in Q1 at the slowest pace in 2 years as American consumers reined in spending & companies tightened their belts in response to weak global financial conditions & a plunge in oil prices. GDP rose at a 0.5% annualized rate after a 1.4% Q4 advance, according to the Commerce Dept. The increase was less than the 0.7% projection & marked the third straight disappointing start to a year. Shaky global markets & oil's tumble resulted in the biggest business-investment slump in almost 7 years, & household purchases climbed the least since early 2015. While Fed yesterday acknowledged the softness, they also indicated strong hiring & income gains have the potential to reignite consumer spending & propel economic growth. Household purchases, almost 70% of the economy, rose at a 1.9% annual pace, compared with 2.4% in Q4. Spending, while slightly better than the 1.7% forecast, was a disappointment in light of the consumer-friendly fundamentals including low gasoline prices, cheap borrowing costs, increased hiring & warmer-than-usual winter weather. Disposable income adjusted for inflation climbed 2.9%, an improvement from the 2.3% gain in Q4 & the saving rate ticked up to 5.2% from 5%. The biggest factor weighing on the economy came from companies. Nonresidential fixed investment, or spending on equipment, structures & intellectual property, dropped at a 5.9% annualized pace, the biggest decline since Q2-2009. Last year's slump in oil prices that extended into early 2016 led to an 86% annualized plunge in capital spending on wells & shafts, the most in records back to 1958.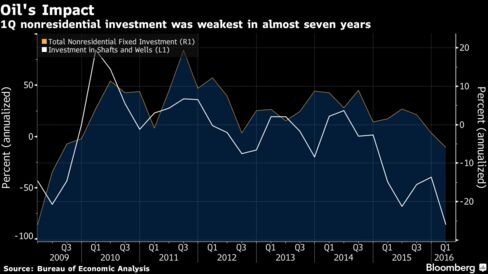 Investment is also languishing as corps struggle to boost profits against a backdrop of weak overseas demand & restrained domestic purchases. Customers in the US also limited orders as companies trim stockpiles to bring them more in line with sales. Inventories subtracted 0.33 percentage point from growth after a 0.22 percentage-point drag in Q4. A dearth of eager overseas customers led to a drop in exports, trade subtracted 0.34 percentage point from overall growth, the most in a year.
U.S. Economy Expands to 0.5% Pace, Weakest in Two Years
Jobless claims last week hovered around 4-decade lows, showing the labor market remains the strongest part of the US economy. Initial applications for unemployment benefits climbed 9K to 257K, according to the Labor Dept. The low level of layoffs indicates companies are optimistic about prospects for demand after a soft Q1. Continued progress in the labor market that's accompanied by accelerating wage growth will be needed to help prop up consumer spending.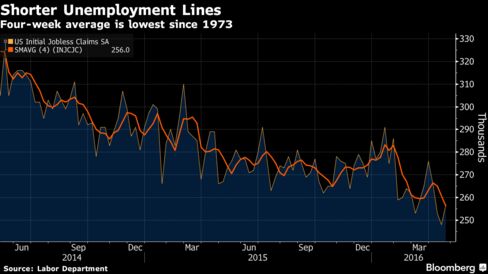 The 4-week moving average of claims decreased to 256K, the lowest since 1973, from 261K. The number continuing to receive jobless benefits fell 5K to 2.13M, the fewest since 2000. The unemployment rate among people eligible for benefits held at 1.6%.
ConocoPhillips, the largest US independent oil company, posted a Q1 loss, compared with a year-earlier profit, & cut its spending budget for the 2nd time this year as the slump in crude prices sapped profitability. The 2016 capital expenditure forecast was cut to $5.7B from $6.4B, driven by reduced deepwater exploration activity. It had cut its capital budget forecast in Feb. COP, which cut its div 25% in Feb to save cash, reduced Q1 operating costs 21% to $1.69B. Production fell to 1.578M barrels of oil equivalent per day (mboe/d) from 1.610M. The loss per share was $1.18, compared with EPS of 22¢ a year earlier. Excluding special items, the loss was 95¢ per share, compared with the estimate for a loss of $1.05. Total revenue & other income fell 37% to $5.02B. The stock rose 65¢. If you would like to learn more about COP, click on this link:
club.ino.com/trend/analysis/stock/COP?a_aid=CD3289&a_bid=6ae5b6f7
ConocoPhillips (COP)
Drab economic data & mixed earnings reports were accepted by the stock market with little excitement. Modest economic growth is welcome to many traders who see that as another excuse to postpone interest rate hikes. More earnings reports are coming from biggie oil companies & they will not be pretty. Low oil prices have not brought a boost to the economy while they hurt the energy segment badly (with more pain to come). The Dow continues in the black YTD.
Dow Jones Industrials