Dow dropped 76, decliners a little ahead of advancers & NAZ was off 28. The MLP index lost pennies in the 294s & the REIT index is in the 334s (trading in a tight range for weeks). Junk bond funds fluctuated & Treasuries retreated. Oil & gold rallied again.
AMJ (Alerian MLP Index tracking fund)
| | | | | | | |
| --- | --- | --- | --- | --- | --- | --- |
| CLM16.NYM | ...Crude Oil Jun 16 | ...46.47 | ...0.44 | | (1.0%) | |
| | | | | | | |
| --- | --- | --- | --- | --- | --- | --- |
| GC.CMX | ..........Gold Apr 16 | ....1,249.50 | ....0.30 | | (0.0%) | |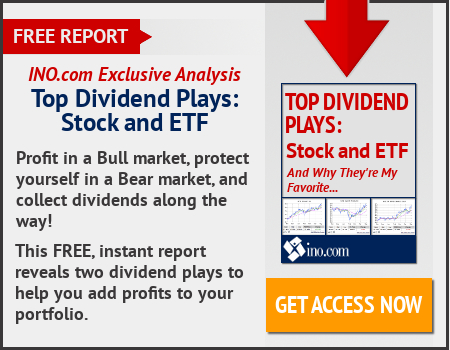 Consumer spending rose less than forecast in Mar, wrapping up the weakest qtr in a year for the biggest part of the US economy even as incomes accelerated. Purchases picked up 0.1% after a revised 0.2% gain in Feb, according to the Commerce Dept. The forecast called for a 0.2% advance. Incomes increased 0.4%, matching Jan as the biggest gain since Jun. A tempering of household purchases for the last 3 qtrs has been surprising given the favorable backdrop of low inflation, job gains & cheap borrowing costs. Faster wage growth may be needed to help encourage American consumers to spend more freely & jump start an economy coming off its weakest performance in 2 years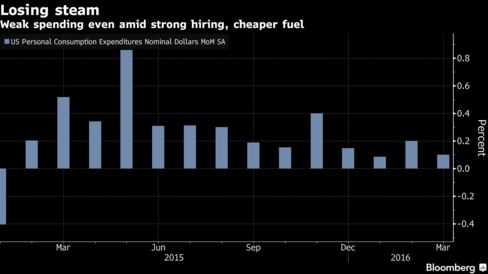 Disposable income, money left over after taxes, increased 0.3% in Mar from the prior month after adjusting for inflation following a 0.2% gain in Feb. The saving rate rose to 5.4% last month, the highest in more than a year. At $735B, the level of savings was the highest since Dec 2012. In Q1, real disposable income rose at a 2.9% annualized rate after a 2.3% pace in Q4-2015. In Q1-2015, it was running at a 3.9% clip. Wages & salaries climbed at a 3.9% pace in Q1, the slowest pace in a year. The price index tied to consumer spending increased 0.1% last month after falling 0.1% in Feb. From a year earlier, the gauge was up 0.8%. This inflation measure is preferred by Federal Reserve policy makers & it hasn't met their target since Apr 2012. Stripping out the volatile food & energy components, the price measure also rose 0.1% from the month before & 1.6% in the 12 months ended Mar.
Consumer confidence fell to a 7-month low in Apr as Americans' expectations about economic growth dropped to the lowest point since Sep 2014. The University of Michigan final index of sentiment declined to 89 from 91 in Mar. The projection was 90 & the preliminary reading for this month was 89.7. Worker pay that's advanced slowly during the expansion & the ongoing negativity in the presidential election campaign have left Americans guarded. While households viewed their finances as currently favorable, they're saving more in the event that employment softens along with wage growth. "The top concerns of consumers involve whether the slowdown in economic growth will result in a slower pace of income and job gains, and growing uncertainty about future economic policies depending on the outcome of the presidential election," the Univ of Michigan consumer survey said. "On both counts, consumers have already adopted a more defensive stance." The gauge averaged 92.9 last year, the best annual performance since 2004. The sentiment report's measure of expectations 6 months from now decreased to 77.6 from 81.5. For the year ahead, respondents anticipated income gains of 1.2%, the smallest in the past year. More also expected the unemployment rate to increase. "When asked to identify what economic news they had recently heard, negative references to the election and government policies rose to 18 percent in April, up from 10 percent last month," according to the survey. The current conditions index, which takes stock of Americans' view of their personal finances, rose to 106.7 from the prior month's 105.6. Consumers projected the inflation rate in the next year will be 2.8%, up from 2.7% in the Mar survey. Over the next 5-10 years, they expect a 2.5% rate of inflation, matching the lowest in records to 1979. It was 2.7% the previous month. Other recent reports on household confidence have been mixed.
Exxon Mobil, a Dow stock & Dividend Aristocrat, beat lowered estimates as a jump in earnings from its chemicals segment cushioned the blow from tumbling prices for oil & natural gas. Q1 EPS fell to 43¢ from $1.17 a year earlier. The quarterly profit was the lowest in 17 years. Still, EPS was 15¢ above estimate. Results were boosted by a 38% increase in its petrochemicals division, to $1.4B, as well as a 33% cut in capital expenditures as it pulled back on drilling & exploration amid weak commodity prices. The chemicals division benefited from stronger margins & higher sales volumes, as the price of raw materials plunged compared to last year's Q1. The downstream segment earned $906M as global gasoline demand remained strong. The 2016 capital budget has been cut 33% from last year, a bigger decline than earlier estimated. Despite those measures, full-year EPS is expected to dip below $10B in 2016 for the first time since 1999.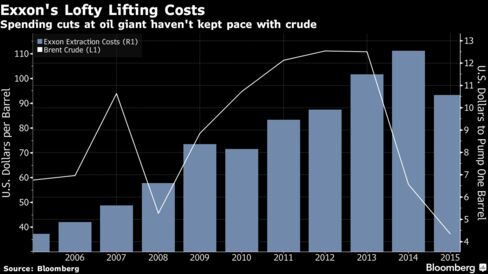 "The organization continues to respond effectively to challenging industry conditions, capturing enhancements to operational performance and creating margin uplift despite low prices," CEO Rex W. Tillerson said. "The scale and integrated nature of our cash flow provide competitive advantage and support consistent strategy execution." The stock rose 82¢. If you would like to learn more about XOM, click on this link:
club.ino.com/trend/analysis/stock/XOM?a_aid=CD3289&a_bid=6ae5b6f7
Exxon Posts Smallest Profit Since 1999 Amid Global Oil Slump
Exxon Mobil (XOM)
Once again, economic & earnings news stories are unexciting. The strength of the US economy is far less than robust, & this is one of the strongest economies in the world. The weak $ is helping oil to advance, but that does not have spillover effects in other markets. As has been the case for almost a decade, the US consumer keeps showing inconsistent patterns of spending. The economy is not as strong as some indicate. However, Dow is up YTD to about 500 below the record highs last year.
Dow Jones Industrials