Dow added 21, advancers over decliners 2-1 & NAZ sank 39. The MLP index went up to the 299s (along with rising oil prices) & the REIT index gained 3+ to the 334s. Junk bond funds were mixed & Treasuries pulled back again. Oil rose to the high 43s (see below) & gold dropped as shown in its chart.
AMJ (Alerian MLP Index tracking fund)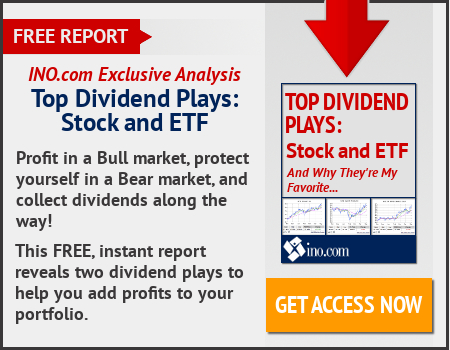 | | | | | | | |
| --- | --- | --- | --- | --- | --- | --- |
| CLM16.NYM | ....Light Sweet Crude Oil Futures,J | ....43.65 | ...0.47 | | (1.1%) | |
Growth in the euro area's services & factory sectors was little changed this month, failing to respond meaningfully to the ECB's latest round of stimulus. Markit said its composite Purchasing Managers Index slipped to 53 in Apr from 53.1 in Mar, with 50 the key dividing line between growth & contraction. Its survey also showed little change on average in optimism among service providers about the outlook. The report comes a day after ECB President Mario Draghi said the stimulus the central bank unleashed in Mar is working & people must give it time to feed thru. Nevertheless, inflation has struggled to stay above zero for the past year, & Markit said "even more aggressive policy action may therefore be required." The factory PMI for the euro area slipped to 51.5 this month from 51.6, while the services gauge rose to 53.2 from 53.1. While measures of employment growth and prices improved in Apr, Markit noted that these were rising "from low bases." France remains a major drag on the region. While the French composite PMI rose in Apr, the factory gauge fell to an 8-month low of 48.3. In Germany, the combined measure slipped to a 9-month low of 53.8 from 54.
American Airlines warned that a closely watched revenue measure won't turn positive until next year, adding to the angst of investors already rattled by a similar forecast from other airlines. Declines in passenger revenue from each seat flown a mile have plagued US carriers for 2 years amid softer demand abroad & increased capacity & pricing competition from no-frills airlines at home. AAL expects passenger unit revenue to fall 6-8% this qtr from a year earlier, little changed from the 7.5% drop in Q1. The pricing environment "will remain challenging throughout 2016," American pres Scott Kirby said. "The market is rightly concerned about getting back to positive PRASM, and we are focused on that as an explicit, internal goal," he said. "That timeline is unfortunately being pushed into next year." AAL is taking steps to remedy the problem, such as trimming global capacity & changing pricing models typically used in the industry. Q1 adjusted EPS dropped from a year earlier to $1.25, topping the $1.19 estimate. Revenue declined 4% to $9.44B, meeting expectations. Results fell as AAL took provisions for future income taxes. "We're disappointed in the revenue performance on an absolute basis and in comparison with our peers," CEO Doug Parker said. "We don't view the current revenue trends as acceptable or long term." Average fare per mile slipped 7.1%, which has vowed not to lose passengers to discount carriers. The airline paid 34% less for each gallon of jet kerosene, helping to make up for some of the fare discounting. The stock dropped 1.80. If you would like to learn more about AAL, click on this link:
lub.ino.com/trend/analysis/stock/AAL?a_aid=CD3289&a_bid=6ae5b6f7
American Airlines (AAL)
Oil prices to notched their 3rd straight week of gains as market sentiment turned more upbeat amid signs a persistent global supply glut may be easing. Strong gasoline consumption in the US, increasing signs of declining production around the world & oilfield outages have underpinned a return to investment in the sector. The rally was limited by profit taking ahead of the weekend. Brent has surged 4.5% this week & U.S crude 8.4% as both notched a 3rd week of gains. Crude is up more than 2/3 since its 2016 lows between Jan-Feb. Strong crude imports to China in Mar are supporting prices. Many analysts have said they expect US producers to take every opportunity to aggressively hedge by selling as soon as oil prices recover for short periods of time. This would have a tendency to pressure prices in later months, which could in turn limit front-month gains.
Earnings are not pretty. Last night, Intel (INTC), a Dow stock, reported dreary earnings & announced layoffs. The stock was down 33¢ today & set a very negative message for the tech sector. Dow did not feel the impact but NAZ was hit hard. Next week could be a very difficult week for earnings & the stock market.
Dow Jones Industrials