Dow slid back 29, decliners over advancers 5-2 & NAZ dropped 56. The MLP index rose again to the 299s (another 2016 high) & the REIT index rebounded 2+ to the 333s. Junk bond funds edged higher & Treasuries were also weak, taking yields higher. Oil jumped up to the 44s & gold drifted lower.
Dow Jones Industrials
| | | | | | | |
| --- | --- | --- | --- | --- | --- | --- |
| CLM16.NYM | ...Light Sweet Crude Oil Futures,J | ...43.88 | ...0.70 | | (1.6%) | |
| | | | | | |
| --- | --- | --- | --- | --- | --- |
| GC.CMX | ..........Gold Futures,Apr-2016 | ...........1,241.50 | ...7.50 | (0.6%) | |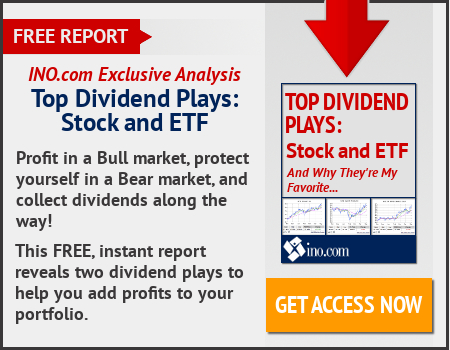 Caterpillar, a Dow stock,, lowered its profit & sales forecasts as a 3-month-old commodities rally risks running out of steam. "Commodity prices improved from their recent lows, but excess supply remains," CAT said. "It is not clear at this time that the current prices are either sustainable or sufficient to drive increased demand for equipment. "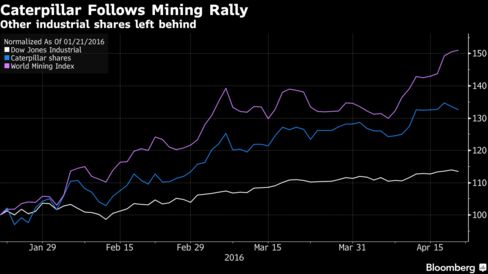 CEO Doug Oberhelman is shutting factories & cutting 10K workers thru 2018 in response to a global mining & energy rout. With commodity indexes slumping in January to all-time lows, customers from Australia to Brazil have trimmed costs to remain profitable, denting machinery orders. While commodity markets are rebounding as supply overhangs start to subside, demand for yellow diggers & trucks has yet to revive. Commodity producers, who use CAT machinery to dig up & transport materials as well as power their equipment, have slashed capital spending. CAT revenue will be $40-$42B this year, the company said. In Jan, CAT forecast full-year EPS of $4 & $40-44B of revenue. EPS will now be $3.70, down from a previous forecast of $4. EPS excluding one-time items in Q1 was 67¢, missing the 68¢ estimate. The stock fell 51¢. If you would like to learn more about CAT, click on this link:
club.ino.com/trend/analysis/stock/CAT?a_aid=CD3289&a_bid=6ae5b6f7
Caterpillar (CAT)
McDonald's,a Dow stock & Dividend Aristocrat, comeback is gaining steam, fueled by all-day breakfast, value deals & lower commodity prices. The company posted a 6.2% gain in same-store sales last qtr, the best performance in 4 years,& earnings handily topped estimates.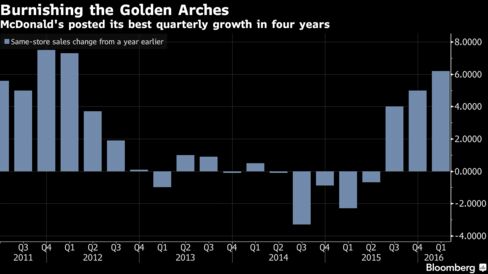 CEO Steve Easterbrook's plan to revive the chain is gathering momentum. Since taking the helm more than a year ago, he has revamped drive-thru ordering, tweaked kitchen operations & slimmed down the menu. The company also has reignited US sales with all-day breakfast & McPick 2-for-$2 & 2-for-$5 deals. While revenue dropped 0.9% to $5.9B, that beat the $5.81B projection. EPS to rose $1.23 versus the $1.16 estimate. The company said it expects its "grocery bill" of 10 commodities to drop by as much as 4.5% in the US this year, a larger decline than the company predicted in Jan. MCD, which gets about 2/3 of its revenue from intl locations, also is seeking to draw diners overseas with new food & deals. The stock went up 71¢. If you would like to learn more about MCD, click on this link:
club.ino.com/trend/analysis/stock/MCD?a_aid=CD3289&a_bid=6ae5b6f7
McDonald's (MCD)
General Electric, another Dow stock, reported sharp sales declines in oil & transportation as its transformation around industrial manufacturing hit up against a sluggish global economy. Q1 organic revenue fell 1% in the industrial segments as orders decreased 7% on the same basis. Organic operating profit was flat at $2.9B in the manufacturing units. "The oil and gas environment is challenging and the value of GE is that we are able to offset this with better performance across the portfolio," CEO Jeffrey Immelt said, & called the overall environment "volatile." Sales in the industrial divisions & GE Capital operations that the company is retaining were $27.6 B. Analysts expected $27.7B. Adjusted EPS was 21¢, compared with the 19¢ estimate. Much oif the beat was from the financial side which is being downsized. GE Capital sales rose 1%. Sales dropped 18% in the oil & gas unit & 25% in the transportation division. Operating earnings will be $1.45-$1.55 this year, GE said, reaffirming an earlier forecast, & organic revenue is forecast to rise as much as 4%. The stock lost 47¢. If you would like to learn more about GE, click on this link:
club.ino.com/trend/analysis/stock/GE?a_aid=CD3289&a_bid=6ae5b6f7
General Electric (GE)
Reported earnings are not pretty, as expected. They are even struggling to beat lower estimates. And these are the early reports. Next week there may be more disappointments. Oil is up on mysterious bets, but it's hard to see this advance going much further. Dow is still up a starting 2K from its low 2 months ago, remaining overbought.
Dow Jones Industrials