Dow added another 65, advancers over decliners almost 3-1 & NAZ gave up 4. The MLP index jumped up 7+ to the 286s & the REIT index was pennies higher in the 341s. Junk bond funds traded higher & Treasuries pulled back. Now oil is back up to the 41s (see below) & gold climbed over 1250.
AMJ (Alerian MLP Index tracking fund)
Crude Oil
40.39
0.61
(
1.53%
)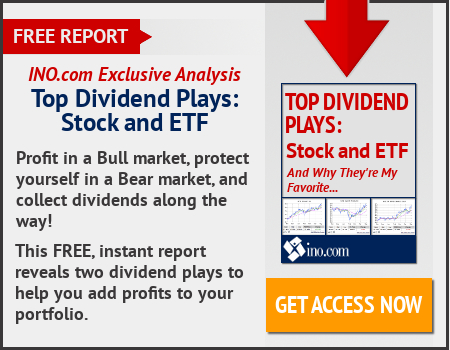 New-home construction in the US slumped more than projected in Mar, reflecting a broad-based retreat that showed the industry lost momentum heading into the busiest time of year. Residential starts decreased 8.8% to a 1.09M annualized rate (the lowest since Oct) & weaker than any forecast, according to the Commerce Dept. Permits, a proxy for future construction, also dropped.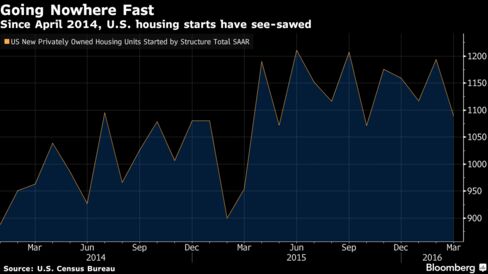 The report, following figures yesterday that showed builder sentiment was little changed in Apr, may raise questions about the strength of the housing rebound at a time manufacturing has barely emerged from a slump & overseas markets are cooling. The forecast called for a drop to 1.17M. Housing starts have see-sawed in a narrow range over the past year, signaling the residential real-estate rebound from the recession has petered out. Permits decreased 7.7% to a 1.09M annualized rate, the fewest in a year. They were projected to rise to a 1.2M rate after 1.18M the prior month. Construction of single-family houses dropped 9.2% to a 764K rate from 841K the previous month that was the strongest since Oct 2007. Work on multifamily homes, such as townhouses & apartment buildings, declined 7.9% to an annual rate of 325K, the fewest since Feb 2015. Starts decreased in 3 of 4 regions, led by a 25.4% slump in the Midwest.
Housing Starts in U.S. Slumped More Than Forecast in March
German investor confidence climbed for a 2nd month, rising to the highest level this year, as concerns over China's economy eased & the ECB ramped up euro-area stimulus. The ZEW Center for European Economic Research said that its index of investor & analyst expectations, which aims to predict economic developments 6 months ahead, advanced to 11.2 in Apr from 4.3 in the previous month. The forecast was for an increase to 8.0. After China's attempts to rebalance its economy unsettled global financial markets last year, recent data has shown credit supply & property sales supporting growth. At the same time, ECB policy makers have pumped liquidity into the euro area via bond purchases & record-low interest rates as they try to revive inflation in the currency bloc & sustain an economic recovery. A measure of expectations jumped to 21.5 in Apr from 10.6 in Mar & a gauge of current conditions in Ger dropped to 47.7 from 50.7.
Oil rose as a strike by oil workers in Kuwait nearly halved crude production from the OPEC member, overshadowing bearish sentiment following the failure on Sun by producers to agree to freeze output levels. Thousands of oil workers downed tools for a 3rd day to protest against planned public sector pay reform, cutting crude output to 1.5M barrels per day (bpd). That is little more than half of Kuwait's average output of 2.8M bpd in Mar. Analysts believe that the disruption would be brief & investors would soon refocus on the oversupply given the failure of major exporters to agree to freeze output to avoid worsening the glut.
Traders are throwing caution to the wind & willing to embrace more risk, taking the stock averages higher. Dow just needs another 200 to set a record, but NAZ is lagging as it struggles to go over 5K (roughly another 50). The rise is scary when fundamentals don't back it up.
Dow Jones Industrials