Dow jumped up 126, advancers over decliners better than 6-1 & NAZ rose 33. The MLP index gained 7+ to the 269s from rising oil prices & the REIT index added 2+ to the 339s. Junk bond funds crawled higher & Treasuries declined. Oil shot up to the 39s (see below) & gold inched higher.
AMJ (Alerian MLP Index tracking fund)
| | | | | | | |
| --- | --- | --- | --- | --- | --- | --- |
| CL.NYM | ....Light Sweet Crude Oil Futures,M | ...39.23 | ...1.97 | | (5.3%) | |
| | | | | | | |
| --- | --- | --- | --- | --- | --- | --- |
| GC.CMX | ...Gold Apr 16 | ..............................1,238.40 | ...2.20 | | (0.2%) | |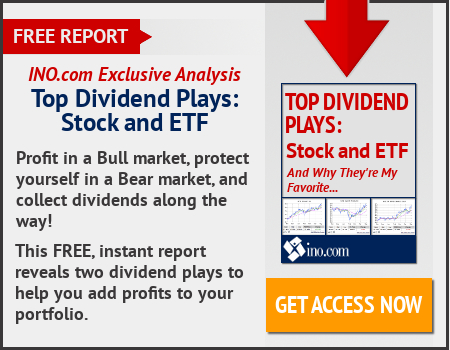 Uncertainty over the outlook for the US economy is higher than usual, which calls for a "cautious and gradual approach" to interest-rate increases, Federal Reserve Bank of New York pres William C. Dudley said. Dudley echoed recent comments from Janet Yellen, who said Mar 29 that the presence of downside risks to the outlook meant it was appropriate to "proceed cautiously in adjusting policy." "The factors behind the financial turbulence we saw earlier this year do not yet appear to be resolved fully," Dudley said. "Although the downside risks have diminished since earlier in the year, I still judge the balance of risks to my inflation and growth outlooks to be tilted to the downside." He continues to expect the economy will grow about 2% this year, which in turn should reduce the unemployment rate further, to around 4.75%. He highlighted low inflation expectations as a "cause for concern" that presented risk to his outlook that inflation would gradually rise to the Fed's 2% target, but added that the "recent rise in inflation and in measures of inflation expectations have increased my confidence around this outlook compared to earlier in the year." Dudley, reinforcing other comments Yellen made. The central bank can use communications & balance-sheet policies as monetary stimulus if warranted, he said.
Oil climbed as US crude output continues to slide ahead of a meeting between suppliers to discuss freezing production. Futures rose as much as output slid for the 10th time in 11 weeks thru Apr 1 & crude stockpiles fell, according to data from the Energy Information Administration. Major producers from Saudi Arabia to Russia will meet next week to discuss freezing output in a bid to stabilize prices.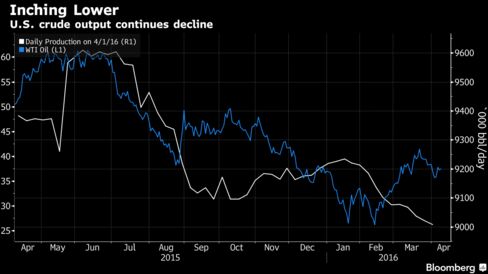 Crude slid to the lowest level in almost 13 years in Feb before rebounding on signs a global glut will ease. Prices have whipsawed this week amid speculation over whether an accord to cap output can be reached. Russia is seeking a successful result from the Doha meeting where countries will be discussing a freeze of oil production at Jan levels. US crude production slid 14K barrels a day to 9.01M, according to EIA data.
Oil Rises as U.S. Output Falls Before Production Freeze Talks
Iran ratcheted up its offense in the oil market after breaking a pricing tradition, signaling it's seeking to win market share at a time when rival producers are trying to forge a deal on freezing output. State-run National Iranian Oil will sell the Forozan Blend crude for May to Asia below the level offered by rival Saudi Aramco for Arab Medium, the 3rd month it is giving the discount after setting it at a premium for almost 7 years thru Feb 2016. NIOC will also sell the Iranian Light grade to Asian customers at 60¢ below Middle East benchmark prices. While producers including Saudi Arabia & Russia are due to meet on Apr 17, Iran is determined to regain market share lost over the past few years due to sanctions. To pry away customers relishing oil that is cheaper than mid-2014 levels by more than 50%, the Persian Gulf state is expected to focus on pricing & boosting supply.
Iran Steps Up Offense in Oil Market War With Price Discount
Nothing like rising oil prices to bring out stock buyers. But this has been a highly volatile market lately. In addition, Iran is not interested in cooperating with the bulls who want to take prices higher. Next week earnings season begins when Alcoa (AA) reports Mon after the close. Expectations are not promising.
Dow Jones Industrials