Dow gave up 26 (off the AM lows), decliners over advancers 2-1 & NAZ fell 10. The MLP index was about even in the 296s & REIT index gained 6+ to the 336s. Junk bond funds declined following strength this year & Treasuries were flattish. Oil lost 1 to the 43s & gold was strong (more on both below).
AMJ (Alerian MLP Index tracking fund)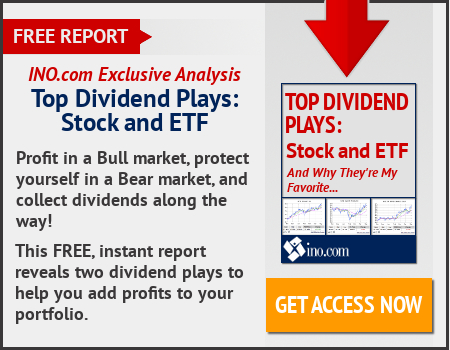 | | | | | | |
| --- | --- | --- | --- | --- | --- |
| CLM16.NYM | ....Crude Oil Jun 16 | ....42.84 | ...0.89 | (2.0%) | |
Oil prices sold off after a private data forecaster reported a jump in stored supplies at the main delivery hub in the US. The market chopped around much of the morning in directionless trading, but turned decisively negative after Genscape released a weekly report showing oil inventories in Cushing, Okla., storage tanks rising by nearly 1.5M barrels. Cushing inventories have been declining since hitting a record of nearly 67M barrels in Mar, dropping by about 4% since then, & have fallen for the last 2 weeks in a row. If this report is accurate, it could send a bearish signal to a market that has been gaining momentum from evidence of strong demand and hope that the oversupply of oil is beginning to wane. Official US Energy Dept inventory data are scheduled to be released Wed.
Oil Declines on Inventories Forecast
Gold rose with the Jun contract rising $10.20 (0.8%) to close at $1240. The bounce saw gold claim back just over ½ of Fri's sharp fall. Analysts tied the rebound in part to renewed pressure on the $. A weaker $ is seen as a boost to commodities priced in dollar as it makes them cheaper in other currencies.
Kimberly-Clark, a Dividend Aristocrat, Q1 revenue was dented by negative foreign exchange movements, but management remains confident that the consumer-products giant can hit its full-year profit forecast.
Kimberly-Clark results: The raw numbers
| Metric | Q1 2016 | Q1 2015 | Growth (YOY) |
| --- | --- | --- | --- |
| Sales | $4.476 billion | $4.691 billion | (4.6%) |
| Net income | $545 million | $468 million | 16.5% |
| Earnings per share | $1.50 | $1.27 | 18.1% |
Sales fell 5% to $4.5B, as a 7% negative impact from foreign exchange fluctuations more than offset organic sales growth of 2%.
Adjusted operating profit, which excludes restructuring costs, pension settlement charges, and other nonrecurring items, rose less than 1% to $818M, as cost savings related to its FORCE (Focused On Reducing Costs Everywhere) program & lower raw material costs boosted results.
Adjusted net income, which benefited from a lower effective tax rate, increased 5.9% to $555M adjusted EPS, aided by share buybacks, rose 7.7% to $1.53.
"In the first quarter, organic sales grew more than 2 percent and our adjusted operating profit margin improved by 90 basis points," said CEO Thomas Falk. "We achieved$110 million of total cost savings from our FORCE program and 2014 Organization Restructuring and continued to allocate capital in shareholder-friendly ways." KMB reiterated its revenue forecast for 2016, including organic sales growth of 3-5%, which is likely to be offset by a 5%-6% negative impact from foreign exchange. In addition, management still expects full-year adjusted EPS to be $5.95-$6.15. "We continue to execute our Global Business Plan strategies for long-term success and we are confirming our previous top- and bottom-line outlook for 2016," added Falk. "In summary, we expect to deliver on our commitments again this year." The stock dropped 67¢. If you would like to learn more about KMB, click on this link:
club.ino.com/trend/analysis/stock/KMB?a_aid=CD3289&a_bid=6ae5b6f7
Kimberly-Clark (KMB)
The rally in oil prices may be over & an approaching FOMC meeting in the next 2 days are making traders nervous. In addition, earnings reports are not encouraging, even when all companies have to do is beat lowered estimates. However buying in the PM trimmed earlier losses. Dow is up 500+ YTD, not bad, & continues to have its eyes on setting a new record at 18.3K, not far away.
Dow Jones Industrials