Dow lost 6, decliners over advancers 3-2 & NAZ was off 2. The MLP index slumped 6 to the 264s & the REIT index inched up a fraction to the 341s. Junk bond funds were weak & Treasuries found buyers today. Oil slid lower in the 36s & gold pulled back for a small loss.
AMJ(Alerian MLP Index tracking fund)
| | | | | | |
| --- | --- | --- | --- | --- | --- |
| CL.NYM | ....Light Sweet Crude Oil Futures,M | ...36.56 | ...0.23 | (0.6%) | |
| | | | | | |
| --- | --- | --- | --- | --- | --- |
| GC.CMX | ...Gold Futures,Apr-2016 | .............1,220.70 | ...1.50 | (0.1%) | |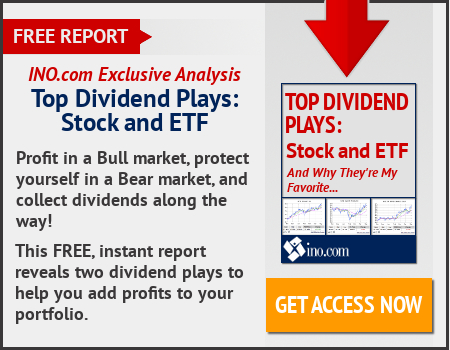 Greece's bonds fell, with shorter-dated yields rising the most in almost 2 months, as IMF Managing Director Christine Lagarde said the organization is "a good distance away" from an agreement that would allow for additional loans to Europe's most-indebted state. The extra yield that investors demand for holding the nation's Jul 2017 securities instead of those due in a decade climbed to more than 200 basis points. The inverted yield curve may signal that investors are more concerned about whether they get their cash back in the short term than the possibility of inflation eroding returns on debt with longer due dates.
The tension with the IMF comes as European officials monitoring the progress of debt negotiations say the nation could again face the threat of being pushed into default & out of the euro if the current bailout review drags on into Jun & Jul, when the country faces more than €10B ($11.4B) of debt repayments. There was little sign of panic among the rest of Europe's higher-yielding bonds, with Portuguese & Spanish 10-year bond yields rising only about 2-3 basis points. Their bonds are being supported by the ECB acquiring €80B of securities a month as part of its efforts to reignite inflation in the currency bloc. The yield on Greece's Jul 2017 securities increased 195 basis points to 10.86%, the biggest jump since Feb 9. The 3.375% security due Jul 2017 fell 2.08, or €20.80 per 1,000-euro face amount, to 91.45. 10-year yields rose 30 basis points to 8.89%.
Money managers lost faith in oil's recent rally as doubts grew over whether major producers will be able to agree on an output freeze. Oil retreated last week for the first time since mid-Feb. Prices had surged from a low of almost 13 years on a proposal by Saudi Arabia, Russia, Venezuela & Qatar to cap oil output & reduce a global surplus. They meet on Apr 17.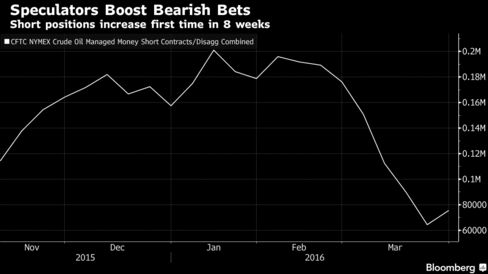 While Iran said it would attend the talks, it ruled out limiting supply as it restores exports after sanctions were lifted in Jan. Saudi Arabia's Deputy Crown Prince Mohammed bin Salman said in that his country will freeze its output only if Iran & other major producers do as well. That pushed WTI down a further 4%. Short positions on WTI crude, bets that prices will fall, rose the most since Nov last week. The liquidation of shorts during the prior 7 weeks was the largest on record. Iran plans to boost crude output to 4M barrels a day, the highest level since 2008, before it will consider joining other suppliers in seeking ways to rebalance the global oil market, Oil Minister Bijan Zanganeh said last month. Iranian output rose 100K barrels a day to 3.2M in Mar, the most since May 2012.
Economic surprises in China are increasingly driving global stock-market returns, underscoring the need for clear & timely communication by the Communist Party policy makers, according to the IMF. There's been a strong & steady increase over the last 2 decades in the impact of Chinese growth surprises on stock returns in emerging & advanced economies, the IMF found after analyzing the effect of Chinese industrial-production figures that missed market expectations. It's a trend that's likely to intensify. That means China's roiling of global financial markets may become a more regular occurrence following unexpected devaluations of the yuan & data showing a slowing economy that also sent stocks tumbling around the world. "The challenge of engineering a smooth transition will make global financial markets more sensitive to changes in China's economic and financial conditions and policies," the IMF said. "Clear and timely communication of its policy decisions, transparency about its policy goals, and strategies consistent with achieving them will, therefore, be essential to ensure against volatile market reactions," the fund said. The IMF found that advanced economies' stock & currency markets are becoming increasingly sensitive to spillovers from emerging markets. More than 1/3 of the variation in returns in the stock & foreign-exchange markets can now be traced to emerging-market spillovers.
The big meeting for oil countries to decide about limiting production is 2 weeks away & the oil market is nervous about the outcome. They are not in agreement about limiting or reducing oil production & with more oil coming from Iran, the meeting will likely not accomplish anything. By the time of the meeting, the first earnings reports for Q1 will be out & they may be unsatisfactory. However, Dow remains up almost 2K since the mid Feb lows. That spells OVERBOUGHT!!
Dow Jones Industrials