Dow climbed 51 (above 18K once again), advancers over decliners 5-2 & NAZ fell 25. The MLP index added 2+ to the 298s & the REIT index rose to the 337s. Junk bond funds went up & Treasuries also were bid higher. Oil had another good day (see below) & gold had a modest gain, still under 1250.
AMJ (Alerian MLP Index tracking fund)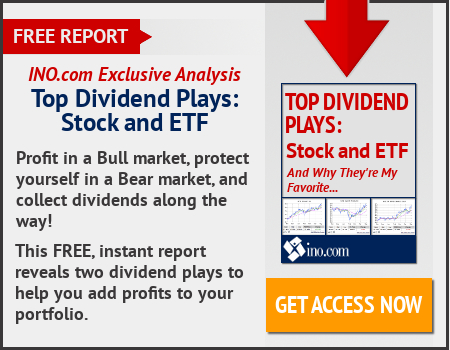 | | | | | | | |
| --- | --- | --- | --- | --- | --- | --- |
| CLM16.NYM | ....Crude Oil Jun 16 | ....45.13 | ...1.09 | | (2.5%) | |
The FMOC left open the door to raising interest rates in Jun by tacitly nodding to improvement in global financial markets & downplaying recent weakness in the US economy. It omitted previous language that "global economic and financial developments continue to pose risks," instead saying officials will "closely monitor" such developments. The Fed left its benchmark interest rate unchanged. "Labor market conditions have improved further even as growth in economic activity appears to have slowed," the FOMC said. "Growth in household spending has moderated, although households' real income has risen at a solid rate and consumer sentiment remains high."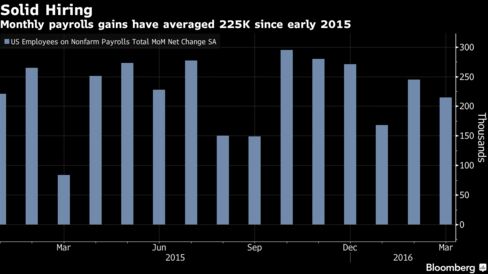 The committee reiterated that it will probably raise rates at a "gradual" pace & the next meeting will be Jun 14-15. Extending a hold since Dec, the committee said that inflation has continued to run below the Fed's 2% target, & market-based measures of inflation compensation remain low. Esther George, pres of the Kansas City Fed, dissented for the 2nd meeting in a row, repeating her preference for a quarter-point increase instead of voting to leave the federal funds rate's target range at 0.25-0.5%.
Fed Leaves Door Open for June Increase, Monitors Global Outlook
Oil rose after a gov report showed that US crude production slipped to an 18-month low. Crude output fell to 8.94M barrels a day last week, the lowest since Oct 2014, Energy Information Administration data show. Futures retreated on the initial release of the report because it showed crude inventories rose 2M barrels last week. Gasoline stockpiles unexpectedly increased while refinery activity declined.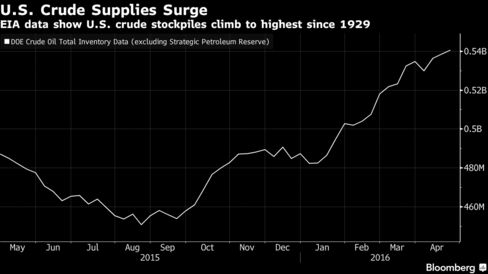 Oil has rebounded in the past few months, after slumping to the lowest level since 2003 in Feb, amid signs the global surplus will ease as US production declines. Nationwide crude supplies rose to 540.6M barrels last week, the most since 1929. Supplies at Cushing, Okla, the nation's biggest oil-storage hub, climbed 1.75M barrels. Refineries reduced operating rates by 1.3 percentage points to 88.1% of capacity. Refiners typically increase utilization in Apr as they finish maintenance before the summer peak driving season. Gasoline inventories rose 1.61M barrels last week, while supplies of distillate fuel, a category that includes diesel & heating oil, fell 1.7M. US gasoline consumption, averaged over 4 weeks, was up 5.6% from a year earlier at 9.4M barrels a day thru Apr 22.
Oil Increases as U.S. Crude Production Declines to 18-Month Low
United Technologies, a Dow stock, beat Q1 profit estimates as a continued focus on controlling costs helped the aerospace & building-systems manufacturer overcome a sluggish Chinese market. Adjusted EPS increased to $1.47, above the $1.40 estimate. Sales rose slightly to $13.4B, topping the $13.2B estimate. "The top line is growing slowly, but we are getting good cost traction," CEO Gregory Hayes said. The company is achieving "good performance around the world in spite of some relatively slow macro trends that we've seen. The biggest challenge remains China, where we saw orders down across the commercial business." He expressed optimism that the market could rebound soon. As the company grapples with weakness in China, particularly in the Otis elevator division, it also faces heavy costs related to a new jet-engine program in the Pratt & Whitney unit. UTX plans to spend $3B repurchasing shares this year & the company has a placeholder of $1-$2B for acquisitions. EPS in 2016 will be $6.30-$6.60, reaffirming an earlier forecast. UTX, which expects improvement in H2, weighed raising the bottom end of its guidance, Hayes said. Sales are predicted at $56-$58B in 2016. The stock rose 1.09. If you would like to learn more about UTX, click on this link:
club.ino.com/trend/analysis/stock/UTX?a_aid=CD3289&a_bid=6ae5b6f7
United Technologies (UTX)
Janet & the rest of those guys took the easy way out again & left interest rates alone. That can be counted on to bring higher stock prices in a market that is addicted to low interest rates. They refuse to admit, there never is a good time to raise interest rates. Some excuse can always be found to postpone the next rate increase. Oh well. After Exxon Mobil, a Dow stock & Dividend Aristocrat, lost its coveted AAA credit rating yesterday, it raised the quarterly div 2 pennies to 75¢ today Oil keeps crawling higher with high inventory levels that have to be dealt with. The idea for traders is to deal with today's problems today, tomorrow will take care of itself. Dow needs only about 200 points for a new record (which has held for more than a year). Apple's (AAPL), a Dow stock, unsatisfactory earnings report will weigh on the stock market for some time.
Dow Jones Industrials