Dow dropped 113 (finishing near the lows), decliners over advancers 3-2 & NAZ gave up 2. The MLP index added 1+ to the 296s, a new 2016 high, & the REIT index fell 5+ to 330. Junk bond funds crawled higher & Treasuries were weak. Oil retreated to the 43s & gold had a small loss.
AMJ (Alerian MLP Index tracking fund)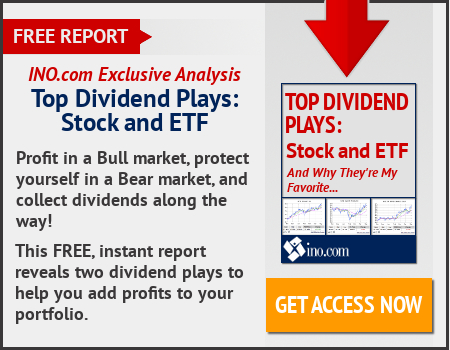 | | | | | | |
| --- | --- | --- | --- | --- | --- |
| CLM16.NYM | ....Light Sweet Crude Oil Futures,J | ....43.40 | ...0.78 | (1.8%) | |
General Motors Q1 earnings & sales beat estimates by a wide margin as it posted record results in North America & stepped toward a 15-year goal of ending losses in Europe. EPS rose to $1.26, exceeding the 99¢ estimate. Revenue increased $1.6B to $37.3B, topping the $35.6B estimate, even as GM sold fewer vehicles worldwide. The profit rise is partly payoff for GM's decision to forgo some low-profit fleet sales while feeding Americans' demand for moneymakers like sport utility vehicles & pickups. Performance improved around the globe with the company essentially breaking even in Europe & narrowing losses in South America. "The best thing we can do is continue to execute our short-term and long-term strategy and put results on the board like we have for the last couple of years," CFO Chuck Stevens said. "The share price will reflect that over time."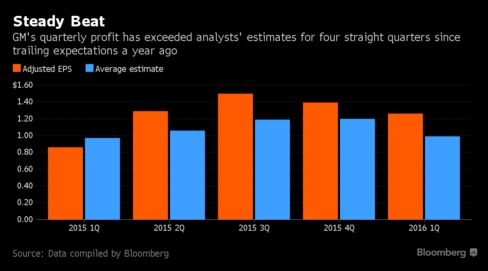 The biggest U.S automaker posted record profits last year & forecast a record again in 2016.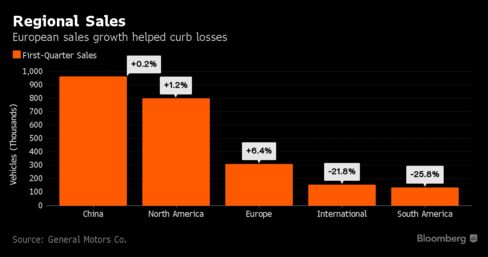 GM posted record North America Q1 adjusted earnings before interest & taxes of $2.3B, & income from the company's China operations was steady at about $500M, thanks to growing sales of expensive vehicles like the Chevrolet Silverado pickup in the US & Buick Envision sport utility vehicle in China. Cadillac & Buick grew 6% & 22% in China, respectively. The stock rose 47¢. If you would like to learn more about GM, click on this link:
club.ino.com/trend/analysis/stock/GM?a_aid=CD3289&a_bid=6ae5b6f7
GM Earnings Beat Estimates With Record North American Profit
General Motors (GM)
Verizon, a Dow stock, warned that its standoff with about 39K striking workers will put pressure on Q2 earnings. The largest wireless carrier took a hard stance with its 2 largest labor unions this month, forcing a strike of cable splicers, customer-service representatives & FiOS technicians that's now in its 2nd week. Almost all the workers are employed by the carrier's landline business, which has seen annual declines in the number of lines served as well as job cuts. The warning overshadowed an otherwise positive earnings report, as it added 640K new wireless customers & met profit estimates in Q1. EPS excluding some items was $1.06, matching estimates. Sales were $32.2B, compared with a projection of $32.5B. Its reliance on tablet promotions underscores the challenges of attracting new mobile-phone users amid data giveaways & free music- & video-streaming offers. At the same time, Verizon is facing a slowdown in FiOS TV user growth. The stock rose 1.72. If you would like to learn more about VZ, click on this link:
club.ino.com/trend/analysis/stock/VZ?a_aid=CD3289&a_bid=6ae5b6f7
Verizon (VZ)
Boeing, another Dow stock, tumbled after an analyst downgraded the stock to "underperform" & said the planemaker stood little chance of fully recovering almost $29B that's been sunk into producing the 787 Dreamliner jet. The manufacturer has touted the substantial cash it stands to generate from jet production to meet a near-record order backlog & the profit to be made on the 787, its marquee aircraft. "In the longer term, we continue to target levels of profitability for the 787 that are consistent with our more mature production programs," a BA spokesman said. But the analyst, estimated that cash flowing from the Dreamliner by 2022 will be $14B rather than the $29B assumed in BA's outlook. To reach that number & eliminate the almost $29B in deferred production costs already accumulated by the 787 program, BA would need to generate a profit of $30M for each of the 907 Dreamliners it projects making for accounting purposes, the analyst wrote. The stock was off pennies. If you would like to learn more about BA, click on this link:
club.ino.com/trend/analysis/stock/BA?a_aid=CD3289&a_bid=6ae5b6f7
Boeing (BA)
For those who have forgotten, this was called a correction. While not significant at the big picture level, this could be the beginning of more such days if earnings come in lackluster or worse. Dow is still up 2K in the last 2 months, one of the biggest advances in its history.
Dow Jones Industrials