Dow rose 38, advancers sllightly ahead of decliners & NAZ gained 4. The MLP index lost 3+ to the 268s & the REIT index was fractionally lower in the 339s. Junk bond funds were mixed & Treasuries traded lower. Oil pulled back to the 39s as the Doha oil meeting was a failure & gold inched higher.
AMJ (Alerian MLP Index tracking fund)
| | | | | | |
| --- | --- | --- | --- | --- | --- |
| CL.NYM | ...Crude Oil May 16 | ...38.62 | ...1.74 | (4.3%) | |
| | | | | | | |
| --- | --- | --- | --- | --- | --- | --- |
| GC.CMX | ...Gold Apr 16 | ......1,241.10 | ...8.00 | | (0.7%) | |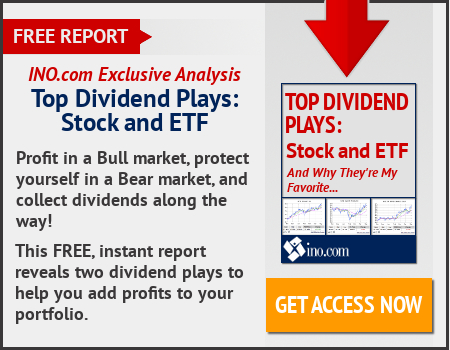 Oil fell after output talks between producers ended without any agreement on limiting supplies, a diplomatic failure that threatens to renew the rout in prices. The summit finished with no final accord. There were significant hurdles to any deal after Saudi Arabia's Deputy Crown Prince Mohammed bin Salman said the kingdom wouldn't restrain its production without commitments from other major producers including Iran, which has ruled out freezing for now. A strike that reduced Kuwait's output by 60% entered a 2nd day.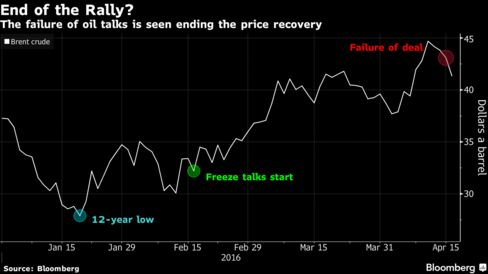 Oil ministers from 16 nations, representing about ½ the world's output, gathered in a bid to stabilize the global market, the first significant attempt at coordinating oil output between the OPEC & nations outside the group in 15 years. Discussions stumbled after Saudi Arabia & other Gulf nations wouldn't agree to any deal unless all OPEC members joined including Iran, which wasn't present at the meeting, Russian Energy Minister Alexander Novak said.
Oil Drops After Output Talks Fail Amid Saudi Demands Over Iran
Confidence among US homebuilders was little changed in Apr, indicating the housing market lacked momentum as the spring selling season got under way. The National Association of Home Builders/Wells Fargo builder sentiment gauge held at 58, where its been since Feb. Readings greater than 50 mean more respondents report good market conditions. Better buyer traffic & growing optimism about the outlook for the next 6 months made up for a drop in current sales of single-family homes, underscoring that demand is lackluster even as hiring strengthens & borrowing costs remain low. Faster growth in wages & a higher supply of homes within the reach of more Americans would go far in ushering a stronger rebound in residential real estate. "The single-family housing sector continues to recover at a slow but consistent pace," the NAHB said. "As we enter the spring home buying season, we should see the market move forward." The forecast called for 59. The index reached a 10-year high of 65 in Oct. The group's gauge of prospective buyer traffic climbed to 44 from 43 the prior month, while the index of current sales of single-family home decreased to 63 from 65. The measure of the 6-month sales outlook improved to 62 from 61. "Builders remain cautiously optimistic about construction growth in 2016," the NAHB said. "Solid job creation and low mortgage interest rates will sustain continued gains in the single-family housing market in the months ahead."
China's home-price gains accelerated last month as economic hubs such as Beijing, Shanghai & Shenzhen continued to lead the way amid surging liquidity that underpinned demand. New-home prices excluding gov-subsidized housing climbed in 62 cities, compared with 47 in Feb, among the 70 cities tracked by the gov. They dropped in 8 cities, compared with 15 a month earlier. The gov moved away from a one-size-fits-all property stimulus last month to allow more tailored approaches at the local level, after loosening measures sparked frenzied buying in top hubs. With no more stimulus from the central gov to boost smaller markets, & local authorities moving in to take the steam out of overheating markets such as Shanghai & Shenzhen, the recovery's sustainability is coming into question. Out of the 62 cities with price gains last month, 55 had faster increases than in Feb. The average new-home price rose 0.85% in Mar, up from 0.38% in the previous month.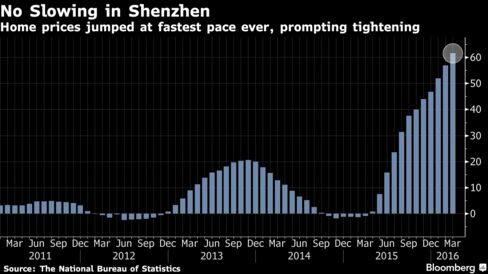 "Although the vast majority of cities saw price gains month on month, the difference in the gains remains relatively large across cities," the statistics bureau said. The fastest price increases were mainly in first- & some 2nd-tier places, with the less economically significant 3rd-tier ones remaining "relatively stable."
As predicted, the big oil meeting in Doha went nowhere fast. This group of countries with different agendas can not agree on anything. Iran is the biggest stumbling block as it ramps up production. Earnings will be the center of attention this week. Dow hangs in there, not too far below the record levels it set last year.
Dow Jones Industrials