Dow dropped 105, decliners over advancers 3-2 & NAZ gave up 10. The MLP index was off 3 to the 284s & the REIT index fell 4 to the 347s. Junk bond funds were weak & Treasuries edged higher. Oil was a little lower & gold advanced.
AMJ Alerian MLP Index tracking fund)
Crude Oil
44.48
-0.18
(
-0.40%
)
Gold
1,278.10
13.30
(
1.05%
)
Turbulence in stocks & bonds was part of the Federal Reserve calculus for slowing interest rate increases in Feb. An economist with the central bank's Dallas branch says relying on the equity market for economic signals is a mistake. Benchmark gauges such as the S&P 500 are such flawed mirrors of the economy that they probably fail as predictors of GDP, according to Julieta Yung, an economist in the research dept at the Fed Bank of Dallas. Half the components are manufacturers, for one thing, much more than is reflected in GDP.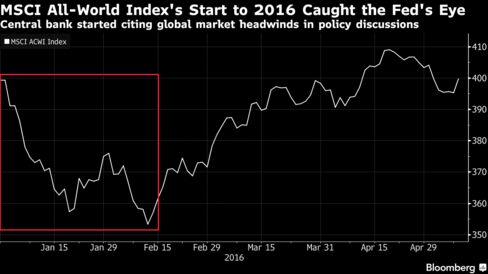 Searching markets for clues about the future of employment & consumer spending became an obsession by investors in the first 6 weeks of 2016, when the index plummeted 11% for its worst start ever. But Yung says the quest is unlikely to yield any conclusions because noise is just as likely as news to be driving prices. "There's a definite divide between the state of the economy and any decline you might see in the equity market." Service-providing industries have accounted for more than ¾ of GDP over the past decade, whereas more than ½ the S&P 500 consists of manufacturers. Yung's analysis included recalculating how much sales & profits companies in the index derive from various types of economic activity. "Monetary policy is being driven by data, and the integration of financial markets is stronger than ever," said Yung. "It's still important to the Fed to look at financial developments around the world, and the stock market is one of those measures," she added.
Macy's cut its profit forecast for this year & posted Q1 revenue that missed estimates as slow mall traffic hurt sales. Full-year EPS will be $3.15-$3.40, down from an earlier projection of $3.80-$3.90. The company also cut its forecast for full-year sales, citing a double-digit drop in tourist spending & a slowdown in sales of some core categories.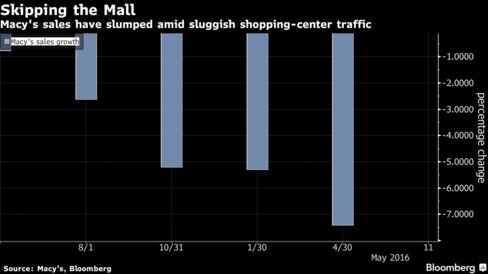 The gloomy outlook signals it's still suffering from sluggish mall traffic & increased competition from other department stores & off-price retailers. Also, the strong $ is weighing on sales to foreign tourists. To combat these challenges, the retailer is closing underperforming stores & expanding its discount offerings. It's also looking to capitalize on its real estate portfolio through joint ventures that can squeeze extra cash out of its properties. The weak revenue trends were evident in the company's fiscal Q1when sales fell 7.4% to $5.77B. Analysts projected $5.93B. EPS was 40¢, excluding some items, versus the 36¢ estimate. There are 3 areas that it plans to improve on this year. The first is to speed up its rollout of new initiatives, such as its Bluemercury & Macy's Backstage store-in-stores. The retailer also will add more exclusive merchandise like a line of clothing & accessories supported by Elton John & Lady Gaga. The 3rd area is a more intense focus on cutting expenses while improving service through better technology and more full-time associates. The company plans to open 16 of its off-price Macy's Backstage locations & 42 Bluemercury stores, the beauty & spa chain it bought last year. The company hired Douglas Sesler as its senior-level real estate exec & is evaluating proposals for joint ventures involving flagship & mall-based stores from potential partners. The stock sank.3.94. If you would like to learn more about Macy's, click on this link:
club.ino.com/trend/analysis/stock/M?a_aid=CD3289&a_bid=6ae5b6f7
Macy's (M)
Walt Disney, a Dow stock, reported earnings & revenue fell short of sky-high estimates. Its cable business continued to struggle, theme park attendance was weaker than expected & product sales fell, leading to first miss on EPS in 19 qtrs. The stock tumbled 5.08. If you would like to learn more about DIS, click on this link:
club.ino.com/trend/analysis/stock/DIS?a_aid=CD3289&a_bid=6ae5b6f7
Walt Disney (DIS)
Back to the good old days, earnings are driving stock prices. More soggy earnings from retailers can be expected in the next week. Worse for the stock market, they feel the pulse of the economy sending a bad message going forward.
Dow Jones Industrials