Dow shot up 251, advancers over decliners better than 3-2 & NAZ gained 42. The MLP index lost 1+ to the 264s & the REIT index added 1+ to 352s (nearing its highs in the 360s). Junk bond funds did little & Treasuries were also purchased bringing lower yields. Oil rose, nearing 72, & gold remained weak, off 1 to 1258
AMJ (Alerian MLP Index tracking fund)
| | | | | | | |
| --- | --- | --- | --- | --- | --- | --- |
| CL=F | Crude Oil | 71.68 | | +1.15 | +1.6% | |
| | | | | | | |
| --- | --- | --- | --- | --- | --- | --- |
| GC=F | Gold | 1,257.30 | | -2.60 | -0.2% | |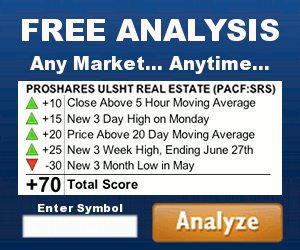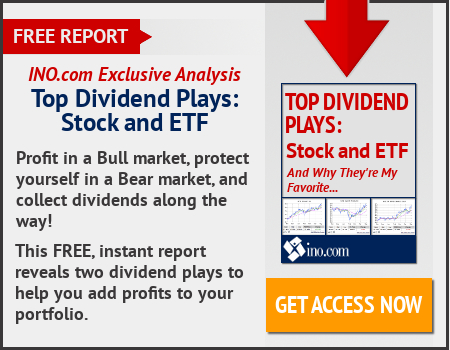 Stocks opened slightly positive, having erased premarket losses after the White House issued a statement on Chinese investments. The Trump administration said it would use an interagency Committee on Foreign Investment in the US (CFIUS) to look at foreign purchases of technologies. China & Hong Kong stocks earlier amid trade war fears. China's Shanghai Composite finished the day down 1.1% to a fresh 2-year low. The index fell further into a bear market, trading more than 20% lower than its Jan 24 high. On the economic calendar, traders digested the latest durable goods orders, which declined 0.6% in May. Minus transportation they fell by 0.3%. Gold was lower again after closing at its lowest price since mid-Dec yesterday. Oil rallied again, boosted from reports that the US is pushing its allies to stop importing oil from Iran. Yesterday, equities recorded mild gains after posting sharp losses to start the week. The Dow gained 30 to 24,283 & the S&P 500 added 5 to 2723. The NAZ rallied 29 (0.4%) to 7561.

Treasury Secretary Steve Mnuchin is optimistic on US economic growth. "We're excited. This is the six month anniversary of tax cuts. We're expecting a big second quarter GDP number," he said. "Let me just say I have no advance notice of what it looks like." Pres Trump signed the Rep tax overhaul in Dec, which lowered the corp tax rate to 21% from 35%. Mnuchin cited the Federal Reserve Bank of Atlanta's projected GDP growth of 4.7% for Q2. "I have no idea whether it will be that high [referring to the Atlanta Fed forecast], but a year ago people were laughing when we talked about 3 percent GDP," he added. "We have an economy that is here because of the president's tax plan and the president's regulatory relief and we always said trade is part of this."
The White House won't be looking to block companies with 25% or more of Chinese ownership from buying certain US tech-related companies. Instead, the gov will rely on the newly strengthened Committee on Foreign Investment in the US to deal with concerns about foreign purchase of sensitive domestic technologies, a senior administration official said. In all, measures the administration announced were less harsh than proposals floated earlier in the week, providing relief to markets who continue to worry about the threat of a global trade war. "The issue of protecting technology is very important," Steve Mnuchin said. More trade controversy erupted this week following news reports Mon that Pres Trump was looking to step up efforts to safeguard US technology that would include blocking the purchase by companies with heavy Chinese ownership from buying American firms. Statements from the White House generated fears that the restrictions would become global. The administration has sought to stop China from stealing intellectual property & intends to institute a series of tariffs while the issue is addressed. The Senate yesterday overwhelmingly adopted changes to CFIUS operates, beefing up the committee's authority to assess threats against US business, with tech a focus. "We will have the necessary tools to protect investments, whether it's China or anybody else," Mnuchin said. "We are not singling out China, but we will protect technology transfer to China as we will to other important areas."
Trump's plan to crack down on foreign investment is much less harsh than expected
Potential home buyers pulled back from a pricey & competitive housing market in May, signing fewer contracts to buy existing homes. A monthly index of pending home sales from the National Association of Realtors (NAR) fell 0.5% compared with Apr & was 2.2% lower than May of 2017. The expectation was for a 0.5% gain. Sales have now fallen on an annual basis for 5 straight months. Pending home sales are a forward indicator of closed sales in Jun & Jul. "Realtors in most of the country continue to describe their markets as highly competitive and fast moving, but without enough new and existing inventory for sale, activity has essentially stalled," said Lawrence Yun, chief economist for the NAR. Regionally, pending home sales in the Northeast rose 2.0% for the month but were 4.8% below a year ago. In the Midwest, sales rose 2.9% monthly & fell 2.5% annually. Sales in the South declined 3.5% monthly & were unchanged from a year ago. The index in the West rose 0.6% compared to Apr but was 4.1% lower than a year ago. The severe shortage of homes for sale is continuing into this summer, despite more new listings coming to the market. The supply of homes for sale at the end of May was higher than Apr, but still 6.1% lower than a year ago. The inventory of existing homes has fallen year-over-year for 36 consecutive months & stood at a 4.1 month supply given May's sales pace. A 6 month supply is considered a balanced market between buyers & sellers. Tight supply continues to push home prices higher & higher mortgage rates are also adding to the affordability burden. "With the cost of buying a home getting more expensive, it's clear the summer months will be a true test for the housing market. One encouraging sign has been the increase in new home construction to a 10-year high," added Yun. "Several would-be buyers this spring were kept out of the market because of supply and affordability constraints." Sales may not see gains in Jun either, given the drop in applications for mortgages. Mortgage rates haven't moved much this month, but mortgage applications to purchase a home fell 6% last week compared with the previous week & were just 1% higher than the same week one year ago, according to the Mortgage Bankers Association. Closed sales of existing homes also fell in May, with realtors blaming weaker affordability. Sales of newly built homes, however, jumped unexpectedly higher in May, but the gains were all in the south where builders are busiest & prices are lowest.
Pending home sales drop for fifth straight month in May
The bulls returned & are buying stocks. Market breadth is mediocre, it's difficult to understand market moves these days. REITs remain in demand while other stocks are stumbling (even with today's rise). The Dow is solidly above 24K, making the bulls happy, but only up 140 in Jun. Choppy times for the stock market have not gone away.
Dow Jones Industrials