Dow lost 22, decliners ahead of advancers 3-2 & NAZ dropped 12. Japan's nuclear disaster & civil unrest in the Mideast & North Africa have increased market volatility in recent weeks. Bank stocks were also slipping & sliding in late day trading.
S&P 500 FINANCIALS INDEX
Value
219.39
Change
-0.67 (-0.3%)
Selling hit MLPs, taking the index down 1.80 to the 367s while the Dow Jones REIT index fell pocket change to 231 & junk bond funds were about even. Treasury notes fell as the Treasury sold $35B of 2-year notes at the highest yields in almost a year. The yield on the 10 year Treasury bond continues in its sideways range centered around 3.4%. Oil was lower amid confusions of the goings on in the Mideast & disruptions of supllies from Japan. Gold was volatile as investors weighed recent highs in precious metals & looked to lock in profits ahead of Q2.
JPMorgan Chase Capital XVI (AMJ)
| | | |
| --- | --- | --- |
| U.S. 3-month | | 0.08% |
| U.S. 2-year | | 0.76% |
| U.S. 10-year | | 3.45% |
| | | | | |
| --- | --- | --- | --- | --- |
| CLK11.NYM | ...Crude Oil May 11 | ...103.88 | ... 1.52 (1.4%) | |
| | | | | | |
| --- | --- | --- | --- | --- | --- |
| GCH11.CMX | ...Gold Mar 11 | ........1,419.80 | ... 6.30 | (0.4%) | |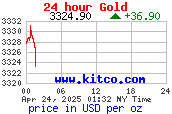 EBay (EBAY) will pay $2.4B for GSI Commerce (GSIC), which operates websites for retailers like Toys R Us & Bath & Body Works. GSIC runs websites, packs & ships products & offers interactive marketing services to a variety of retailers. It has long-term contracts with 180 retailers, including Radio Shack, Ace Hardware & American Eagle Outfitters. EBAY hopes the acquisition will bolster its ability to connect buyers & sellers around the world. In addition, it could also help EBAY become more of a threat to Amazon (AMZN). Lots of businesses need help doing things like generating demand for products, running their websites, delivering goods to customers & growing mobile sales. GSIC does this for large companies & EBAY & PayPal do this for small to medium-sized companies. EBAY will pay $29.25 per share, a 51% premium over GSI's prior closing price. The $2.4B total is the 2nd-largest amount eBay has paid for another company (in 2005 EBAY paid $2.6B for Skype, which it has since sold). The deal should close in Q3. EBAY said 2011 EPS will be 30-34¢ lower than its earlier outlook (in Jan, it had forecast EPS of $1.56-1.61) but adjusted EPS won't be affected (the company had forecasted $1.90-1.95). EBAY expects the acquisition to add to EPS in 2012. EBAY fell $1.36 to $30.34 & GSIC jumped $9.82 to just under the offering price.
EBay Agrees to Buy GSI Commerce for $2.4 Billion to Add Marketing Services
eBay Inc. (EBAY)
Acer, the world's 2nd- largest maker of personal computers fell 6.9%, the most in 2 weeks in Taipei, after the company lowered its forecast for Q1 sales. Q1 revenue from personal computers may fall about 10% from the previous qtr because of "relatively weaker" demand in Western Europe & the US. The company said Q2 sales are expected to be little changed from Q1, attributed to possible supply disruptions caused by the earthquake in Japan. In Feb, Acer said Q1 shipments & sales would rise 3% from Q4 2010. Asustek Computer (maker of this netbook) fell 5.7% & Compal Electronics dropped 5.2% on fears that they are among electronic companies that may cut their forecasts because of possible component shortages.These won't be the only companies to be affected.
Acer Falls in Taipei After Saying First-Quarter PC Sales to Miss Forecast
Gas prices at the pump are rising, up to $3.58+ yesterday.
Source: AAA
There was another tech merger besides EBAY. Merger Mon lived up to its reputation, but that didn't help stocks. Q1 ends on Thurs, making it difficult to understand fluctations as fund managers adjust portfolios. On the good side, nothing significant was decided in trading. But we haven't heard the last about supply disruptions & other types of problems from Japanese companies.
Dow Industrials (INDU)
Get your favorite symbols' Trend Analysis TODAY!
Find out what's inside Trend TV!!