Dow went up 146, advancers over decliners 3-2 & NAZ rose 22. After a big gain in the AM, the MLP index closed with a relatively modest gain of almost 1 to the 477s & the REIT index was up 1+ to the 285s. Junk bond funds were mixed & there was selling in Treasuries. Oil slid lower at the end of the day & gold gained ground on increased global tensions.
AMJ (Alerian MLP Index tracking fund)
Free Apple Analysis!
Free Stock Trend Analysis
| | | |
| --- | --- | --- |
| U.S. 3-month | 0.03% | |
| U.S. 2-year | 0.36% | |
| U.S. 10-year | 2.64% | |
| | | | | | | |
| --- | --- | --- | --- | --- | --- | --- |
| CLK14.NYM | ....Crude Oil May 14 | ....103.96 | ...0.22 | | (0.2%) | |
The US is prepared to slap more sanctions on Russia over its incursion into Ukraine, Treasury Secretary Jacob Lew said today when signing a $1B loan guarantee for Ukraine. "Working with our allies, we are fully prepared to impose additional significant sanctions on Russia as it continues to escalate the situation in Ukraine, including apparently through support to a concerted campaign by armed militants in eastern Ukraine," he added. Lew signed a $1B guarantee that will help Ukraine reduce the cost of debt financing. US aid accompanies assistance from the IMF, which is negotiating with Ukraine for up to $18B in loans over 2 years. The negotiations are "practically" over, & Ukraine expects a final IMF board decision on the deal "in the near future," Ukrainian Finance Minister Oleksandr Shlapak said today. He previously said Ukraine needs about $30B through 2015 to "balance the situation."
Lew Says U.S. Prepared to Impose More Sanctions on Russia
Photo: Bloomberg
China's banking regulator ordered owners of the nation's 68 trust companies to be prepared to provide funding or sell their stakes as the risk of defaults rises in the $1.9T industry for high-yield investment. The China Banking Regulatory Commission (CBRC) told trust companies to either restrict their businesses & reduce net assets or have shareholders replenish capital when the firms suffer losses, according to a notice posted last week. The regulator will also impose a "strict" approval process on trust firms' entry into new businesses & products starting this year. China is stepping up regulation of the industry after the nation in Jan avoided what would have been its first trust default in at least a decade. About 5.3T yuan ($853B) of products are due to mature this year, up from 3.5T yuan in 2013, according to estimates. The banking regulator indicated that the statement was being distributed to all CBRC branches & trust companies that it oversees. The CBRC also banned individuals from using money that's not their own to purchase trust products, which typically require a minimum investment of 3M yuan. The regulator urged trust companies to fully disclose risks during their sales process and move toward using tape or video recordings to keep records. By offering better returns than bank deposits
, trusts have gained popularity among China's wealthy investors & overtaken insurance to become the biggest segment by assets of the country's financial industry after banks. Trust assets surged more than fourfold from the beginning of 2010 even as policy makers sought to curb money flows outside the formal banking system. The industry's growth makes more investors vulnerable to losses as China's slowing economy makes it more difficult for borrowers to repay their debt.
China Tightens Oversight of Trusts as Default Risk Rises
Ukraine's central bank raised its benchmark discount rate to support the currency after clashes between pro-Russian separatists & gov forces in the east of the country turned deadly. The rate was raised to 9.5% from 6.5% tonight to halt the plunge of the hryvnia, the world's worst-performing currency this year. Ukraine is facing its 3rd recession since 2008 & dwindling reserves. Amid the growing tensions, euro officials agreed to add new names to a list of people facing sanctions following the annexation of Crimea. Ministers accused the Russian gov of stoking the latest unrest with the same methods it used to destabilize the Black Sea peninsula before moving to take it over. The US also raised the prospect of further measures against Russia. "In light of the latest events, we decided to expand the list of those subject to asset freezes and visa bans," the EU's foreign-policy chief, Catherine Ashton
, said reporters after a meeting of foreign ministers. At least one Ukrainian serviceman died over the weekend, & armed separatists are occupying police & gov buildings in cities across the east. NATO estimates that Russia has massed 40K troops in combat readiness on Ukraine's border. Putin is getting many requests from eastern Ukraine "to intervene in one way or another," his spokesman claims. Pres Obama may speak with Putin today. Executive orders signed by Obama "allow for all kinds of different sanctions." The State Dept is weighing further measures that may be aimed at individuals as well as against "certain sectors of the Russian economy such as financial services, energy, metals and mining, engineering and defense."
Ukraine Raises Key Rate as Tensions Flare in East
The enthusiasm for Citi (C) after reporting earnings was overdone. That was a key driver for buying in the stock market which faded later in the day as the Ukraine situation became more worrisome. However, buyers returned in the last hour to restore much of the gains which had been lost. The Ukraine economy is hurting badly & Russia is intent on making matters worse for its own political gain. Meanwhile, its economy is worsening. While the US economy is doing better, it has its share of problems which will be defined better with more earnings reports.
Dow Jones Industrials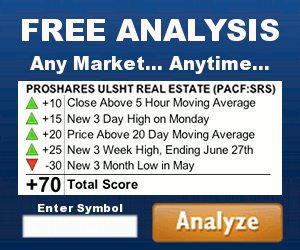 I'm a huge fan of INO & from what I have seen so far, their service Marketclub! This isn't a stripped down version, everything in MarketClub is available to you. I don't want to give everything away, but you'll have unlimited access to my favorite3 tools: Trade Triangles, Smart Scan & Alerts! The best part is that the MarketClub customer support team will be providing UNLIMITED support! You can call or email for an instant response to any question, comment or concern.
Here's that link:
I'd recommend you jump on this now.