Dow shot up 245, advancers over decliners almost 4-1 & NAZ gained 71. The MLP index lost a fraction to 451 after yesterday's big advance & the REIT index rose a fraction to 326. Junk bond funds had good gains after selling earlier in the month & Treasuries lost ground when stocks were in demand. Oil climbed to 58 while gold was flattish.
AMJ (Alerian MLP Index tracking fund)
| | | | | | | |
| --- | --- | --- | --- | --- | --- | --- |
| CLK15.NYM | ...Crude Oil May 15 | ...57.99 | ...0.22 | | (0.4%) | |
| | | | | | | |
| --- | --- | --- | --- | --- | --- | --- |
| GCZ14.CMX | ...Gold Dec 14 | .......1,202.30 | ...8.00 | | (0.7%) | |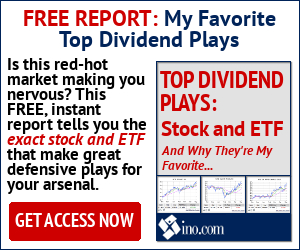 50 Top Stocks
The index of US leading indicators rose in Nov for a 3rd straight month, a sign the economy is gaining traction heading into 2015. The Conference Board's index, a gauge of the outlook for the next 3-6 months, increased 0.6% in Nov, matching the prior month's gain. The forecast called for a 0.5% advance. Strengthening employment & a plunge in prices at the pump are bolstering the consumer spending that makes up almost 70% of the economy, helping shelter the expansion from slowing growth overseas. Federal Reserve policy makers said yesterday they would remain "patient" in increasing near-zero interest rates even as domestic demand firms. "The biggest challenge has been, and remains, more income growth," Ken Goldstein, an economist at the Conference Board, said. "However, with labor market conditions tightening, we are seeing the first signs of wage growth starting to pick up." Estimates ranged from gains of 0.1% to 0.8%.
Leading Indicators in U.S. Increased in November for Third Month
The number of Americans filing for unemployment benefits fell last week as the economy's continued improvement tempered dismissals. Jobless claims decreased 6K to 289K, the fewest since early Nov, according to the Labor Dept report. The forecast projected 295K. Claims have been below 300K for 13 of the past 14 weeks. Employers are curtailing dismissals & hiring at the strongest pace since 1999, a sign of a tightening labor market that may put upward pressure on wage growth. The FOMC yesterday raised its assessment of the labor market & it they will be patient on the timing of the first interest-rate rate increase. The 4-week average of jobless claims declined to 298K from 299K the week before. The number continuing to receive jobless benefits dropped 147K to 2.37K, unwinding the previous week's surge. Insured unemployment had jumped to 2.52M, which was the highest since Aug. The unemployment rate among people eligible for benefits decreased to 1.8% from 1.9% the prior week.
Jobless Claims in U.S. Decrease to Lowest Level in Six Weeks
New-home prices fell in fewer Chinese cities last month after the gov eased property curbs & cut interest rates for the first time since 2012, boosting demand. Prices dropped in 67 cities of the 70 tracked by the gov from Oct, the National Bureau of Statistics said. Prices fell in 69 cities in Oct. The central bank's surprise reduction in benchmark rates in Nov has added to mortgage-rate discounts banks were offering first-home buyers, bolstering sales & reducing developers' pressure to cut prices. Housing sales may rise next year, reversing a slump in the first 11 months of this year amid tight credit & an economic slowdown. Nov new-home prices in Nanjing, Hefei & the first-tier city of Shenzhen were unchanged from Oct. New-home prices in Beijing declined 0.2% from Oct & fell 0.4% in Shanghai
. Any recovery in the market remains tentative. From a year earlier, new-home prices in Nov declined in 68 of the 70 cities, compared with 67 in Oct. New-home prices in the first-tier cities of Beijing, Shanghai, Shenzhen & Guangzhou all declined last month from the same period last year.
China Home Prices Fall in Fewer Cities as Market Stabilizes
The buyers were not hiding today. They are out in force although market breadth is less spectacular than it could be given the size of the advance. Economic data was favorable & Janet had very kind words yesterday which made traders happy. Oil is a little higher but MLPs are not benefiting from the advance. What had been a tame sector is learning to live with high volatility.
Dow Jones Industrials