Dow rose 212, advancers over decliners 3-1 & NAZ went up 57. The MLP index pulled back 1 to the 469s & the REIT index added a very big 5 to reach 341. Junk bond funds were mixed to higher & Treasuries declined. Oil had a modest rebound & gold slid lower but remained above 1200.
AMJ (Aerian MLP Index tiacking fund)
Free ETF Trend Analysis!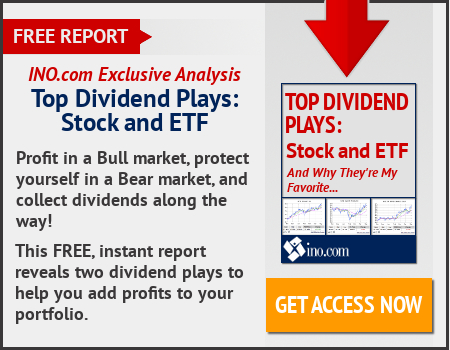 | | | | | | | |
| --- | --- | --- | --- | --- | --- | --- |
| CLG15.NYM | ....Crude Oil Feb 15 | ....48.51 | ...0.58 | | (1.2%) | |
Photo: Bloomberg
Most Federal Reserve(FED) officials agreed their new policy guidance means they are unlikely to raise interest rates before late Apr, & a number expressed concern inflation could remain too low, minutes of their Dec meeting showed. "Most participants thought the reference to patience indicated that the committee was unlikely to begin the normalization process for at least the next couple of meetings," according to the minutes of Dec 16-17. The minutes indicate broad support on the committee for Chair Janet Yellen's assessment of the likely timing of an interest-rate increase she said following the meeting. With the US economy strengthening & unemployment at a 6-year low, the FOMC dropped a pledge to keep interest rates low for a "considerable time." The panel instead said it will be "patient" as it weighs when to raise rates for the first time since 2006. The minutes showed some officials last month expressed concern about the outlook for inflation, which has remained below the central bank's target for 31 straight months. "A number of participants saw a risk that it could run persistently below their 2 percent objective, with some expressing concern that such an outcome could undermine the credibility of the committee's commitment to that objective," according to the minutes. The FOMC said it expects inflation to move gradually back toward its target as the job market improves & the impact of cheaper energy dissipates. "Some participants regarded the revised language as risking an unwarranted concentration of market expectations for the timing of the initial increase in the federal funds rate target on a narrow range of dates around mid-2015." FED officials also said the faltering global economy may be a threat to the US, while concluding that those risks were "nearly balanced" by positive developments. "Many participants regarded the international situation as an important source of downside risks to domestic real activity and employment, particularly if declines in oil prices and the persistence of weak economic growth abroad had a substantial negative effect on global financial markets or if foreign policy responses were insufficient," the minutes showed. Several policy makers said consumer & business confidence, & payroll gains suggest the economy "may end up showing more momentum than anticipated," while a few others said the boost to spending from cheaper oil & gas prices "could turn out to be quite large." Some worried the oil decline could reduce longer-term inflation expectations, while others were concerned a drop in market-based inflation measures might reflect that "such a decline had already begun."
Fed Minutes Show Rate Rise Unlikely Before April
Photo: Bloomberg
Campbell Soup shares jumped after a report that it might be a takeover target for 3G Capital Partners, the Brazilian buyout firm that previously acquired HJ Heinz & Tim Hortons. The stock rose 1.90 (4%) to $44.94. 3G investors could use a new buyout fund for acquisitions of Campbell or Pepsico (PEP), a Dividend Aristocrat
. The report renewed speculation that a big food-industry deal is likely this year. While there's logic behind these takeovers, both present challenges. 3G disclosed in a Nov regulatory filing that it is raising a 4th special situations fund, without identifying the fund's size. The latest fund will be about $5B, according to a leaker. Descendants of John T. Dorrance, a chemist who invented condensed soup in 1897, own a chunk of the shares. His granddaughter, Mary Alice Dorrance Malone, serves on the board & is the largest holder, with 17% of the stock. If you would like to learn more about CPB, click on this link:
club.ino.com/trend/analysis/stock/CPB?a_aid=CD3289&a_bid=6ae5b6f7
Campbell Soup Gains on Report That 3G Is Hungry for Deals
Campbell (CPB)
Photo: Bloomberg
Starbucks sold 16% more gift cards in the US during the 2014 holiday season as shoppers increasingly defaulted to the fail-safe option of treating their loved ones to lattes & Frappuccinos. About 37M gift cards were sold during the holiday season this year, up from 32M last year. More than $1.1B was loaded onto these gift cards between Nov 3-Dec 25 in the US & Canada, where a combined 40M cards were sold. In 2013, its customers across the globe loaded $1.4B onto gift cards, including $1.3B in the US & Canada, between Oct-Dec. SBUX said almost 2.5M gift cards were activated on Christmas Eve this year, up from nearly 2M sold last year. More than $20B has been loaded onto its gift cards since the program originated 13 years ago, the company said before Christmas. The gift-card program reached new heights this year when the coffee chain sold a $200 Starbucks Card keychain that's made with sterling silver & comes loaded with $50. The item sold out online & was available only in limited quantities at certain stores nationwide. The company also offers monogrammed cards for $5. The stock rose 1.95. If you would like to learn more about SBUX, click on this link:
club.ino.com/trend/analysis/stock/SBUX?a_aid=CD3289&a_bid=6ae5b6f7
Starbucks Gift-Card Sales Gain as Holiday Shoppers Seek Safe Bet\
Starbucks (SBUX)
Traders liked what they heard from Janet & stocks had a good advance. However, after 5 down days, a correction was in order. Dow is still down 240 in the new year The REIT index is doing very well. Its record high in early 2007 was 356 & it wants to make a new one in 2015. Their yields remain high & generally some of the divs are not taxed as ordinary income. Their div data for 2014 will be published in the next few weeks.
Dow Jones Industrials