Stocks began the day higher & then pretty much hugged break-even on this quadruple witching day. Lately these days have had only mild price swings. Dow was up 16, advancers ahead of decliners 4-3 & NAZ was up all of 2. Bank stocks also had a restful day, the Financial Index will have to wait until next week to see if it can break thru 200 (again).
S&P 500 FINANCIALS INDEX
Value
199.84
Change
1.06 (0.5%)
The Alerian MLP Index was down ½ in the 304s , where it's been for 4 days. The REIT index slipped ½ to the 206s, also doing very little for the last 4 days. Junk bond funds found favor, rising about 1%. The VIX dropped 1¼ to the 23s on easing tensions while gold was hitting new records. Treasuries fell, taking the yield on the 10-year Treasury bond up 3 basis points to 3.22%
Alerian MLP Index --- YTD
Dow Jones REIT Index --- YTD
VIX --- YTD
10-Year Treasury Yld Index - YTD
Oil is doing well staying above 77, but
gold
is the star of the day. It broke thru 1250 easily & wants to go higher. Gold has had a stellar decade & there's no reason it shouldn't do well in the future, especially with growing demand from Asian countries. Foreign central banks have been net buyers of gold for the first time since 1997 with India, China & Russia being the biggest. More recently, the Philippines & Kazakhstan jumped into the fray. Buttons below are for those who want to learn more about gold.
CLN10.NYM

..Crude Oil Jul 10

..77.20

.. 0.41
......(0.5%)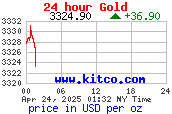 Photo: Bloomberg
BP (BP) is seeking at least $5B in financing to meet compensation payments. It has asked lenders for one-year credit lines & is arranging transactions individually with banks. The financing is in addition to BP's $10½B of undrawn lines. These funds may give BP additional flexibility if borrowing in bond markets becomes too expensive after its debt was cut 6 levels to BBB from AA by Fitch on Jun 15. BP had $28B in cash flow from operations in 2009. The stock was flat in the 31s as its financial health is very much in flux. Its stock chart over the last decade is presented below.
BP Seeking at Least $5 Billion to Fund Spill Payments
BP --- 1 decade
An option expiration day is not as exciting as it used to be. Stocks behaved well, actually they have been going sideways with a slight upward bias for most of this week. The BP mess in the Gulf has pushed European debt crisis behind the scenes, but they are very much with us. That front may get more attention next week. The € is at $1.23¾, modestly above recent low levels. Until stocks hit a bump in the road, following winds can bring higher prices.
Dow Jones Industrials --- YTD
Nasdaq --- YTD
Get 10 Trading Lessons FREE
Click Here
Gold video that redirects to the Course landing url!
Click Here
Get your favorite symbols' Trend Analysis TODAY!
Click Here