Dow worked its way higher during the day but was not joined in by the tech stocks. This time, buying (not selling) came in the last hour. Dow rose 123, advancers ahead of decliners 3-2 & NAZ fell 3. Strength in the Dow came from DuPont (DD), Exxon Mobil (XOM), McDonald's (MCD) & Procter & Gamble (PG), each up 1+. Banks did quite well, again from buying in the last hour. The Financial Index bounced off its 186 lows, something the guys who watch technicals like to see.
S&P 500 FINANCIALS INDEX
Value


190.20

Change


3.77

% Change


2.0%
The high yielders didn't do a lot until the last hour when buyers returned. The MLP index recouped AM loses, ending up 1.83 at 291 (up 6 YTD). The REIT index also rebounded, up 3½ to the 189s, after 2 very rough days. Junk bond funds were flat to up a tad. The VIX slipped almost 3 to the 33s. The yield on the 10-year Treasury bond dipped almost 2 basis points to 3.17%.
Alerian MLP Index -- 2 months
Dow Jones REIT Index -- 2 months
VIX --- 2 months
Oil is flattish again while gold was able to record a new high. That didn't last, but gold is clearly strong at a time when stock markets are weak. Today's record did not hold, but it will go after that record again & soon.
CLN10.NYM

..Crude Oil Jul 10

..71.86

.. 0.42
......(0.6%)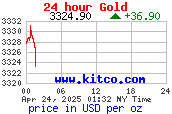 Photo: Bloomberg
Dems in the Senate proposed an economic package that would extend benefits for the long-term unemployed, renew business tax breaks & soften a proposed tax on fund managers profits. The far-reaching plan extends payments for hundreds of thousands of unemployed whose benefits lapsed at the end of May. To help pay for the bill, taxes on investment fund managers would be raised, but at a lower level than approved by the House. The bill would restore funding to states for 6 months to help them pay for their Medicaid health program for the poor & extends expired business tax breaks, such as the research & development credit. The Senate bill would eventually tax 65% of profits at the higher ordinary income tax rate, with a break given to longer term investments.
•
Buyout Managers Tax Increase Scaled Back Under Senate Democrats' Proposal
Apple (AAPL) has had a tough time of it in the last 2 months, but maybe not all that tough. It has outperformed many other averages (including the MLP index) but I view it as weak. The new iPhone & iPad were able to generate a lot of excitement which AAPL knows how to make happen. But it's all about sales. The iPhone is getting hit with competition & iPad already has a lot from netbooks (like this one). The first wave of business should be strong thanx to their fans. But the test will come on the 2nd & 3rd wave of sales. AAPL has very high standards, like getting an A+ in school. If they get a grade of A-, that would be marginal at best & B would be like a failure. That metaphor could play out spelling trouble for this high flyer.
Apple --- 2 months
Despite the late day rally, markets are plodding along going nowhere. The € which is at the center of many of the world's problems is $1.19¼, not encouraging for the bulls. However many of the value stocks I watch did well today while gold reached a new record, a rather strange combination. Dow remains down over 1200 from its highs 2 months ago. It seems like that was a long time ago.
Dow Jones Industrials -- 2 months
Nasdaq --- 2 weeks
Get your favorite symbols' Trend Analysis TODAY!
Click Here