Dow dropped 42, decliners slightly ahead of advancers & NAZ fell 11. The MLP index was up a fraction in the 491s & the REIT index slid 1+ to 299. Junk bond funds were higher & Treasuries rallied. Oil saw more selling after recent strength & gold was lower again, not far from its 4 year lows.
AMJ (Alerian MLP Index tracking fund)
Free Apple Analysis!
Free Stock Trend Analysis
| | | | | | |
| --- | --- | --- | --- | --- | --- |
| CLN14.NYM | ....Crude Oil Jul 14 | ....102.75 | ...1.36 | (1.3%) | |
Ukraine stepped up air patrols over Donetsk as a convoy of pro-Russian rebels moved thru the city with an anti-aircraft gun in tow, threatening renewed violence after clashes left dozens dead. Mayor Oleksandr Lukyanchenko urged residents to stay indoors & away from their windows after shots were fired near the local headquarters of the State Security Service. The train of insurgents included 2 armored personnel carriers, the mayor's spokesman, Maksym Rovinskyi, said. Troops killed "dozens" of separatists in an operation to reclaim the main airport in the self-proclaimed Donetsk People's Republic, dealing the deadliest blow to the uprising to date, Interior Minister Arsen Avakov said yesterday. President-elect Petro Poroshenko has vowed to wipe out the rebels & re-establish order after winning office May 25. He must stabilize a shrinking economy while confronting insurgents who've captured swaths of the Donetsk and Luhansk regions. As the violence continues, Ukrainian officials are locked in negotations over gas supplies & debt to avert a threatened shutoff from Russia, the world's largest producer of the fuel. Russia has twice cut gas flows to Ukraine since Putin came to power in 2000, leading to shortages throughout Europe. Under a proposal by the EU, Ukraine's state energy company, NAK Naftogaz Ukrainy, would pay Russia's gas exporter OAO Gazprom $2B by May 30 & a further $500M by Jun 7. That would partially cover Ukraine's outstanding debt, which Gazprom CEO Alexey Miller said will reach $5.2B by Jun 7. Ukraine, which gets half of its gas from Russia, will give its answer by tonight. About 15% of Europe's gas supply flows from Russia thru Ukraine, which is counting on $17B from the IMF to avoid bankruptcy. Gazprom raised the price it charges Ukraine by 81% after Kremlin-backed president Yanukovych fled the country.
Ukraine Jet Fighters Patrol Donetsk as Rebels Regroup From Deadliest Rout
Google has designed its own self-driving vehicles that transport passengers at the push of a button as it aims to spread the new automotive technology, co-founder Sergey Brin said. Working with automotive partners, the company plans to have 100-200 test vehicles that are fully autonomous with extra safety features, Brin said during a conference. GOOG, which until now had added its technology to other vehicles, plans to start testing the prototypes with drivers this year, he said. This announcement comes amid a push to encourage the adoption of driverless cars, which aim to make roads safer with the company's hardware & software. The 2-seat prototypes, which have safety items such as additional foam at the bumper & a plastic-like windshield, are part of the company's research laboratory called Google X, which is led by Brin. "We took a look from the ground up as to what it would be like if we had self-driving cars in the world," Brin said. "We've worked with partners in the Detroit area, Germany and California," he said. The prototypes let users ask for a destination address and then drives them to it, Brin added. The vehicles will initially have a top speed of 25 miles per hour & won't have a steering wheel, accelerator pedal or brake pedal
. Work on autonomous vehicles has gathered speed as carmakers build smarter cars that will help reduce accidents, & make driving easier & safer. High priced GOOG fell 4+. If you would like to learn more about GOOG, click on this link:
club.ino.com/trend/analysis/stock/GOOG?a_aid=CD3289&a_bid=6ae5b6f7
Google Introduces Driverless Prototype Cars It Designed
Google (GOOG)
Toll Brothers reported fiscal Q2 profit that more than doubled as the company increased prices & delivered more properties. EPS was 35¢, up from 14¢ a year earlier while revenue advanced 67% to $860M. TOL continued raising prices & boosting sales in the costlier New York & California markets even as inclement weather & falling affordability slowed delivery of new homes nationwide this year. New homes in the US sold at an annual pace of 433K in Apr, down 4.2% from a year earlier. "Current demographics seem to suggest that new home sales should pick up," Chairman Robert Toll said. "If the tight supply bumps into increasing demand, prices could rapidly rise." The average price of TOL homes delivered during Q2 rose to $706K from $577K a year earlier. The company forecast that the average price for deliveries during the whole of fiscal 2014 will be $690K-$720K after previously saying the average price could be as low as $675K. Signed contracts were little changed at 1749 units with a total value of $1.27B, up from $1.19B a year earlier. The average price of the newly ordered homes was $729K, compared with $678K last year. In Feb, TOL completed its $1.6B acquisition of California builder Shapell Homes, adding to costs & narrowing its profit margin in fiscal Q2. The stock went up 72¢. If you would like to learn more about TOL, click on this link:
club.ino.com/trend/analysis/stock/TOL?a_aid=CD3289&a_bid=6ae5b6f7
Toll Brothers Earnings Increase After Homebuilder Raises Prices
Toll Brothers (TOL)
Stock markets are very nervous about the GDP numbers for Q1 which will be reported tomorrow. The early report showed GDP inched up at a 0.1% annual rate. Intl trade & retail sales, among other data, are expected to drag the number into negative territory. Of course, this is history & nobody is forecasting that the Q2 number will be negative which would signal another recession. But any contraction is a negative which can disturb the bulls. Dow is up YTD, but just barely.
Dow Jones Industrials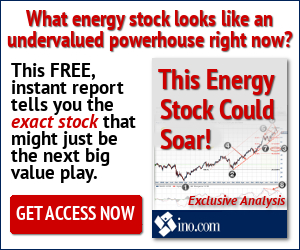 I'm a huge fan of INO & from what I have seen so far, their service Marketclub! This isn't a stripped down version, everything in MarketClub is available to you. I don't want to give everything away, but you'll have unlimited access to my favorite 3 tools: Trade Triangles, Smart Scan & Alerts! The best part is that the MarketClub customer support team will be providing UNLIMITED support! You can call or email for an instant response to any question, comment or concern.
Here's that link:
https://club.ino.com/join/specialtrial/index_free.html?a_aid=CD3289&a_bid=359ef9a3
I'd recommend you jump on this now.