Dow rose 21, advancers barely aheadof decliners & NAZ sank 41. The MLP index climbed 1 to 489 & the REIT index was up 1+ to the 297s. Junk bond funds were mixed & Treasuries settled back. Oil is over 100 again & gold saw profit taking after its recent run.
AMJ (Alerian MLP Index tracking fund)
| | | |
| --- | --- | --- |
| U.S. 3-month | 0.03% | |
| U.S. 2-year | 0.43% | |
| U.S. 10-year | 2.60% | |
| | | | | | | |
| --- | --- | --- | --- | --- | --- | --- |
| CLM14.NYM | ...Crude Oil Jun 14 | ...100.36 | ...0.86 | | (0.9%) | |
| | | | | | |
| --- | --- | --- | --- | --- | --- |
| GCK14.CMX | ...Gold May 14 | .....1,301.50 | ...6.80 | (0.5%) | |
Free Trading Course
50 Top Stocks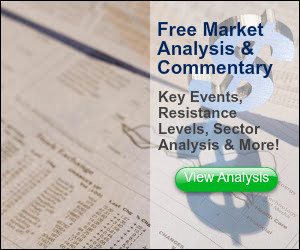 The US & EU urged Ukraine to proceed with its May 25 presidential election, rejecting Russia's calls to postpone the vote as an offensive against separatists in the country's east & south continued. Russia hasn't lived up to its commitments in an accord signed last month aimed at calming the crisis, EU pres Van Rompuy said. He echoed comments from Sec of State Kerry yesterday that the US was poised to deepen sanctions against its former Cold War foe "if Russian elements continue to sabotage the democratic process." "The immediate goal is to support free and fair presidential elections," Van Rompuy said. "We agreed in the European Council that further steps by Russia to destabilize the situation in Ukraine would lead to additional, far-reaching consequences." Van Rompuy & Kerry spoke after Russian Foreign Minister Lavrov said that it would be "more logical and fair" for Ukraine to amend its constitution in the autumn & then hold elections by year-end. Russia is pushing for Ukraine to devolve more power to its regions & give official status to the Russian language. About 17% of the country's 45M identified themselves as Russian in a 2001 census. Rebels in the eastern Donetsk region, the focus of the gov anti-separatist operation, want to hold a referendum on whether or not to declare independence from Ukraine on May 11. The region's official Kiev-backed gov opposes the vote, which would resemble one held in Crimea before its annexation, while the pro-Russian organizers don't have access to the electoral register. Ukraine received a first $3.2B tranche of a $17B IMF bailout yesterday which can be used to repay gas debt to Russia. Meanwhile, fighting continues.
U.S. And EU Back Ukraine Ballot as Russia Calls for Delay
German factory orders unexpectedly fell in Mar, signaling that growth in Europe's largest economy remains uneven. Orders, adjusted for seasonal swings & inflation, fell 2.8% from Feb, when they increased a revised 0.9%, according to the Federal Statistics Office. The forecast was for a gain of 0.3%. The German economy is set for "dynamic, broad-based" growth, the European Commission said in its quarterly forecast, even as the Bundesbank warned that expansion will slow "noticeably" after a very strong Q1. The country faces headwinds including a low inflation rate, a slowdown in China & rising tension with Russia as it leads the exit of the euro area from its longest-ever recession. Domestic orders decreased 0.6% in Mar from the previous month, while export orders declined 4.6%. Orders from the euro area fell 9.4% while those from outside the bloc dropped 1.7%. This data is prior to last month when the Ukraine-Russia conflict heated up.
German Factory Orders Unexpectedly Drop Amid Risks
Disney, a Dow stock, quarterly profit rose 27% as kids snapped up DVDs & merchandise tied to the animated mega-hit "Frozen." Q2 EPS was $1.08, beating estimates. Sales grew to $11.6B, exceeding projections of $11.2B. "Frozen" scoring a record $1.17B in worldwide ticket sales, the most for an animated feature. The film was also the top-selling DVD 6 weeks after its release. Meanwhile, the other businesses, led by TV networks such as ESPN & its namesake theme parks, also delivered higher sales & profit. The company generated profit growth of 15% or more from its 4 largest divisions, including the film studio, where earnings rose 4fold. Excluding some items, EPS totaled $1.11, exceeding the 96¢ estimate. Earnings at the studios soared to $475M, reflecting home-video sales of "Frozen" & "Thor: The Dark World" & revenue grew 35% to $1.8B. "Frozen" came out in home video during the period & has become the company's biggest digital & Blu-ray release ever, CEO Bob Igor said. The company is working on related theme-park attractions & a Broadway show which could last for 5 years. Operating income at the cable networks rose 15% to $1.97B, reflecting growth in pay-TV subscriber fees for channels such as ESPN. Revenue increased 5% to $3.63B, even as ad sales shrank at the sports channel. The stock was up only pennies.
(
Click here for a FREE analysis of DIS and be sure to notice the intermediate time frame
).
Disney Profit Rises 27% as 'Frozen' DVD Leads Home-Video Charts
Walt Disney (DIS)
Janet Yellen testified before congress & gave the usual kind words about low interest rates will last (seemingly) forever. But this time, it had little effect on stock buyers. Tech stocks remain weak. They have been momentum stocks, but in the last couple of months momentum stocks having been selling off big time. Some of that money is going into yield plays hoping to lock up present yields. The Dow & S&P 500 continue to struggle & are finding it difficult to break thru to new records.
Dow Jones Industrials