Dow dropped 137 near the lows of the day. decliners over advancers 5-2 & NAZ fell 28. The MLP index rose 1+ to the 488s & the REIT index lost 1 to 498. Junk bond funds slid lower & Treasuries rose. Oil did little & gold inched higher.
AMJ (Alerian MLP Index tracking fund)
Free Apple Analysis!
Free Stock Trend Analysis
| | | |
| --- | --- | --- |
| U.S. 3-month | 0.03% | |
| U.S. 2-year | 0.33% | |
| U.S. 10-year | 2.51% | |
| | | | | | | |
| --- | --- | --- | --- | --- | --- | --- |
| CLM14.NYM | ....Crude Oil Jun 14 | ....102.67 | ...0.06 | | (0.1%) | |
Federal Reserve Bank (FED) of New York President Will Dudley said the pace of eventual interest rate increases "will probably be relatively slow," depending on the economy's progress & how financial markets react. A "mild" response "might encourage a somewhat faster pace," Dudley said. "If bond yields were to move sharply higher," on the other hand, "a more cautious approach might be warranted." Dudley presented a detailed outline of his thoughts on the economy, monetary policy & the exit strategy, views he is likely to bring to the Jun 17-18 meeting of the FOMC. Officials in Apr trimmed stimulus for the 4th consecutive meeting, saying the economy has strengthened after harsh winter weather slowed growth to a 0.1% annual pace in Q1. Policy makers cut monthly bond purchases, aimed at holding down long-term interest rates & fueling growth, by $10B to $45B. Dudley expects growth to pick up for the remainder of this year & next, gradually lifting inflation toward the 2% target. Under that scenario, he said, he would continue to favor a gradual reduction in asset purchases & repeated the FED view that a "considerable period of time" will elapse between the end of quantitative easing & the first interest-rate increase. Dudley added "it is worth noting" that eurodollar futures show investors anticipate a rate increase around the middle of next year, in line with the forecasts of policy makers released in Mar. "I expect the economy to get back on to a roughly 3 percent growth trajectory over the remainder of this year, with some further strengthening likely in 2015," he said, adding that "considerable uncertainty" remains in the forecast. In the longer term, Dudley said, he expects interest rates to stay "well below" historical averages, in part because the labor force will expand more slowly as the population ages, reducing the economy's potential growth rate.
Fed's Dudley Sees 'Relatively Slow' Pace of Tightening
Microsoft, a Dow stock, backed off plans to introduce a smaller version of its Surface tablet. CEO Satya Nadella & Exec VP Stephen Elop decided that the product in development wasn't different enough from rivals & probably wouldn't be a hit according to leaks. Engineers had been working on the device & had planned to unveil it today at an event in New York. Instead, the company unveiled Surface Pro 3, an upgraded version of its pricier Windows-based tablet that features a larger 12" screen. MSFT is still working on smaller versions. The Surface has just 1.3% share of the market in Q1, while smaller-size tablets accounted for 53% of sales, according to researcher IDC. Nadella has said he wants to turn the company into one that focuses on "mobile first, cloud first." "Windows on ARM continues to be an important element of the Windows strategy." The stock was off pennies. If you would like to learn more about MSFT,
Click here for a FREE analysis of MSFT and be sure to notice the intermediate time frame
Microsoft Said to Back Off Plans to Debut Smaller Surface
Microsoft (MSFT)
General Motors latest recalls have pushed the industry's total number of vehicles called back for repairs in the US to at least 22.4M this year, more than in any calendar year since 2004. The biggest US automaker announced safety actions on 2.4M cars & light trucks. GM has recalled more than 15M vehicles globally this year & added 35 product investigators as it works to show its newfound responsiveness. The company is facing multiple probes over its slow recall of 2.6M cars linked to at least 13 deaths. The largest of today's 4 recalls covers 1.34M Buick Enclave, Chevrolet Traverse, GMC Acadia & Saturn Outlook sport-utility vehicles from model years 2009-2014 for front safety lap belt cables that can separate over time. The company also recalled 1.1M Chevrolet Malibu sedans from 2004-2008 & Pontiac G6s from 2005-2008 because shift cables could wear out over time. The latest actions will add $200M in Q2 charges. GM's vehicle safety has attracted greater scrutiny after a Feb 13 recall of potentially faulty ignition switches on the Chevrolet Cobalt & other small cars linked to fatalities. Last week GM agreed to pay a $35M fine as part of the Transportation Dept's investigation into how the automaker handled the recall of those vehicles. Last week, GM recalled 2M vehicles in the US & then said it expected to take a charge of about $200M in Q2, primarily for the cost of recall-related repairs announced. Today, GM increased that to $400M. GM took a $1.3B charge in Q1. As of last week, GM said it had recalled 12.9M vehicles worldwide, including 11.2M in the US. GM's global sales last year totaled 9.7M cars & trucks. The stock fell 1.18. If you would like to learn more about GM,
Click here for a FREE analysis of GM and be sure to notice the intermediate time frame
GM Recalls Drive U.S. to Most Since 2004 Before June
General Motors (GM)
Momentum stocks tried to break out of their recent decline, but that effort failed today. Nobody's clear why that decline began, but it has dragged down the entire stock market. Meanwhile, the search for higher yields is driving increased demand for yield securities. The FED has all but promised that the low yield environment will last for a minimum of 2 years. Even boring munis are higher this year. Dow is off more than 200 YTD in what was widely forecasted to be another stellar year.
Dow Jones Industrials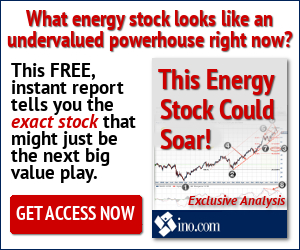 I'm a huge fan of INO from& what I have seen so far, their service Marketclub! This isn't a stripped down version, everything in MarketClub is available to you. I don't want to give everything away, but you'll have unlimited access to my favorite 3 tools: Trade Triangles, Smart Scan & Alerts! The best part is that the MarketClub customer support team will be providing UNLIMITED support! You can call or email for an instant response to any question, comment or concern.
Here's that link:
https://club.ino.com/join/specialtrial/index_free.html?a_aid=CD3289&a_bid=359ef9a3
I'd recommend you jump on this now.