Dow jumped 123, advancers over decliners almost 5-1 & NAZ surged 68. The MLP index went up fractionally to almost 521 & the REIT index gained 3 to the 308s. Junk bond funds did little & Treasuries pulled back although the yield on the 10 year Treasury is under 2.5%. Oil eased back & gold fell for the first time in 3 days as speculation that the Federal Reserve will raise interest rates sooner than expected outweighed concerns that tensions between Ukraine & Russia will escalate.
AMJ (Alerian MLP Index tracking fund)
Free Apple Analysis!
Free Stock Trend Analysis
| | | | | | |
| --- | --- | --- | --- | --- | --- |
| CLQ14.NYM | ....Crude Oil Aug 14 | ....103.17 | ...0.02 | (0.0%) | |
Payrolls rose in 33 states in Jun & the unemployment rate fell in 22, adding to signs the labor market was making progress. Florida led the nation with a 37K increase in payrolls, followed by California with 24K more jobs, according to the Labor Dept. South Carolina posted the biggest 12-month decline in the jobless rate, to 5.3% from 7.8%. Other states with sizeable declines in the jobless rate compared with last year included Nevada, where unemployment fell to 7.7% from 10%. The rate decreased in Illinois by 2.1 percentage points from a year earlier, & by 1.9 percentage points each in Pennsylvania, Ohio & North Carolina. Illinois was among states with the biggest monthly decrease in unemployment as the rate fell to 7.1% in Jun from 7.5% in May. Joblessness in Colorado, Rhode Island & Washington declined by 0.3 percentage point. North Dakota continued to have the lowest unemployment, at 2.7%. Other states showing gains in employment included New York, which showed a 22K increase. Improvement in the job market is among reasons Federal Reserve officials are trimming monthly asset purchases & plan to wind down the stimulus program by the end of the year. They have also indicated they'll keep the benchmark interest rate close to zero for a considerable time.
Payrolls Rose in 33 U.S. States in June, Led by Florida
General Electric, a Dow stock, Q2 earnings matched estimates, buoyed by rising sales in units making jet engines & gas turbines, as the company heads toward an initial public offering for the Synchrony Financial (SYF) unit this month. GE projects raising about $3.1B in the IPO. By selling 15% of the consumer-lending unit, CEO Jeff Immelt will take a step in his plan to pare GE's financial arm. GE also reported adjusted EPS from continuing operations climbed 8% from a year earlier to 39¢. Revenue rose 3% $36.2B, missing estimates of $36.3B. Divesting a portion of GE Capital, which imperiled the parent company during the financial crisis, is part of Immelt's emphasis on returning GE to its industrial roots. Last month he signed GE's biggest acquisition: $17B to buy Alstom (ALO)'s energy assets. GE expects industrial units to account for about 75% of earnings in 2016, up from 53% last year. GE also expects more than $4B in divestitures this year, Jeff Bornstein, GE's CFO said. Industrial profits rose 9% to $4.2B, & the segment's margins increased 20 basis points from a year earlier. Earnings rose 25% in the oil & gas unit & 12% in the aviation business. GE Capital profit fell 5%. GE's backlog of equipment & services rose in every segment to $246B. The stock fell 15¢. If you would like to learn more about GE,
Click here for a FREE analysis of GE and be sure to notice the intermediate time frame
GE Earnings Meet Estimates as Retail Finance IPO Targeted for End of July
General Electric (GE)
IBM, another Dow stock, reported a 9th straight qtr of declining sales as demand fell for hardware & computer services, underscoring the urgency of its plan to get more revenue from newer businesses like cloud computing. Revenue dropped 2% from a year earlier to $24.4B, compared with the $24.1B projected. Adjusted EPS rose to $4.32, a penny higher than the estimate, boosted by cost-cutting & share buybacks. CEO Ginni Rometty is betting that businesses want to store their data & software applications remotely, in the cloud, & they need IBM to help mine the piles of data they're accumulating. She's preaching patience to investors, plying them with share repurchases to persuade them to wait for an inflection point where the new technology can propel the company back in the right direction. The company maintained its forecast for $18 in adjusted EPS this year & $20 next year. Part of that expansion is predicated on the growth of cloud computing sales, which grew 50% in H1 from the same period last year. Cloud offerings delivered as a service are now at an annual run rate of $2.8B, compared with $2.3B in Q1, still a fraction of $100B in revenue last year. There were signs of improvement in areas where IBM had been struggling. Sales to Brazil, Russia, India & China pared losses, declining 2%, compared with an 11% drop in Q1. Sales of mainframe servers, the workhorse machines corporate customers, decreased just 1%, an improvement from the 40% decline in Q1. Global services sales, which typically make up more than half of the business, slid 1% to $13.9B. IBM ended Q2 with $9.7B in cash after spending $1.1B on divs & $3.7B on share buybacks. Before results were released yesterday IBM shares had climbed, supported by the company's repurchases, which brought the number of shares in circulation under 1B at the end of Jun. The stock was off a penny. If you would like to learn more about IBM,
Click here for a FREE analysis of IBM and be sure to notice the intermediate time frame
IBM Sales Drop for Ninth Straight Quarter in Slump Cloud Hasn't Overcome
International Business Machines (IBM)
The Ukraine-Russia conflict is back on the front page & has quieted down a bit. At the same time Israel is in Gaza & has found numerous tunnels used for rocket warfare. And the Iraq mess has not gone away. The bad guys are consolidating gains in northern Iraq where they are welcome. They have been strengthen by good press, looting banks & taking military weapons. Intl troubles are not going away anytime soon. New earnings have been fairly good although revenue increases when reported are modest. Consumer spending remains uneven as earnings gains following the recession 6 years ago have been modest. Markets are not bothered by troubles with Dow inches from setting a new record.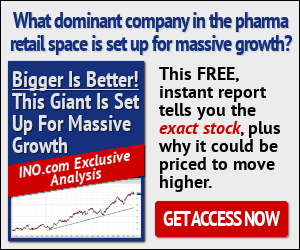 I'm a huge fan of INO & from what I have seen so far, their service Marketclub! This isn't a stripped down version, everything in MarketClub is available to you. I don't want to give everything away, but you'll have unlimited access to my favorite 3 tools: Trade Triangles, Smart Scan & Alerts! The best part is that the MarketClub customer support team will be providing UNLIMITED support! You can call or email for an instant response to any question, comment or concern.
Here's that link:
I'd recommend you jump on this now.