Dow dropped 123 (close to the lows & below 17K), decliners over advancers 2-1 & NAZ went down 22. The MLP index fell 1+ to the 523 & the REIT index was off 2+ to the 206s. There was buying in junk bond funds & Treasuries gained. Oil pared early losses & gold jumped the most in a week as escalating havoc in Eastern Europe & the Mid East boosted demand for haven assets.
AMJ (Alerian MLP Index tracking fund)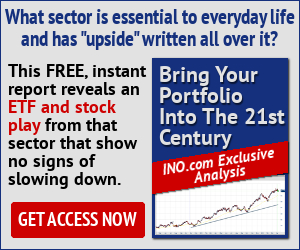 Free Apple Analysis!
Free Stock Trend Analysis
| | | | | | |
| --- | --- | --- | --- | --- | --- |
| CLU14.NYM | ....Crude Oil Sep 14 | ....101.58 | ...0.49 | (0.5%) | |
The EU said it'll work "swiftly" to hit Russian industries with sanctions as support grows for the package of trade restrictions outlined this week. German Chancellor Merkel is pushing her colleagues to sign off on the measures by the end of next week & is prepared to accept curbs on her country's technology exports to win support, according to 2 German officials. "We are getting to the point when sanctions will be painful and double-edged, but if we don't introduce them the situation could get even worse," Polish Foreign Minister Radoslaw Sikorski said. The European Commission will draw up detailed proposals for broader sanctions against Russia after getting the go-ahead from EU diplomats at a meeting that concluded today. Pressure for action has surged since a Malaysian Airlines jet was shot down over Ukraine last week. EU govs have already agreed to go beyond sanctions that so far have been limited to travel bans & asset freezes on individuals & companies deemed responsible for the unrest in Ukraine. The next wave of restrictions may stop state-owned banks from financing themselves in & prevent Russian companies buying high-tech equipment they need to develop the nation's energy resources. With pres Obama urging Europe to be bolder in its response to Russian encroachment in Ukraine, western EU nations swung behind calls by their eastern counterparts to target Russia's economy with sanctions. The set of broader EU sanctions being drawn up by the commission is "a package we pressed for," a spokesman for UK Prime Minister Cameron said by phone. "We want to see final agreement on it in the next few days." The EU & US are betting that pres Putin will be forced into a U-turn over Ukraine by undermining a Russian economy that is already weakening. As part of its gradual tightening of the squeeze on Putin, the EU is due later today to publish the names of additional people being put on its blacklist.
EU's Russia Blacklist Is Due Tonight, Broader Steps Next Week
Visa, a Dow stock, fell the most in 3 months after reducing its revenue forecast for the rest of the fiscal year. Revenue for the fiscal year ending Sep 30 may climb 9-10% from a year earlier, Visa said, down from an Apr forecast of 10-11%, in part because of results in regions beset by military conflict such as Russia, Ukraine & the Middle East, said CEO Charlie Scharf, also citing weakness in China, Argentina & Venezuela. "The strong U.S. dollar and the tepid growth from the cross-border payment volume in these specific geographies was what we expected," Scharf said. "These headwinds we do not feel are permanent." EPS rose to $2.17 from $1.88 a year earlier, topping the estimate of $2.10. Operating revenue increased 5.1% to $3.16B from a year earlier while expenses fell 3.2% to $1.14B, according to Visa. Card spending rose 11% to $1.2T. After the US imposed sanctions against Russia in Mar, Putin recommended his country create its own payments system. Visa, 2% of revenue comes from Russia, has said the tensions may trim "several pennies" from this year's earnings. The stock sank 7.97. If you would like to learn more about VISA, click on this link:
club.ino.com/trend/analysis/stock/V?a_aid=CD3289&a_bid=6ae5b6f7
Visa Drops Most Since April After Paring Revenue Forecast for Fiscal Year
Visa (V)
AbbVie, a Dividend Aristocrat, profit that beat estimates on strong sales of the arthritis drug Humira. EPS in Q2 was 68¢, up from 66¢ a year earlier. Excluding one-time items, EPS was 82¢, beating by 6¢ the estimate. Revenue gained 5% to $4.9B. ABBV said last weeek it would acquire Dublin-based Shire for $55B, adding drugs for attention deficit hyperactivity disorder & rare diseases to diversify its portfolio. ABBVie will also move its legal address abroad to lower its tax rate, making it the largest US company to do a tax inversion deal. The drugmaker currently relies on Humira, a rheumatoid arthritis injection for more than half of its revenue. Humira sales rose 26% to $3.29B, topping the $2.97B forecast. ABBV is also developing an experimental triple-pill regimen for hepatitis C as a competitor to Sovaldi, which had $3.5B in Q2 revenue. US approval is expected later this year. Not including any potential revenue from the expected hepatitis C therapy, ABBV confirmed its 2014 adjusted EPS forecast of $3.06-$3.16. The company also said Q3 EPS, excluding one-time items, would be 77-79¢. The stock fell 90¢. If you would like to learn more about ABBV, click on this link:
club.ino.com/trend/analysis/stock/ABBV?a_aid=CD3289&a_bid=6ae5b6f7
AbbVie Second-Quarter Profit Exceeds Analysts' Estimates on Humira Sales
AbbVie (ABBV)
Dow & S&P 500 are inches from record highs while earnings vary from good to bad & tensions around the world are very high. Part of the reason for global chaos is a lack of leadership, so bad guys are filling the void with their leaders. The grim report from Visa is important since it gets its revenue in virtually all countries, so it feels the pulse of various economies. So far, stock markets have not been greatly disturbed by increased uncertainty on macro economic issues & worldwide conditions.
Dow Jones Industrials
I'm a huge fan of INO & from what I have seen so far, their service Marketclub! This isn't a stripped down version, everything in MarketClub is available to you. I don't want to give everything away, but you'll have unlimited access to my favorite 3 tools: Trade Triangles, Smart Scan & Alerts! The best part is that the MarketClub customer support team will be providing UNLIMITED support! You can call or email for an instant response to any question, comment or concern.
Here's that link:
https://club.ino.com/join/specialtrial/index_free.html?a_aid=CD3289&a_bid=359ef9a3
I'd recommend you jump on this now.