Stocks were under water all day, but never by very much. Dow fell 31, decliners over advancers 3-2 & NAZ jumped 33 on favorable earnings reports. Banks are market leaders & led the downdraft today on growing worries about the foreclosure mess but the Financial Index finished 1 point above its low.
S&P 500 FINANCIALS INDEX
Value
192.92
Change
-3.36 (-1.7%)
The MLP index fell ½, still in the 349s & remaining near record levels. The REIT index was fractionally lower in the 219s essentially at yearly highs. Junk bond funds were down a smidgen & Treasuries were weak. The yield on the 10 year Treasury bond rose 8 basis points to 2.58%, still quite low.
| | | |
| --- | --- | --- |
| U.S. 3-month | | 0.13% |
| U.S. 2-year | | 0.36% |
| U.S. 10-year | | 2.58% |
Alerian MLP Index --- YTD
Dow Jones REIT Index --- YTD
10-Year Treasury Yield Index --- YTD
Oil continued its 2 day slide but remains in the high end of its 2 year trading range (over 80). Gold is taking a well deserved rest after its monster rally this week (starting slightly above 1300).
CLX10.NYM
...Crude Oil Nov 10

...81.25

......
1.44
(1.7%)


| | | | | |
| --- | --- | --- | --- | --- |
| GCV10.CMX | ...Gold Oct 10 | ......1,364.70 | ...... 12.00 (0.9%) | |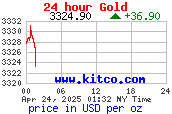 The gov posted a $1.294T (that's T as in Trillion!) deficit in the fiscal year ended Sep 30, its 2nd straight annual budget deficit in excess of $1T (the prior year total of $1.416T was the record). The national debt totals more than $13T, exceeding the size of the economy, unadjusted for inflation. The administration in Jul projected the deficit would be a record $1.47T during the 2010 fiscal year, but it was less bad than forecasted. "We still have a long way to go to repair the damage to the economy and address the long-term deficits caused by the crisis," said Tim Geithner, Treasury Secretary.
U.S. Posts Second-Largest Annual Budget Deficit on Record
National debt ($T) - 1 year
Pimco (PTTRX) the world's biggest bond fund, cut its holding of gov-related debt & bought more mortgages in Sep. Gov debt was cut to 33% of its $252B in assets, from 36% the previous month while mortgages were boosted to 28%, from 21%. This was the 3rd straight month that gov debt was reduced after accounting for 63% of assets in Jun, the highest since Oct 2009. Pimco's emerging-market debt climbed by one percentage point to 12%, the highest since at least Sep 2006 & high-yield holdings remained steady at 4%.The Total Return Fund has returned 11.81% in the past 12 months, beating 74% of its peers.
Pimco Reduced Holdings of Government Debt, Added to Mortgages Last Month
Pimco Total Return Fund - 1 year
Bank of America Corp (
BAC
), a Dow stock, is reviewing 102K foreclosure affidavits in 23 states requiring review by a judge & expects to halt 30K foreclosure sales during its self-imposed moratorium. During the last few days, investors have been shaken by the prospect US banks could be forced to repurchase billions in soured mortgages from 3rd-party investors. But BAC home loans chief Barbara Desoer said the potential costs from foreclosure problems have been "grossly overstated." BAC currently has 14M mortgage customers & 86% are current. But of the delinquent borrowers, 195K have failed to make a mortgage payment over the last 2 full years & 56K of those have moved out of the home. This is a mess & the main question is how bad it will become.
BofA projects 30,000 foreclosures to stop
at Reuters
Bank of America --- 1 week
Even with selling in the last 2 days, Dow managed a modest gain for the week. The first wave of earnings were reports were mixed but it looks like the ones from banks are going to cause problems. Gold & MLPs are flying high while Treasuries are settling back from their best levels. More earnings reports along with the mortgage foreclosure mess should be the main drivers of stock prices next week.
Dow Jones Industrials --- YTD
Get your favorite symbols' Trend Analysis TODAY!
Find out what's inside Trend TV!!