Dow lost 10, decliners over advancers 4-3 & NAZ gained 20. The MLP index plunged a massive 9+ to the 443s & the REIT index fell 3 to the 333s. Junk bond funds did little & Treasuries were lower. Oil dropped more than 2 to the 48s & gold edged higher.
AMJ (Alerian MLP Index tracking fund)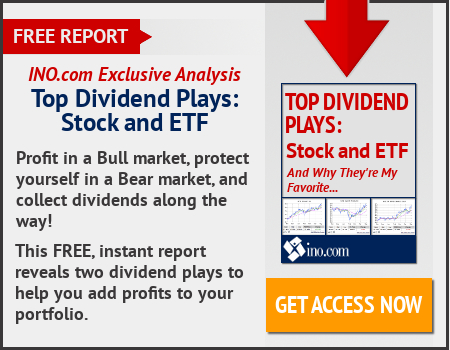 Free Stock Trend Analysis
| | | | | | |
| --- | --- | --- | --- | --- | --- |
| CLJ15.NYM | ....Crude Oil Apr 15 | ....48.17 | ...2.82 | (5.5%) | |
Chair Janet Yellen & her Federal Reserve colleagues are just about finished making promises about short-term interest rates. They want investors to focus instead on indicators related to their mandate to keep inflation stable & employment high. This is how she put it in her written testimony before the House & Senate this week. In an exchange with Senator Charles Schumer, Yellen said she didn't want to set down "any single criterion" on what it means to be "reasonably confident" that inflation is going to rise back up toward the Fed's 2% target. Most economists predict that the broad mosaic of price data will come together sometime this year, so Fed officials can raise the short-term policy rate without the haunting risk of committing an error by raising rates prematurely which forces them to retreat back to zero. The debate is about "when." Even though the unemployment rate stood at 5.7% in Jan compared with 6.6% a year earlier, Yellen said "too many Americans remain unemployed or underemployed" and "wage growth is still sluggish." There were about 6.8M working in part-time employment who wanted full-time jobs. In 2007, the average was 4.4M. While these part-time worker numbers are falling closer to pre-recession levels, they have to drop further to help Yellen meet her mandate for full employment & stable prices.
IBM, which gets more than half its sales from overseas, said the impact of foreign-currency exchange rates will be greater this year than the technology-giant had previously anticipated. The company expects currency swings to drag on revenue growth by more than 7 percentage points in Q1. For the full year, the impact will be more than 6 percentage points, up from a prior forecast of 5-6 points. A surge in the dollar is weighing on earnings at prominent American companies. As the US economy weathers a slowdown in global growth, its currency's climb has made domestic goods & services more expensive overseas. "The currencies have nearly all moved in an unfavorable direction for our business profile," CFO Martin Schroeter said last month. "Our hedges are designed to provide stability around the receipt of cash, but there is no year-to-year benefit in the income statement when a currency's direction is sustained over a longer period." IBM is hosting its investor meeting today where CEO Ginni Rometty is outlining the company's reinvention strategy for this year. The stock fell 1.94. If you would like to learn more about IBM, click on this link:
club.ino.com/trend/analysis/stock/IBM?a_aid=CD3289&a_bid=6ae5b6f7
International Business Machines (IBM)
Sears Holdings reported a narrower quarterly loss as it continued to slash costs & said it would launch a planned property trust by Jun, raising at least $2B. The company, which owns the Sears & Kmart, said net loss per share attributable to shareholders was $1.50 against a loss of $3.37 a year earlier. Sales at comparable stores dropped 4.4%, with Sears showing a 7% decline & Kmart stores a 2% drop. Declines in electronics, auto & apparel contributed to the fall. CEO Eddie Lampert has been closing stores, cutting inventory & selling assets to cut costs & revive its business. Revenue fell 23.5% to $8.1B in the holiday shopping period. Of the decline in revenue of about $2.5B, $1.1B was related to Sears lowering its stake in Sears Canada, $530M to the spin off of Lands End & $497M due to fewer stores. Sears closed 234 underperforming Kmart & Sears full-line stores in 2014, leaving it with just over 1700 stores in the US. In Nov, the company unveiled plans to sell about 2-300 stores to a real estate investment trust (REIT) in a move that would spin off prized assets to shareholders & could accelerate a breakup of the retailer. SHLD said it expects proceeds of more than of $2B from those sales & expects to complete the process in H1-2015. The stock fell 1.82. If you would like to learn more about SHLD, click on this link:
club.ino.com/trend/analysis/stock/SHLD?a_aid=CD3289&a_bid=6ae5b6f7
Sears Narrows Loss, REIT to Raise $2B
Sears Holdings (SHLD)
Falling oil prices dragged down energy stocks & MLPS were hit very hard. Even in the recent market with larger swings for MLPs, a decline of more than 2% in one day is huge. This brings the MLP index near its lows for the last 3 months. Growing conflicts in the Mideast, which have the potential to restrict production, are not being felt in the oil market. After setting new records, the Dow has recovered the Jan loss & is up about 400 YTD.
Dow Jones Industrials