Dow gained 154, advancers ahead of decliners 2-1 & NAZ rose 31. The MLP index advanced 5+ to the 454s & the REIT index went up 2+ to 340. Junk bond funds climbed higher & Treasuries traded lower, taking the yield on the 10 year Treasury above 2.1% (about where it was at the start of 2015). Oil slipped back to 50 while gold slid below 1200.
AMJ (Alerian MLP Index tracking fund)
Free Stock Trend Analysis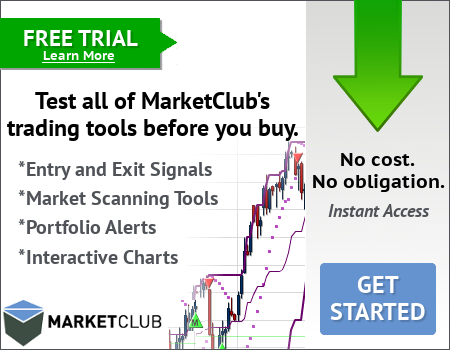 | | | | | |
| --- | --- | --- | --- | --- |
| CLH15.NYM | ....Crude Oil Mar 15 | ....50.04 | ...1.12 (2.2%) | |
Euro-area finance ministers reached an accord that would keep bailout funds flowing to Greece in return for a commitment to meet certain conditions, buying time to work out the detail of longer-term Greek financing. Talks in Brussels between officials from the 19 euro-area finance officials concluded with an agreement to extend aid to Greece for 4 months. "We agreed on four months under conditions," Austrian Finance Minister Hans Joerg Schelling said. Greece must submit a list on Mon of measures it will undertake in return & "the institutions check whether the list is sufficient," he said. Breakthrough in the standoff between Greece & its creditors eases the immediate risk of Prime Minister Tsipras's gov running out of cash as early as next month. It might also go some way to help repair the ties between Greece & Germany, the biggest European contributor to Greece's €240B ($274B) twin bailouts & the chief proponent of economic reforms in return.
Apple, which has been working secretly on a car, is pushing its team to begin production of an electric vehicle as early as 2020, according to leakers. The timeframe underscores the project's aggressive goals & could set the stage for a battle for customers with the major automakers. AAPL, which posted record profit of $18B during the past qtr, has $178B in cash with few avenues to spend it. The company's research & development costs were $6B in the past year, & CEO Tim Cook is facing increased pressure to return cash to shareholders. He has been pushing the iPhone maker to enter new categories to further envelop users' digital lives with new products & services. This possible foray into cars follows a similar path it's taken to break into other industries. The company wasn't the first to make a digital-music player or smartphone, & only entered those markets once it had a product that redefined those categories. AAPL may decide to scrap its car effort or delay it if executives are unhappy with progress, as they've done before with other secret projects. The car team, which already has about 200, began ramping up hiring within the past couple of months as the company sought out experts in technologies for batteries & robotics. A lawsuit filed this month gives a window into AAPL's efforts to create a automotive team for the project. The stock rose 1.03. If you would like to learn more about AAPL, click on this link:
club.ino.com/trend/analysis/stock/AAPL?a_aid=CD3289&a_bid=6ae5b6f7
Apple (AAPL)
Intuit reported a smaller-than-expected quarterly loss due to a strong demand for its online tax-preparation software. INTU also raised the full-year online subscriber growth estimate for its flagship accounting software, QuickBooks. The company expects QuickBooks online subscribers of 975K-1M, up from 925K-950K forecast earlier. INTU said it would make "significant investments" in the current qtr to beef up online security. The company had temporarily stopped transmitting state returns earlier this month using its do-it-yourself TurboTax software after noticing attempts to use stolen identity information to file fraudulent returns. "We continue to believe these instances of fraud did not result from a security breach of our systems," CEO Brad Smith said. The net loss per share widened to 23¢, for fiscal Q2, from 13¢ a year earlier. On an adjusted basis, the company reported a loss of 6¢ per share, far below the 13¢ expected. Net revenue rose 3.3% to $808M. INTU also maintained its full-year forecast. The stock shot up 5.61. If you would like to learn more about INTU, click on this link:
club.ino.com/trend/analysis/stock/INTU?a_aid=CD3289&a_bid=6ae5b6f7
Intuit Posts Smaller-than-Expected Loss
Intuit (INTU)
Greece was sort of bailed out again. When the story was released, there was confusion. Yes or no. They had to clear up the confusion, not a good sign going forward. For the time being the market had time to catch its breath & the Dow climbed to a new record, finally, despite bland economic data. 15 years ago, NAZ closed at its record high of 5048. Now it's just 200 away from reaching that level for a 2nd time.
Dow Jones Industrials
Free Apple Analysis!