Dow gained 41, advancers over decliners 2-1 & NAZ was up a more impressive 20. Stocks had a modest rise before midday & remained on that plateau for the remainder of the trading day. Favorable news on jobless data won out over housing starts & 2 spending bills bogged down in DC. The bank stocks also had a modest rise, keeping the Financial Index near its recent highs.
S&P 500 FINANCIALS INDEX
Value
208.14
Change

0.49 (0.2%)
The MLP index fell 1 to 352, back to where it was in early Nov. After outperforming the market for so long, it's learning what it feels like to be a follower. The REIT was up a fraction to 213, near where it has been for many months. Junk bond funds did well, typically up more than 1%. Treasuries were also higher. The yield on the 10 year Treasury bond fell 4 basis points to 3.47%, still near levels not seen since early May. An example of the dramatic rise in Treasury yields is the rate on the 2 year note has doubled to 0.65% off its lows about 2 months ago.
| | | |
| --- | --- | --- |
| U.S. 3-month | | 0.13% |
| U.S. 2-year | | 0.65% |
| U.S. 10-year | | 3.47% |
Alerian MLP Index --- 3 months
Dow Jones REIT Index --- 3 months
10-Year Treasury Yield Index --- 3 months
Oil dropped to the lowest level in 2 weeks after US claims for jobless benefits unexpectedly fell & housing starts increased last month, strengthening the dollar. But the bulls still have their eyes on $90 & $100. Gold sank as profit-taking & momentum selling eroded the yellow metal's appeal as a safe-haven asset.
| | | | | |
| --- | --- | --- | --- | --- |
| CLF11.NYM | ...Crude Oil Jan 11 | ...87.87 | ..... 0.75 (0.9%) | |
| | | | | | |
| --- | --- | --- | --- | --- | --- |
| GCZ10.CMX | ...Gold Dec 10 | ....1,365.50 | ... 20.00 | (1.4%) | |
$$$ Gold Super Cycle $$$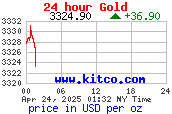 Photo: Bloomberg
The number of properties receiving some kind of foreclosure filing fell 21% month to month & 14% year over year, the biggest monthly drop in the history of the survey. While bank repossessions fell 28% (month to month), the number still managed to push 2010 totals over 2009 with one month to spare. A new record number of borrowers lost their homes to banks this year, almost 1M (so far). Big banks have re-started the foreclosure process, with "new safeguards," new forms" & "increased training efforts and personnel." The numbers will rise again next year. It is believed that 5M loans are seriously delinquent but not yet in foreclosure. Many will hit the foreclosure pipeline next year, 2011 could be worse than 2010. The rise in mortgage rates might add 5-10% to the price of buying a new home, taking away significant purchasing power. Falling home prices for new & existing homes could spark better buying opportunities, but they will also fuel more fears of fence-sitters, worried that they will catch a falling knife by buying a home. Lower prices will also put more borrowers underwater on their homes. Increased supply of homes overhanging the market will continue to blunt a housing recovery.
U.S. Foreclosure Filings Plunge to Two-Year Low as Lenders Probe Practices
Foreclosure filings - 1 year
Homes seized - 1 year
Photo: Bloomberg
Moody's placed Greece's Ba1 bond ratings on review for a possible downgrade, citing heightened concerns about whether the country will be able to reduce its debt to "sustainable levels." It said, "Greece has made significant progress in implementing a very large fiscal consolidation effortBut " & continued, "The challenge of reducing debt to sustainable levels has also become greater due to both domestic and regional developments." This follows Standard & Poor's warning 2 weeks ago of a possible downgrade Greece secured a 110B € ($142B) aid package from the EU & the IMF in May to avert a default. Greece's debt as a percentage of GDP stood at 127% of GDP in 2009, the highest in the 27 nation EU. The EU says the measure will rise to 156% in 2012 & Greece has said debt as a percentage of GDP will peak in 2013. Dark clouds over sovereign debts in Europe are not going away anytime soon.
Greece's Debt Ratings Are Put on Review for Possible Downgrade by Moody's
Markets are managing to buck all headwinds (such as the goings on in DC or Europe). Congress is handling 2 massive spending packages, the tax & unemployment extension bill along with the bill to fund gov spending for this fiscal year, when it will probably run another $1T deficit. But investors are happy to embrace more risk in pursuit of gains. Averages are back to where they were just prior to the collapse of Lehman. The major exception is the MLP index which, even after a recent setback, is just a few points below its record highs reached last month.
Dow Jones Industrials --- 3 months
Get your favorite symbols' Trend Analysis TODAY!
Find out what's inside Trend TV!