Dow fell 61, decliners over advancers almost 4-1 & NAZ was off 24. The MLP index plunged 10 to the 525s (enormous by its standards) & the REIT index slumped a massive 9+ to the 298s. Junk bond funds declined & Treasuries dropped, taking the yield on the 10 year Treasury to more than 2.6%. Selling continued in oil & gold edged lower to an 8-month low on waning demand for the metal as a hedge against inflation.
AMJ (Alerian MLP Index tracking fund)
Free Apple Analysis!
Free Stock Trend Analysis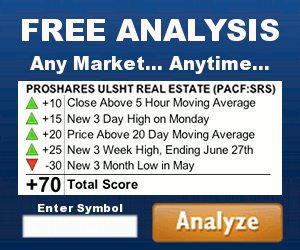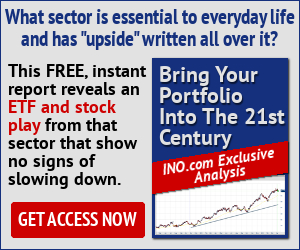 | | | | | | |
| --- | --- | --- | --- | --- | --- |
| CLV14.NYM | ....Crude Oil Oct 14 | ....92.38 | ...0.45 | (0.5%) | |
New iPhones from Apple will take as many as 4 weeks to ship, a sign that early demand for the smartphones is outstripping supply. The iPhone 6 Plus, which has a larger display, will take 3-4 weeks for shoppers who pre-order online today as people rushed to buy the smartphones hours after the company began taking pre-orders. Certain models of the iPhone 6, which has a slightly smaller screen, will take 7-10 business days to arrive, though some versions are still available for delivery on Sep 19, when the devices are set to officially go on sale in stores. "Response to iPhone 6 and iPhone 6 Plus has been incredible, with a record number of pre-orders overnight," AAPL said. CEO Tim Cook is counting on the new devices to usher in demand for other products introduced this week, from the iPhone-compatible Apple Watch to the credit card-substituting Apple Pay service. Demand for the latest iPhone is the greatest AT&T (a Dow stock & Dividend Aristocrat) has seen in 2 years. The iPhone 6 has a 4.7" display & the iPhone 6 Plus has a 5.5" one, while the previous iPhones have 4" screens. Customers took to Twitter to complain of difficulties loading the AAPL website to place pre-orders early this AM when the website had problems. While the company normally doesn't disclose figures for its production runs of new products, it typically has a supply of its new devices in stores on the first day. Carriers, which typically offer deals when a new iPhone comes out aiming to capitalize on sales of the device to lure more data-hungry smartphone users & bolster their market share, are again offering incentives that may be bolstering interest. The stock went up pocket change. If you would like to learn more about AAPL, click on this link:
Click here for a FREE analysis of AAPL and be sure to notice the intermediate time frame
Apple Sells Out of IPhone 6 Plus Stock With Shipping Delayed 3-4 Weeks
Apple (AAPL)
Greece's credit rating was raised one level by S&P, citing a better fiscal outlook for the country that sparked Europe's debt crisis even as GDP struggles. The country's long-term foreign currency debt was upgraded to B with a stable outlook from B-, S&P said & the company kept Greece's short-term rating at B. "The Greek government has made a substantial fiscal adjustment and we expect it to maintain primary fiscal balances of about 2 percent of GDP for the next few years," S&P said. The stable outlook reflects "Greece's progress in fiscal consolidation against its still-weak economic recovery and political resolve to continue with structural and institutional reforms," it added.
Greece regained market access earlier this year, selling bonds for the first time in 4 years. During that period the country needed 2 rescue packages totaling €240B ($311B) & underwent the biggest sovereign debt restructuring in history in Mar 2012. The fiscal turnaround saw Greece post a budget surplus before interest payments last year, known as a primary surplus, a condition for receiving additional debt relief on its rescue loans from the euro area. At about 175% of GDP, Greece's debt burden remains the biggest of any euro member. S&P last changed the sovereign rating in Dec 2012, when it was raised from Selective Default after the completion of a debt buyback program. The new ranking is 5 levels below investment grade. Moody's ranks Greece "Caa1" & Fitch gives the country a "B" rating, each below the junk threshold.
Greece Credit Rating Raised by S&P on Progress in Adopting Fiscal Reforms
Iraq's neighbors displayed a rare unity agreeing to support a US plan to confront the Islamic State, joining a coalition that may be harder to keep together than it was to assemble. Ministers from 10 regional countries met with Secretary Kerry yesterday & agreed to join the broad assault on Islamic State that pres Obama outlined earlier this week. Contributions will range from blocking the flow of money & fighters to the militants to training their local opponents & joining strikes against them, though it's not yet clear who will do what. The challenge for the US will be to ensure that the pledges of support go beyond the negotiating table to the battlefields, border posts & bank accounts where the struggle to contain Islamic State will unfold. The mostly Sunni nations who signed up to the declaration have different agendas for the future of Syria & Iraq, & varying reasons for distrusting the US. There's a contrast between US backing for a Shiite-led gov in Iraq, even one that has vowed to be more inclusive after the ouster of Maliki, & the ties of nations such as Saudi Arabia with the Sunni community in Iraq. Iraqi Sunnis say they've been marginalized, & some have sided with Islamic State. Kerry said that the region "recognizes the danger that has been unleashed" and is "full-throatedly ready to deal with that." He's also made it clear that the Arab nations, like the US & NATO allies, don't intend to send ground troops & will rely on local forces.
Islamic State Pushes U.S. Mideast Allies Into Rare Show of Unity
The best guess behind today's slide in prices is from worries that stronger retail sales will encourage the Fed to raise interest rates sooner. Volume was modest. MLPs & REITs suffered badly & junk bond funds had limited declines. This is a fragile market, more interested in the future of interest rates than the health of economies & global peace. Dow is back below 17K, a tough nut to crack, but remains within 150 of its record made last Fri. Nervousness vs optimism, one will win out.17135
Dow Jones Industrials