Dow dropped 38, decliners over advancers 3-2 & NAZ lost 18. The MLP index fell 1+ to 532 & the REIT index was up a fraction to 312. Junk bond funds were mixed & Treasuries rose, bringing lower yields. Oil & gold were flattish on the jobs data.
AMJ (Alerian MLP Index tracking fund)
| | | | | | |
| --- | --- | --- | --- | --- | --- |
| CLV14.NYM | ...Crude Oil Oct 14 | ...94.38 | ...0.07 | (0.1%) | |
| | | | | | | |
| --- | --- | --- | --- | --- | --- | --- |
| GCU14.CMX | ...Gold Sep 14 | ....1,265.50 | ...0.40 | | (0.0%) | |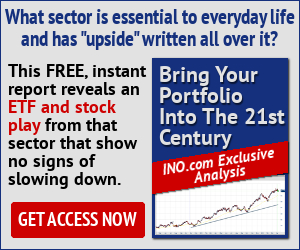 50 Top Stocks
American employers hired fewer workers than forecast in Aug & the jobless rate dropped because people left the workforce, bolstering those on the Federal Reserve who want to be more deliberate in removing monetary stimulus. The 142K advance in payrolls was smaller than the lowest estimate & followed a revised 212K gain in Jul according to the Labor Dept. The estimate was for a 230K increase. The unemployment rate fell to 6.1% from 6.2% in Jul, reflecting a drop in joblessness among teenagers. Employers who boosted headcounts in H1 be more restrained in their hiring as they await even faster economic growth. Janet Yellen will use today's report to help discern the extent of slack in the labor market as they pare back record monetary stimulus, while keeping interest rates low at the same time. The smaller-than-projected Aug increase reflected a decline in retail employment & little change at the nation's manufacturers. The participation, which indicates the share of working-age people in the labor force, decreased 0.1 percentage point to 62.8%, matching the lowest since 1978. There were patches of strength. The number of Americans employed part-time because they couldn't find full-time work dropped 234K in Aug. The underemployment rate, which includes part-time workers who'd prefer a full-time position & people who want to work but have given up looking, dropped to 12%, the lowest since Oct 2008, from 12.2%. The number of long-term unemployed, those out of work for 27 weeks or more, totaled 2.96M, the fewest since 2.7M in Jan 2009. Private hiring increased 134K in Aug, also the smallest gain this year, after an advance of 213K the month before. Employment at private service providers increased 112K, while payrolls were unchanged at factories. Construction companies added 20K workers & retail employment dropped by 8.4K.
U.S. Payroll Rise Is Weakest This Year at 142,000 for August
Photo: Bloomberg
Ukraine agreed on a cease-fire with pro-Russian separatists to stem months of bloodshed as European officials met to consider more penalties on Russia for its role in the conflict. The 2 sides agreed to stop fighting today, according to the Organization for Security and Cooperation in Europe (which will monitor the agreement). The talks included representatives of Ukraine, Russia, the self-proclaimed people's republics of Donetsk & Luhansk, where most of the fighting has occurred, & the OSCE. "Proceeding from President Putin's call to leaders of illegal military formations to cease fire, and from the signing of the trilateral agreement in Minsk to implement the peace plan, I am ordering the General Staff to cease fire," Ukrainian pres Poroshenko said. He canceled a summer truce on Jul 1 after his gov cited more than 100 violations by the separatists. The rebels, though, remained defiant, with the leader of Luhansk saying that the cease-fire doesn't alter the goal of "splitting" from Ukraine. "The cease-fire will save lives, not only of civilians, but also of those who defend their ideals, goals and tasks with weapons," said Alexander Zakharchenko, who calls himself prime minister of Donetsk. Still, a lasting truce would be the biggest breakthrough yet in the conflict, which has killed almost 3K, displaced more than 1M & soured Russia's relations with euro countries. Ukraine, the US & Europe say Putin is backing the insurgency with financing, weapons & manpower. Russia denies any involvement. The cease-fire accord comes as representatives of EU govs meet to consider tightening the sanctions that were imposed on Russia in Jul. Proposals include barring some Russian state-owned defense & energy companies from raising capital in the EU.
Ukraine Truce Set as EU Considers Russian Sanctions
Gap Aug same-store sales trailed estimates as demand dropped at its namesake clothing chain. Sales online & at stores open at least a year declined 2%. Analysts estimated a 1.7% gain. Sales by that measure at Gap-brand stores slid 6%, while analysts projected a 0.4% drop. CEO Glenn Murphy has been working to maintain sales growth as the choppy economic recovery restrains shoppers' appetites for new fashions. The Aug performance at the Gap chain will likely hurt its gross margin for the current month, the company said. Gap's bargain-priced Old Navy chain posted the best same-store sales at the company with a 2% gain last month which still trailed the 3.6% increase estimated. Banana Republic's sales fell 2%, while analysts projected a 1.1% gain. The stock dropped 1.98. If you would like to learn more about GPS, click on this link:
http://club.ino.com/trend/?symb=GPS&a_aid=CD3289&a_bid=6ae5b6f7
Gap (GPS)
The jobs report was underwhelming. It could not even be rated as barely good enough. The Ukraine truce is fuzzy at best. It's unclear how much good it will do to stop the fighting. US retail sales continue spotty. But popular stock averages are near record highs, not disturbed by these events.
Dow Jones Industrials