Dow surged 263, advancers over decliners 3-1 & NAZ rose 56. The MLP index went up 4+ to go over 430 & the REIT index added 4+ to 341. Junk bond funds were mixed to lower & Treasuries retreated. Oil slid to the 48s & gold also sold off.
AMJ (Alerian MP Index tracking fund)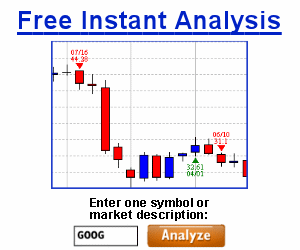 | | | | | | |
| --- | --- | --- | --- | --- | --- |
| CLK15.NYM | ....Crude Oil May 15 | ....48.64 | ...0.23 | (0.5%) | |
Greece's proposed plans to bolster its finances in exchange for unlocking bailout funds still need lots of work, according to European officials. A 15-page draft, discussed yesterday, requires more information & details & was a long way from serving as the basis of a deal. Seeking a strategy that passes muster with European officials now withholding loans as the country's cash crunch deepens. The gov foresees a net increase of €3.7B ($4B) in receipts this year & the biggest chunk would be as much as €875M from the "intensification of audits on lists of bank transfers and offshore entities." Prime Minister Tsipras was elected on a platform of easing budget cuts & restructuring debt. While he backed away from those positions to win a Feb agreement to extend the nation's bailout until the end of Jun, his diplomatic maneuvering & the delays in providing a detailed economic plan are frustrating the rest of the currency bloc. Speaking to lawmakers this PM, he said he was seeking an "honorable compromise" & would not "capitulate." Proposal targets as much as €400M from streamlining income-tax rules & at least another €350M from auctions of television-broadcast licenses. State asset sales would generate €1.5B this year, down from €2.2B seen in the 2015 budget prepared by the previous gov. The primary budget surplus would be at least 1.2% of GDP, which is subject to negotiations between Greek officials & the country's creditors. The gov foresees between €250-400M in proceeds from "combating illegal trade on oil, tobacco and alcohol" & as much as €420M is projected from the fight against sales-tax fraud. The list also includes social spending measures, in line with the anti-bailout coalition's agenda with negative fiscal impact. These include preserving pensions at their current levels at a cost of around €1B.
UnitedHealth Group, a Dow stock, agreed to buy Catamaran (CTRX) for about $12.8B to boost its pharmacy benefit business as it competes with bigger rivals. Pharmacy benefit managers (PBM) administer drug benefits for employers & health plans & run large mail order pharmacies, helping them get better prices from drugmakers. As employers look to cut prescription costs on expensive drugs, the deal with CTRX will give its pharmacy benefits unit, OptumRx, the scale to negotiate favorable prices in the lucrative PBM market. The offer of $61.50 per share represents a premium of 27% to Fri close. UNH expects to fill more than 1B prescriptions after the deal. The transaction is expected to close later in 2015 & add about 30¢ to EPS at UNH for 2016. UNH rose 2.99 & CTRX jumped 11.51 to 59.83. If you would like to learn more about UNH, click on this link:
club.ino.com/trend/analysis/stock/UNH?a_aid=CD3289&a_bid=6ae5b6f7
UnitedHealth (UNH)
The Saudi-led coalition that's fighting against Shiite rebels in Yemen said it completed a blockade of the country's ports & is ready to step up airstrikes. Bombing missions are seeking to stop the Shiite Houthis from moving forces between Yemen's cities. Coalition aircraft & warships targeted the rebels as they advanced toward Aden, the southern port that's the last stronghold of Saudi Arabia's ally in Yemen, pres Abdurabuh Mansur Hadi. Shipping routes to & from the ports are under the coalition's control. The conflict in Yemen has escalated the regional rivalry between Saudi Arabia & Iran, which has ties to the rebels. It has further destabilized a region that holds more than half the world's oil & is already wracked by wars in Syria & Iraq. Saudi Arabia's coalition of 10 Sunni-led nations, includes Egypt & the UAE, seeking to halt the Houthi advance. The rebels have seized much of the country & drove Hadi out of the capital, Sana'a, last month. Airstrikes by the Saudi-led force began last week. The Saudis & their allies haven't ruled out sending ground troops to stop the Houthis. The rebels have formed an alliance with former pres Ali Abdullah Saleh, who still commands the loyalty of parts of the army. So far, bombing hasn't driven the Houthis back from their positions around Aden, though they haven't captured the city. The Saudis say Iran is behind the rebel gains, while the Houthis accuse Hadi & his Gulf backers of collaborating with al-Qaeda's Yemen branch.
When macro economic news is meager, hopes for more gov intervention is propelling stocks higher. Maybe money managers are buying to make their portfolios look better at qtr end. In the past, the idea was that improved economic conditions caused stock prices to rise. Not today. Dow had its best day in more than a month with a few corp deals being the only positive news. Despite the size of this advance, it's difficult to take it seriously. Dow remains marginally lower for the month of Mar
Dow Jones Industrials