Dow was off 53, decliners ahead of advancers almost 3-2 & NAZ lost 1. The MLP index climbed 1+ to the 445s & the REIT index gained a fraction to the 321s. Junk bond funds drifted lower & Treasuries retreated. Oil fell 1 to the 59s & gold crawled higher.
AMJ (Alerian MLP Index tracking fund)
Free Stock Trend Analysis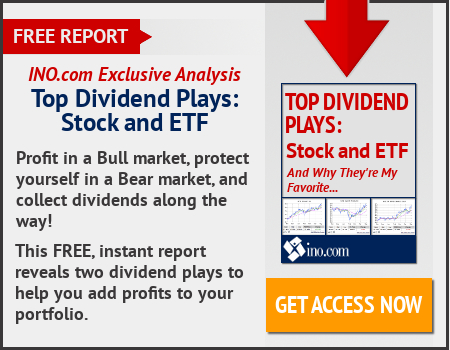 | | | | | | | |
| --- | --- | --- | --- | --- | --- | --- |
| CL.NYM | ....Crude Oil Jul 15 | ....59.76 | ...0.96 | | (2.0%) | |
Janet Yellen said she still expects to raise interest rates this year if the economy meets her forecasts, with a gradual pace of tightening to follow. While the labor market is nearing full strength, "we are not there yet," she said in a speech. "If the economy continues to improve as I expect, I think it will be appropriate at some point this year to take the initial step to raise the federal funds rate," she said. Even after the first rate increase since 2006, "I anticipate that the pace of normalization is likely to be gradual," Yellen said. Echoing the Fed's Apr statement, Yellen said she expects the economy to return to a "moderate" pace of growth after a disappointing first quarter as headwinds including a cooling global economy gradually abate. Yellen repeated that policy isn't on a pre-set course & the Fed may tighten more quickly if the economy performs better than expected or raise rates at a slower pace if it disappoints. Delaying the first rate increase until employment & inflation return to the Fed's objectives "would risk overheating the economy," Yellen said. She also repeated the Fed's 2 criteria for raising rates: "I will need to see continued improvement in labor market conditions, and I will need to be reasonably confident that inflation will move back to 2 percent over the medium term." Policy makers expect growth to pick up after stalling in Q1, even as they fret about the strength of the consumer spending that makes up 2/3 of the economy. Yellen said it will be best to proceed "cautiously," which means taking "several years" before policy makers lift the federal funds back to its normal, longer-run level. Even after significant employment gains, the labor market "is approaching its full strength," though still short of it, she said. While the US is nearing what many economists say is full employment, the jobless rate "probably does not fully capture the extent of slack in the labor market," she said. Still, Yellen said the US "seems well positioned for continued growth" as consumers benefit from cheaper gas prices that amounts to a "sizable boost in household purchasing power" estimated to be about $700 per household on average. Yellen listed 3 specific "headwinds" that are restraining growth. She said some of the effects are fading, while others are still present. She expects the drag from low house prices & tight mortgage credit to "continue to fade." With tax revenues alleviating budget constraints at state and local governments, that headwind "is mostly behind us," she said. Finally, "weak growth abroad" has dented US exports. "This headwind too should abate as growth in the global economy firms, supported by monetary policies that generally remain highly accommodative," Yellen said.
Hewlett-Packard CEO Meg Whitman gave an update on the its efforts to split up its business into 2 separate companies. One company, Hewlett-Packard Enterprise, will focus on selling technology like servers & data center gear to businesses. The other, HP Inc, will sell printers & personal computers. "Today I'm more convinced than ever that this is the right thing to do," Whitman said as she proceeded to explain that the total dis-synergies for the separation will equate to $400-$450M "divided equally between the two companies." "As separate companies, we will have a sharper focus on the markets we serve," Whitman said. HPQ took in $25.5B in revenue during it Q2 compared to the $27.3B in the previous year. By segment, HP's enterprise business has a lot more momentum going for it rather than its PC & printer business. While the revenue from HP's enterprise group dropped to $6.56B from $6.63B the previous year (partly due to a decline in the its storage & networking products), its industry standard servers saw $3.12B in revenue compared to the $2.83B in 2014. The printing & personal systems group, including PCs & printers, shrunk to $13.2B from $14.0B in 2014. Whitman said that the PC market was weaker than she expected at the beginning of the year, so it's hard to see that segment taking off anytime soon. By splintering off these different business segments, HPQ will create 2 different companies in which one seems to be on an upward slope, especially if the market for commodity servers continues to increase. HPQ stock rose 93¢. If you would like to learn more about HPQ, click on this link:
http://club.ino.com/trend/?symb=HPQ&a_aid=CD3289&a_bid=6ae5b6f7
Hewlett-Packard (HPQ)
Wal-Mart Stores, a Dow stock & Dividend Aristocrat, its US stores were asking meat suppliers to reduce the use of antibiotics in animals, joining the list of US companies that have responded to consumer & gov concerns over the excess use of drugs in livestock. Walmart US & Sam's Club US will also ask suppliers to provide annual reports on antibiotics management & animal welfare. Public health experts & federal regulators are concerned that routine feeding of antibiotics to animals could spur creation of antibiotic-resistant superbugs in humans, creating a health hazard. "We have listened to our customers, and are asking our suppliers to engage in improved reporting standards and transparency measures regarding the treatment of farm animals," Kathleen McLaughlin, senior VP of WMT sustainability, said. Under its new policy, Wal-Mart will also ask suppliers to address animal welfare concerns related to habitation & slaughter. The stock was down 25¢. If you would like to learn more about WMT, click on this link:
http://club.ino.com/trend/?symb=WMT&a_aid=CD3289&a_bid=6ae5b6f7
Wal-Mart (WMT)
Janet said very little that was new, as usual. But she did all but guarantee indicate that rate increases will begin this year. Those rate hikes will likely be delivered in small increments, which probably take a few years for rates to return to tradition levels. In the meantime, Greek debt drama drags on with no sign of relief & the crunch time seems to be approaching. This week, Dow is down all of 40, hardly moving from its close last Fri.
Dow Jones Industrials